It's unhealthy to think public company bankruptcy risk is a myth -- we show you why in this High Risk Report focusing on Quorum Health Corporation.
An operator and manager of general acute care hospitals and outpatient services in the U.S., Quorum Health has fallen far below its peers in an otherwise stable healthcare facilities industry. Pay keen attention to the company's FRISK® score, which currently sits within the "red zone" of heightened financial risk.
Image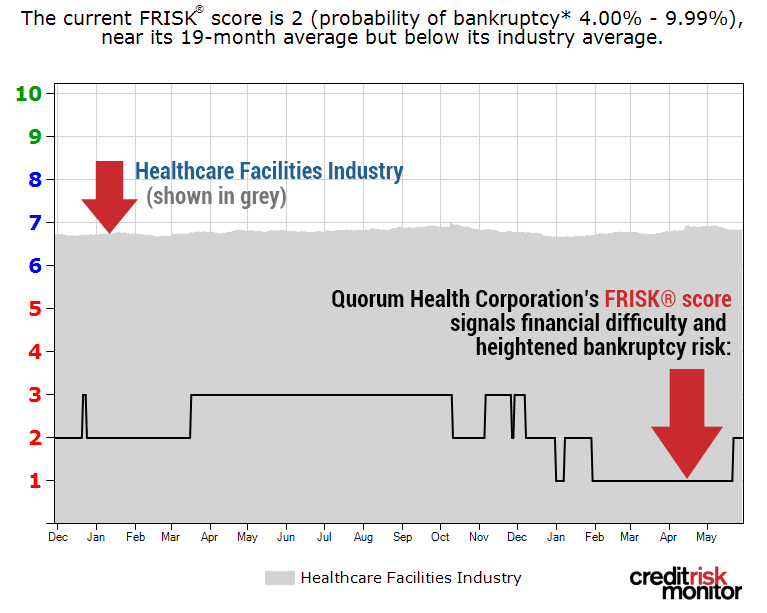 This High Risk Report thoroughly examines Quorum Health, including factors like their worsening tangible net worth and failing liquidity ratios and rates of return. If you're a counterparty to this company, CreditRiskMonitor gives you the opportunity to get your house in order before calamity strikes - whether that's changing the terms of your deal, switching to a more solvent peer or terminating an agreement entirely. Thousands upon thousands of credit and procurement managers rely upon our analysis to stay ahead of financial risk.
Download the free report to learn more. 
About High Risk Reports
Our High Risk Reports feature companies that are exhibiting a significantly high level of financial distress, as indicated by our proprietary FRISK® score.
The reports highlight the factors that have pushed a company's score lower on the "1" (worst) to "10" (best) FRISK® score, which is 96% accurate in predicting bankruptcy over a 12-month period. The High Risk Reports also includes analysis on financial indicators such as the company's DBT index, stock performance, financial ratios and how it is performing relative to its industry peers.
The ultimate goal of the High Risk Report series is two-part: provide an early warning for those doing business with an increasingly distressed company and inform of the many signals that should be examined when assessing financial risks.