Stay Ahead of Public Company Risk
CreditRiskMonitor's 96% accurate FRISK® score, robust financial analysis and timely news service help professionals stay ahead of public company risk quickly, accurately and cost-effectively.
#808183
Why Should You Care About Public Company Risk?

PUBLIC COMPANIES AVERAGE 53% OF TYPICAL DOLLAR RISK EXPOSURE
Public companies are few in number, but huge in risk. Don't underestimate the impact of financial stress at even one of your critical customers or vendors.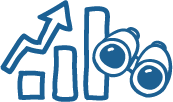 RISK IS HIDDEN — AND ISN'T REVEALED BY TRADE PAYMENT DATA
Payment patterns are misleading to predict business failure of public companies. Public companies often continue to pay consistently right up through bankruptcy.

USING "ONE SIZE FITS ALL" BUSINESS CREDIT TOOLS PUTS YOU AT RISK
Use the right methods to manage your risk. Effective public company analysis uses timely financials, market sentiment and predictive analytics designed to predict public company risk.
Who We Help and Key Features
Who We Help
CORPORATE CREDIT PROFESSIONALS

Assess, monitor and anticipate business credit risk — quickly, easily and cost-effectively.

SUPPLY CHAIN & PROCUREMENT

Vet strategic suppliers, avoid supply chain disruption and control vendor risk exposure.

TREASURY AND FINANCE

CFOs, make it easier and more efficient for your teams to manage critical financial risks.
Key Features
96% ACCURATE SCORES — AND AGENCY RATINGS — IN SECONDS

Research companies and prioritize your risk with our proprietary, 96% accurate FRISK® score and bond agency ratings from S&P, Moody's & Fitch.

COMPREHENSIVE, TIMELY COMPANY REPORTING

Financial statements and analysis, peer-group comparisons, trade receivables assessment, bankruptcy filings — all in one place.

CONTINUOUS MONITORING AND NEWS ALERTS

We keep track of the companies you need to know about and let you know right away about important news and risk updates.
Companies Who Rely On Us
Companies Who Need Accurate Risk Information Rely on CreditRiskMonitor
If it's public, I won't bother with anything other than CreditRiskMonitor. I use the site any time I have a new customer, problem or issue. I love the tool and I tout it every chance I get.