CreditRiskMonitor® (OTCQX:CRMZ) is a financial risk analysis and news service for credit, supply chain and financial professionals. Our strength in coverage spans 57,000 global public companies, totaling approximately $69.3 trillion in corporate revenue. We also offer industry-leading accuracy solutions for addressing private company financial risk assessment. Leading corporations around the world – including more than 35% of the Fortune 1000, plus thousands more worldwide – rely on us to help them stay ahead of financial risk quickly, accurately and cost-effectively.
At the core of our Fundamental Service is our 96% accurate FRISK® score, formulated to assess bankruptcy risk in public companies within a 12-month window. The FRISK® score incorporates a number of critical risk indicators, including the analysis of website click patterns of credit professionals and other subscribers. Our subscribers are highly influential in the daily commerce of some of the world's largest corporations, making decisions affecting billions of dollars of purchase and sale transactions every month. Leveraging the sentiment of these gatekeepers has made our FRISK® score more predictive. When they're concerned, working capital risk increases.
CreditRiskMonitor® employs a team of more than 100 professionals in Rockland County, N.Y., about 30 minutes north of New York City.
Image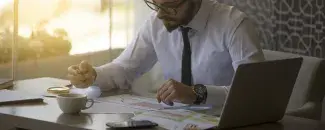 Public Company Coverage
Our strength and significant value add is our thorough coverage and industry-leading accuracy on more than 57,000 global public companies.
Click into the map below to get started. Zoom in to view country names.
A common mistake when conducting portfolio level analysis is focusing on the absolute quantities of public and private counterparties rather than dollars-at-risk associated with each group. Using counterparty quantities as a key metric can lead professionals to the extrapolation error that the majority of their company's dollars at risk is concentrated in private companies.
Our 20-plus years of research on the matter has found that while public companies may be fewer in number, they represent on average 53% of our subscribers' dollars at risk. This situation is further compounded thanks to the parent/subsidiary relationship, which often obscures that private subsidiaries roll up to public parents. CreditRiskMonitor's extensive match and linkage process uncovers these relationships to ensure you have a full picture of your dollars-at-risk.
CreditRiskMonitor was founded for professionals who understand the impact that just one failing public company could have on their bottom line. For more than 20 years, we've grown our extensive database to offer vast amounts of information and analysis on public companies - current and historical. Most recently, we launched private company financial risk solutions to expand our focus on accurate analytics beyond our core public company coverage.