The retail industry continues to be haunted by persistent bankruptcy filings. Will famed furniture and home decor provider Pier 1 Imports be next to fall?
For the fiscal year 2019, Pier 1 Imports recorded a same-store sales decline of 11%, much worse than the previous year's comp of negative 2%. Additionally, merchandise margins collapsed from 37% to 29%, which was driven by a combination of clearance sales and higher promotional activity. A dramatic deterioration in sales trends in combination with heavy discounting is a red flag. As is the company's FRISK® score, which currently sits at a "2":
Image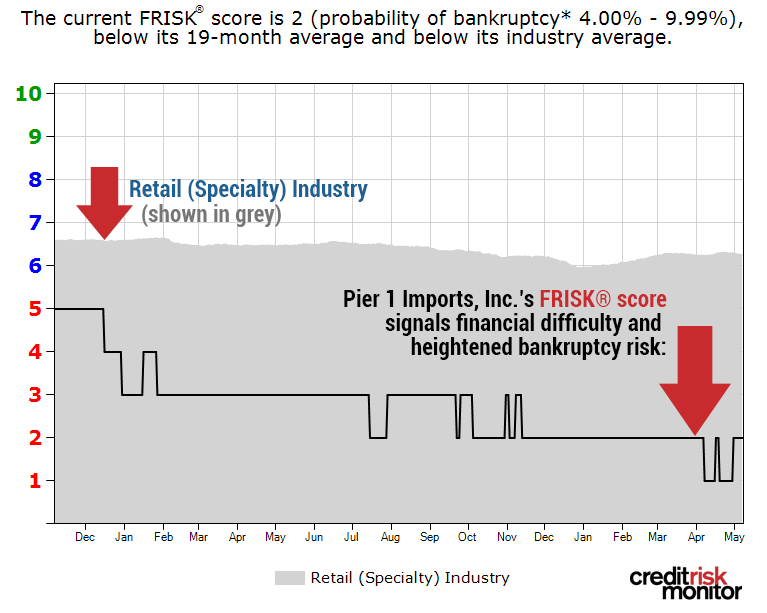 In this High Risk Report, we weigh in on the probability of Pier 1 Imports, Inc.'s claim to investors that their wounds, per Interim CEO Charyl Bachelder, are "predominantly self-inflicted."  The competition, lead by eCommerce giants Amazon, Walmart and Target, and followed close behind by Williams Sonoma, Kirkland's and Wayfair, remains fierce and recapturing lost sales will be most challenging.
Download the free report to learn more.
About High Risk Reports
Our High Risk Reports feature companies that are exhibiting a significantly high level of financial distress, as indicated by our proprietary FRISK® score.
The reports highlight the factors that have pushed a company's score lower on the "1" (worst) to "10" (best) FRISK® score, which is 96% accurate in predicting bankruptcy over a 12-month period. The High Risk Reports also includes analysis on financial indicators such as the company's DBT index, stock performance, financial ratios and how it is performing relative to its industry peers.
The ultimate goal of the High Risk Report series is two-part: provide an early warning for those doing business with an increasingly distressed company and inform of the many signals that should be examined when assessing financial risks.