Healthcare industry giant NantHealth, Inc., a cloud-based IT company, is experiencing some major distress. In this report, we diagnose their dangerous dealings in debt and what you can do as a creditor or a supplier to avoid risk.
Based in California, the company's self-described mission is to "leverage the latest advancements in precision medicine and software technology to enable true value-based care." In spite of their standing as an innovator in medical tech, the company has struggled to maintain financial health and has buoyed their existence by loading up on debt. CreditRiskMonitor's FRISK® score - 96% accurate in predicting U.S. public company bankruptcy risk across a 12-month horizon - currently pegs NantHealth with a score of "1." This means that per our analysis, they possess 10-to-50 times more bankruptcy risk potential than the average American public company:
Image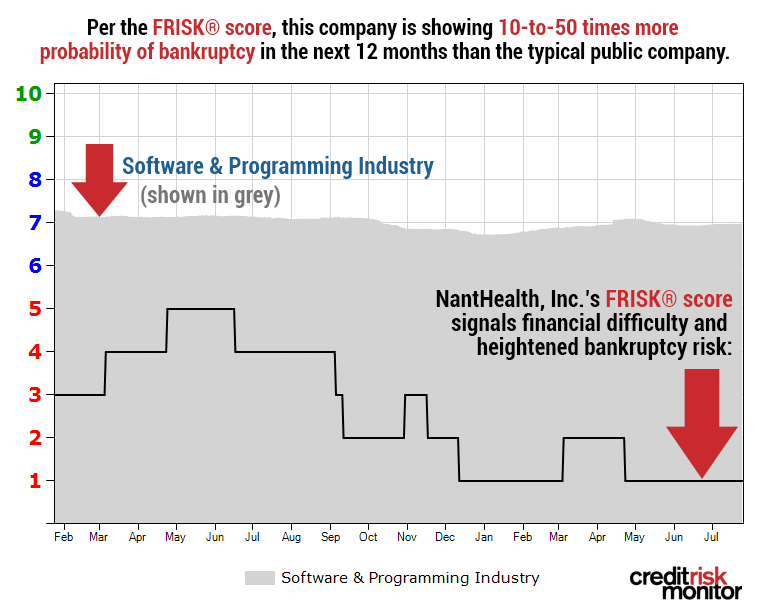 This High Risk Report details the issues plaguing what would otherwise be deemed a healthy company that pays its bills on time. Recent quarterly performance ratios show, as one example, NantHealth's operating and net losses in each of the last five fiscal quarters. They also illustrate a company with very poor interest coverage ratio and negative free cash flow.
Download the free report to learn more.
About High Risk Reports
Our High Risk Reports feature companies that are exhibiting a significantly high level of financial distress, as indicated by our proprietary FRISK® score.
The reports highlight the factors that have pushed a company's score lower on the "1" (worst) to "10" (best) FRISK® score, which is 96% accurate in predicting bankruptcy over a 12-month period. The High Risk Reports also includes analysis on financial indicators such as the company's DBT index, stock performance, financial ratios and how it is performing relative to its industry peers.
The ultimate goal of the High Risk Report series is two-part: provide an early warning for those doing business with an increasingly distressed company and inform of the many signals that should be examined when assessing financial risks.