Kodak, a name once synonymous with anything photo-related, made news early on in January of 2018 by announcing the company's entrance into the cryptocurrency world. The introduction of KODAKCoin initially sparked a surge in stock market activity. As reported by Bloomberg on Jan. 9, Eastman Kodak Co.'s market value more than tripled after the announcement. The momentum was not sustained, as industry enthusiasm quickly turned to skepticism. As of our publication date, more than half of the increase in Kodak's stock price has vanished in the few short weeks following the KODAKCoin announcement.
What's more, Kodak's FRISK® score remained a "1" all the while – the lowest possible score on CreditRiskMonitor's proprietary "10" (best) to "1" (worst) scale. This score is calculated nightly to alert financial professionals to impending public company bankruptcy risk within a 12-month period, with 96% of all bankruptcies eventually passing through the FRISK® "red zone," or the lower half of the scale. Kodak's rock-bottom score of "1" translates into a 10-to-50% risk of bankruptcy between now and February 2019.
Looking at the long term history
Stock market data is a major component in the calculation of the FRISK® score, which would seem a net positive for Kodak in this case. Yet the instability of such data is offset by the steadying influence of financial ratios, bond agency ratings and subscriber crowdsourcing when available.
Even though recent stock market data would suggest Kodak's financial standing had improved, the company still has a high debt balance, and assuming continued deterioration in performance, a covenant breach is possible. After filing for bankruptcy in 2012, Kodak sold off patents to tech giants like Apple Inc., in an effort to remain solvent, but it's steady increase in leverage and decline of liquidity suggests the company's financial troubles continue. 
Also questionable is Kodak's standing within the global commercial printing and imaging services industry. Based on the FRISK® Stress Index, the company's FRISK® score is well below those of its counterparts, further highlighting its financial struggles. The FRISK® Stress Index is designed to provide a quick assessment of an industry, country or portfolio of companies. By comparing a single company with a broader group you can quickly see where it's risk stands on a relative basis. 
When comparing current financial statistics and ratios with peers, Kodak lags in such key areas as interest coverage, inventory turnover and profit margin as a percent of sales. When combined with long-term financial data and the weak FRISK® score, it becomes clear that Kodak's recent stock market uptick isn't reason enough to believe the company has returned to financial stability.
The inability of the stock market to change Kodak's FRISK® score for the better, meanwhile, is a clear indication of the value of taking a comprehensive approach when examining a company's bankruptcy risk profile. The FRISK® score was designed so that no one method of analysis provides a complete picture, but simultaneously and dynamically incorporating multiple approaches gets you a much more holistic view of a company's risk quotient.
Image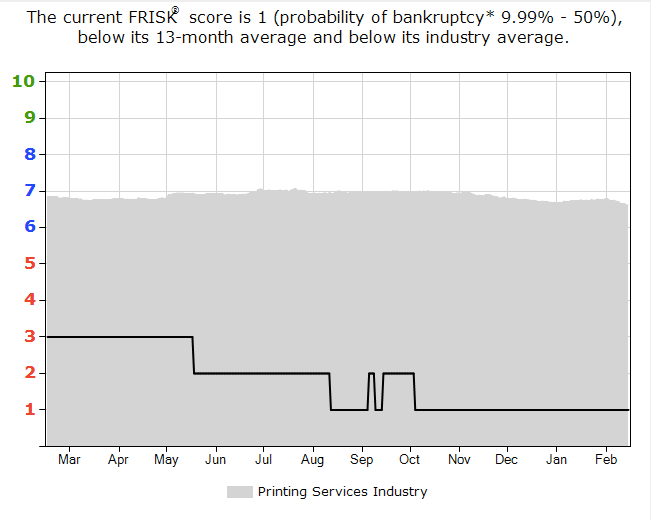 Considering the Increase in Peer Activity
Another component factored into the FRISK® score is crowdsourcing, which takes into account CreditRiskMonitor®'s subscriber usage data. This data, which is sourced from a subscriber base that includes financial professionals from more than 35% of the Fortune 1000 and several thousand more large-scale companies worldwide, follows specific, trackable patterns that are generally used when a financial professional is concerned about the financial stability of a particular company.
Kodak's activity score has picked up considerably from 2017 right on into 2018, suggesting credit professionals have questions about the company's financial strength. Though cryptocurrency is a hot-button topic to investors, which is clear in Kodak's recent stock market success, credit industry professionals still appear to have doubts about the company's ability to pay its bills over the long term.
The Bottom Line
The holistic view of the FRISK® score indicates Eastman Kodak Co.'s stability is still a topic of concern, despite a recent stock market surge and the company's interest in entering a highly popular niche area. Though the company has emerged from a previous bankruptcy, one could argue that Kodak's ability to bounce back from its financial difficulties remains questionable. Significant declines in profitability, a heightened amount of leverage, as well as financial counterparty research activity, suggest that a brief success on the stock market has changed little about Kodak's future.