Florida-based auto rental company Hertz Global Holdings, Inc. declared bankruptcy in May, only a few months into the North American COVID-19 pandemic. The arrival of a vaccine appears imminent, yet it still needs to further testing and review; in the meantime, hundreds of thousands of new cases are now being reported in the U.S. each week. As the world grapples with a new surge in infections, it is worth revisiting Hertz's bankruptcy and what their tribulation should teach you about other distressed travel names in your portfolio.
A Major Traffic Jam
Even before COVID-19, Hertz was a heavily leveraged company, bouncing in and out of the high-risk FRISK® score "red zone." That's the lower half of the "1" (highest risk)-to-"10" (lowest risk) bankruptcy score. In fact, Hertz ended 2019 with a total debt to assets ratio of roughly 0.7 times, soundly in the bottom quartile of the passenger car rental industry. With a large debt maturity coming due in 2020 and its business effectively shut down by the global pandemic, its balance sheet was too weak to handle the headwinds.
Image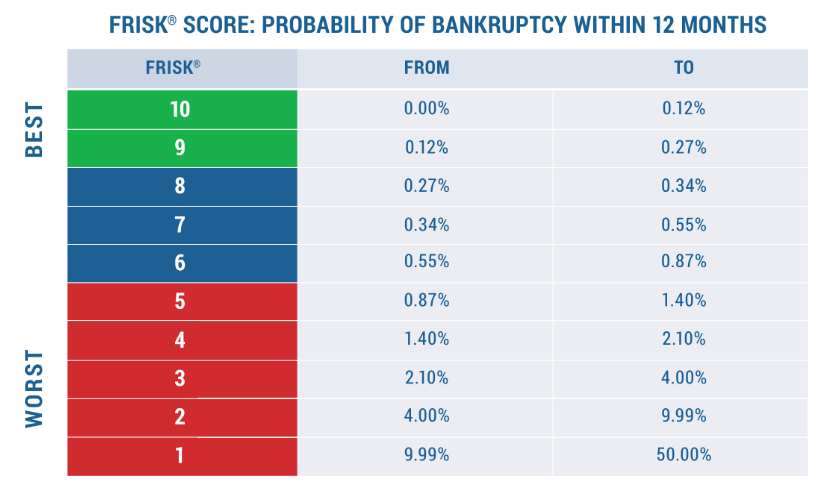 CreditRiskMonitor's Bankruptcy Case Study on Hertz highlighted the growing risk identified by the FRISK® score much earlier than other scoring models. Even though Hertz was financially distressed, the company was paying its bills throughout this period. Public companies that pay their bills on time right up until a bankruptcy take advantage of what is commonly referred to in credit circles as the "Cloaking Effect."
The important takeaway from that brief overview is that a heavy debt load eliminated Hertz's ability to navigate through an industry downturn. This scenario is not unique, other travel-related names sought out court protections, as well. Other prominent international corporations such as Global Eagle Entertainment Inc., Grupo Aeroméxico SAB de CV, and Virgin Australia Holdings Ltd found themselves in similar situations and in bankruptcy court.
Looking Ahead
More travel industry bankruptcies are almost assuredly on the way. Vaccines should help sometime in 2021, meaning that firms have 2-3 more quarters of reduced demand at a minimum with interest obligations and operational loses putting deep pressure on financial stability. 
The most prominent comparison to Hertz is Avis Budget Group Inc. This large competitor's FRISK® score has been in the red zone since February. It fell as low as a "2" during the worst of the first coronavirus upswing and at present sits at "3." Its bonds are junk rated and its total liabilities are seven times larger than its market capitalization. Like Hertz, Avis is "trying hard" to pay suppliers promptly, yet entered 2020 with $1.7 billion worth of debt coming due. Its business picked up in the third quarter after coming to a virtual halt in the second quarter; even still, risk professionals must keep an eye on Avis at least until the travel industry exhibits a sustained recovery before they can exhale.
More problematic could be Europcar Mobility Group SA, which has been sitting at a worst-possible FRISK® score of "1" for most of 2020. The company's bonds are junk rated and its total liabilities are 66 times larger than its market capitalization. It has a heavy debt load, with debt-to-total assets at 0.65x. About 50% of its debt was classified as short-term at the end of September. Europcar Mobility was able to cover its interest expenses in the third quarter, though again, operating in a notably troubled industry with so much short-term debt will make rolling over its maturities a difficult negotiation. 
Stepping back to look at the travel industry more broadly, there are many more problems brewing, as shown in the table below:
Public companies like airline operator Air France-KLM SA and diversified European travel conglomerate TUI AG are both struggling mightily these days, with each company sporting a FRISK® score of "1." In these cases, both continue to pay their bills on time, effectively cloaking the elevated risks, too. These listed corporations are hardly the only names that present heightened bankruptcy risk today in the travel space.
Bottom Line
COVID-19 has upended business conditions in many industries. The auto rental agencies and other travel-related names are only two examples of the increasing strains that risk professionals need to monitor. CreditRiskMonitor® can help keep you on top of all of your business relationships with highly accurate and timely bankruptcy scores, quick access to financial ratios and trends, and daily email updates on important news. Contact CreditRiskMonitor today for a personalized demonstration of how our service can help save you time and money.