¡Ay, Caramba! The coronavirus has grounded Grupo Aeroméxico SAB de CV, but their heavy debt load preceding the pandemic made the Mexican airliner a bankruptcy risk for many years prior.
"Our industry faces unprecedented challenges derived from a significant reduction in passenger demand on a global level," the company said in a filing with the Mexican stock exchange.
While air travel is currently floundering, the company was overleveraged heading into the decline. Grupo Aeroméxico reported net long-term debt including loans and leases of around $2.7 billion at the end of March. It sold $400 million in five-year notes in January. Our FRISK® score saw Grupo Aeroméxico vacillate between a "2" and a "1" since spring of 2019, indicating an elongated period of severe financial distress:
Image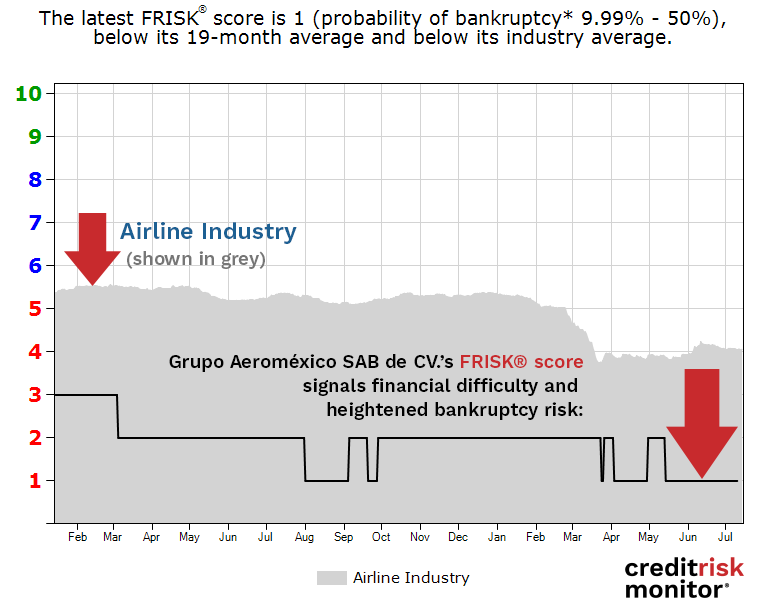 Download the free report to learn more.
About Bankruptcy Case Studies
CreditRiskMonitor® Bankruptcy Case Studies provide post-filing analyses of public company bankruptcies. Our case studies educate subscribers about methods they can apply to assess bankruptcy risk using our proprietary FRISK® score, robust financial database, and timely news alerts.
In nearly every case, a low FRISK® score gave our subscribers early warning of financial distress within a one-year time horizon. Our proprietary FRISK® score predicts bankruptcy risk at public companies with 96% accuracy. The score is formulated by a number of indicators including stock market capitalization and volatility, financial ratios, bond agency ratings from Moody's, Fitch and DBRS, and crowdsourced behavioral data from a subscriber group that includes 35% of the Fortune 1000 and thousands more worldwide.
Whether you are new to credit analysis or have decades of experience under your belt, CreditRiskMonitor® Bankruptcy Case Studies offer unique insights into the business and financial decline that precedes bankruptcy.