Spain-based construction company Obrascon Huarte Lain SA (OHL) has a FRISK® score of "1," indicating heightened risk of failure and a need for professionals to monitor the organization closely. A company that's largely unknown to the West, OHL nevertheless generates most of its revenue in the U.S. and in South America. In a highly interconnected world, large financially distressed companies like this pose far-reaching risks.
CreditRiskMonitor® is a leading web-based financial risk analysis and news service designed for credit, supply chain and financial professionals. Subscribers include thousands of risk professionals all over the world, including those employed by more than 35% of the Fortune 1000. A few important features of CreditRiskMonitor® are:
The FRISK® score, which is 96%-accurate in predicting public company failure risk
Coverage of more than 56,000 public companies across the globe
Timely news alerts, spread financial statements, credit agency ratings and analysis, and the Altman Z"-Score, among many other beneficial features.
Advanced Warning
Since September 2018, OHL's FRISK® score has declined from a "4" to a "1," the worst-possible score on the "1" (highest risk)-to-"10" (lowest risk) scale. Anything equal to "5" or below is considered to be in the high-risk "red zone" and deserves extra attention. When subscribers see a score decline to a "1," like with OHL, the failure rate within a year's time rockets up to a figure at or between 10 and 50%:
Image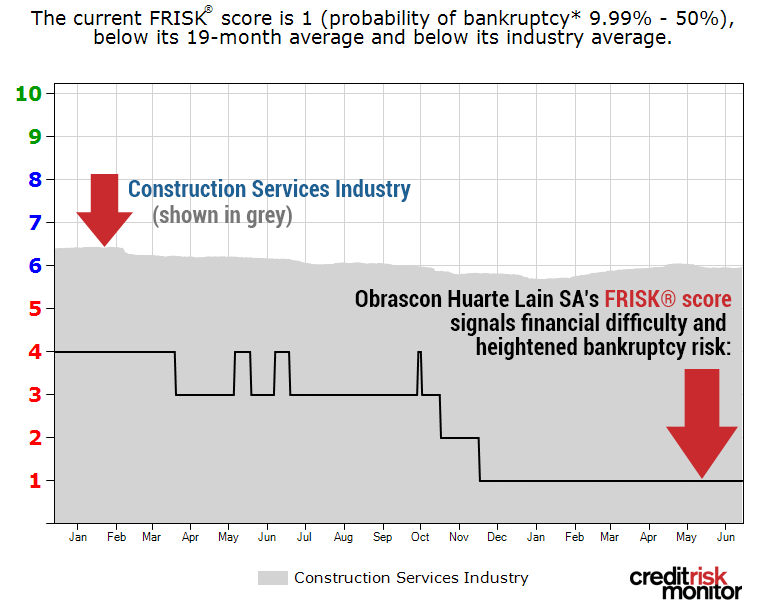 The decline in OHL's FRISK® score took place while the company was working through a corporate overhaul. In April 2018, the company sold its OHL Concessions division to IFM Global Infrastructure Fund for about €2 billion. A significant portion of that cash was used to pay down debt, helping to reduce the company's total debt by more than 50%.
As the company became smaller, however, total debt-to-equity ratio had risen from 0.4 to 1.0 times by the end of the year. Debt-to-tangible-net worth also increased from 0.4 to 1.6 times over the last five quarters; this metric ranked among the worst 25% of the construction services peer group.
Continuing Challenges
On a consolidated basis, both operating and EBITDA margins were negative over the last three years. Furthermore, free cash flow has been persistently negative for five consecutive years. While the divestiture of the Concessions division was helpful, business trends remain weak. 
Moody's downgraded OHL's credit rating in late 2018, mostly due to the aforementioned performance challenges. Although the company has a significant backlog of work globally (roughly £5.9 billion) that it expects to last for more than two years, several projects are still generating losses. Summing up the situation, Moody's determined the company's turnaround effort, spearheaded by the big asset sale "will require more time and potentially more costly restructuring efforts than previously anticipated."
OHL continues to rack up big deals, though. In 2018, it won a $187 million contract, along with joint venture partners, to work on a wastewater project in Long Island, N.Y. It also had smaller wins in Florida, Illinois and in the New York City area. Large construction projects are often multi-year efforts, thus OHL is still working on projects that it won in previous years. That includes a $1.2 billion joint venture to work on highways in California. And that's just within the U.S. market – it continues to rack up business across South America and Europe as well. Clearly the business has widespread reach, and it's important to heed the warning of the FRISK® score. 
Bottom Line
Multinational companies fail every year. A couple of high-profile examples included Westinghouse Electric, which filed for Chapter 11 in 2017, and Carillion, which went into Administration in 2018. No matter where your business is located, if you serve as counterparty to OHL or its suppliers, be mindful of the high-risk signal provided by the FRISK® score. To monitor financial risk in the construction space or any industry, call CreditRiskMonitor today for a free risk assessment at 845.230.3000.