Integrated support services operator Carillion PLC and its related companies are now in liquidation. It's a ghastly and rather abrupt decline for the U.K.-based corporate parent which dipped its proverbial toes into many different waters: they built hospitals, maintained prisons, arranged project finance and even provided meals to schoolchildren.
Carillion's FRISK® score plummeted from the top of the high-risk "red zone" of bankruptcy risk all the way down to the bottom, dropping from a score of "5" (0.87-to-1.40% chance of bankruptcy in the subsequent 12 months) in early March 2017 to a "1" (9.99-to-50%) just six months later in October. CreditRiskMonitor leverages this highly accurate score, which combines stock market capitalization and volatility data, financial ratios, bond agency ratings and crowdsourced subscriber behavior measuring, into a formula which is 96% accurate* in determining public company bankruptcy risk:
Image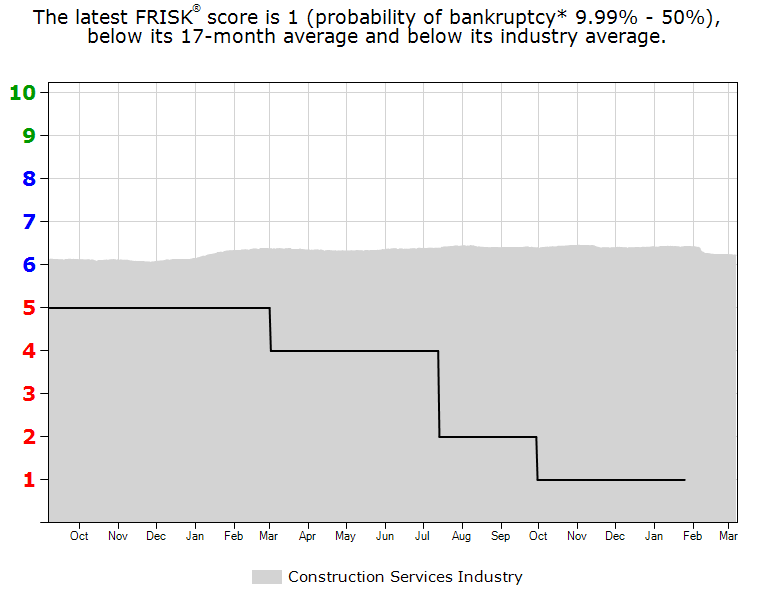 Carillion upped their propensity in taking on debt while operating and net income plummeted in 2017. As 2018 approached, the consequences were nothing short of disatrous. Considering pensions alone, Carillion was swamped by liabilities of at least £2.2 billion; their pension deficit stood at £580 million when the calendar turned. Less than two weeks after this news broke, they were bankrupt.
*FRISK® score accuracy of 96% is based on backtesting of U.S. public companies; results may vary by country.
About Bankruptcy Case Studies
CreditRiskMonitor® Bankruptcy Case Studies provide post-filing analyses of public company bankruptcies. Our case studies educate subscribers about methods they can apply to assess bankruptcy risk using our proprietary FRISK® score, robust financial database, and timely news alerts.
In nearly every case, a low FRISK® score gave our subscribers early warning of financial distress within a one-year time horizon. Our proprietary FRISK® score predicts bankruptcy risk at public companies with 96% accuracy. The score is formulated by a number of indicators including stock market capitalization and volatility, financial ratios, bond agency ratings from Moody's, Fitch and DBRS, and crowdsourced behavioral data from a subscriber group that includes 35% of the Fortune 1000 and thousands more worldwide.
Whether you are new to credit analysis or have decades of experience under your belt, CreditRiskMonitor® Bankruptcy Case Studies offer unique insights into the business and financial decline that precedes bankruptcy.