The potential damage done by a single broken link is enough to keep supply chain professionals up at night. That weak link can be two or more steps away - it doesn't need to be a direct connection - to cause irreparable damage. The major challenges affecting the air transportation industry today highlight the different ways in which supply chains can fall apart. External factors, however, need not wreak havoc in your company's portfolio if you establish strong supply chain oversight tools like the ones provided by CreditRiskMonitor®.
The Big Picture
Your direct suppliers and customers are incredibly valuable to your business, but supply chains don't end there.  A disruption at your suppliers' suppliers or your customers' customers can be equally disruptive to your business. The air transportation industry's supply chain travels from metal miners, producing things like bauxite, alumina, and, eventually, aluminum, to the vacationers and business travelers that are transported by airlines. Along the way are parts makers, like Spirit AeroSystems, engine makers, such as General Electric Company, airplane manufacturers, such as Boeing Co., lessor companies, including Aercap Holdings N.V., and airlines, like Virgin Australia Holdings Ltd. And that's just a high-level view. Problems can arise anywhere along the supply chain.
Today, the spread of COVID-19 has led to a severe drop in demand for air travel. That has impacted airlines, which are canceling plane orders and putting unused aircraft into storage. With reduced revenues, airlines are having trouble covering the financing and maintenance costs related to their aircraft fleets. With fewer orders, aircraft manufacturers are cutting back production, which means less revenue for them and their suppliers. With suppliers pulling back, there's less demand for base materials. 
2020 has seen many high-profile bankruptcies – like Virgin Australia – that were predictable for CreditRiskMonitor subscribers who leverage our proprietary FRISK® score to alert them to danger day in and day out.
Finding Risks before They Strike
CreditRiskMonitor® is designed to help subscribers identify counterparty financial risk early so it doesn't adversely impact their business. For Virgin Australia, who entered 2020 with a debt load of more than $3.2 billion pre-pandemic, the FRISK® score started warning of increasing financial risk back in 2018 with a steady decline through the "red zone" before finally capitulating with Chapter 15 and Voluntary Adminsitration in April. 
In February, the score had fallen to a worst possible score of "1", indicating that bankruptcy risk was 10x to 50x greater than the average public company. Virgin Australia was already heavily leveraged and burning cash before COVID-19 related adversity provided the final nail in the coffin.
Image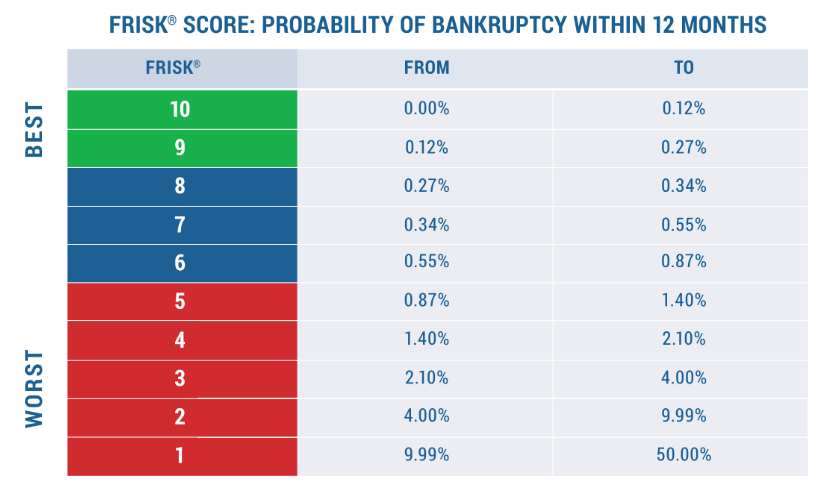 The same general story holds at Grupo Aeroméxico SAB de CV. The bankruptcy case study for the Mexican airline shows that the FRISK® score had been vacillating between a "1" and "2" for more than a year. Grupo Aeroméxico was in the bottom quartile of its peers on leverage metrics and was operating in the red. It filed for bankruptcy at the end of June. 
These companies, and many more, have been pulling back in the face of a steep drop in demand. Budget cuts have also impacted airline telecom provider Global Eagle Entertainment, which declared bankruptcy in July. As Global Eagle's bankruptcy case study lays out, it had been pegged at a worst possible FRISK® score of "1" for a year, thanks to sustained negative free cash flow and interest coverage ratio below 1. It didn't take long for a demand disruption to push the company over the edge and into the abyss.
Image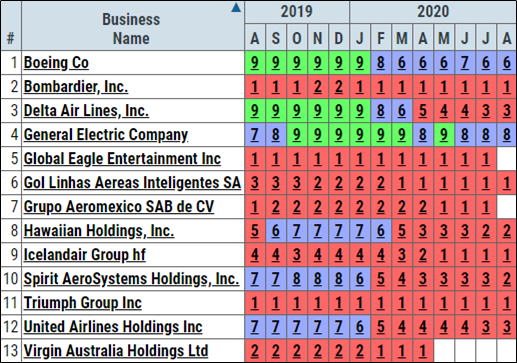 These aren't the only examples of the issue, they are just some of the notable names that COVID-19 related disruptions have forced into bankruptcy because of a combination of weak financials and a break in the overall supply chain. There are other names at risk in the air travel industry. For example, over the past year, Spirit Aerosystems, as noted above, has seen its FRISK® score drop from a solid "7" to a very worrisome "2," which sits in the bottom half of the FRISK® scale or the high-risk "red zone." Before filing for bankruptcy, 96% of all public companies will fall into the red zone. Spirit runs in the bottom quartile of its peer group on key leverage ratios. If Spirit were to be pushed into bankruptcy because a major customer, such as Boeing Co. (which has a FRISK® score of "7"), pulls back on production, it could spread the pain to other manufacturers and airlines that rely on Spirit for parts and services. It's worth noting that Spirit recently announced plans to materially cut its workforce to adapt to the industry's changing dynamics. That is the right business decision, but an ominous sign for the future. 
Contrast that with General Electric, which has been making headlines because of its long and difficult corporate restructuring process. However, this company, which touches the air transport industry supply chain multiple times, has seen its FRISK® score trend between a "9" and a "7." The score currently sits at an "8," which reflects good financial health and a very low chance of bankruptcy. Despite the troubling financial news, supply chain professionals would be wasting valuable time and resources focusing too deeply on GE at this point in the cycle. 
Bottom Line
Your time is valuable and your supply chain is complicated. When you step back and look at your supply chain in its entirety, there is likely to be a vast array of links chained to your business. You need to periodically examine all of them in the most effective and time-efficient manner. The CreditRiskMonitor® service was created to track financial risk quickly and conveniently, using the FRISK® score and other resources to highlight the risks associated with your highest dollar accounts. This method allows you to focus your efforts where they will have the most benefit. Contact us today to see how CreditRiskMonitor can help you keep on top of the risks in your supply chain.