Anchored off the United States' Gulf Coast Basin, PetroQuest Energy, Inc. could not further weather steep drops in sales and working capital, which in large part led to their November 2018 bankruptcy.
For the preceding 24 months before their Nov. 6, 2018 filing, CreditRiskMonitor subscribers who had this volatile oil and gas company in their portfolio would have seen a troubling pattern, as their FRISK® score never rose above a "2" in that time. The FRISK® score is CreditRiskMontor's proprietary solution which boasts a 96% rate of accuracy in predicting U.S. public company bankruptcy risk within a 12-month period.
Image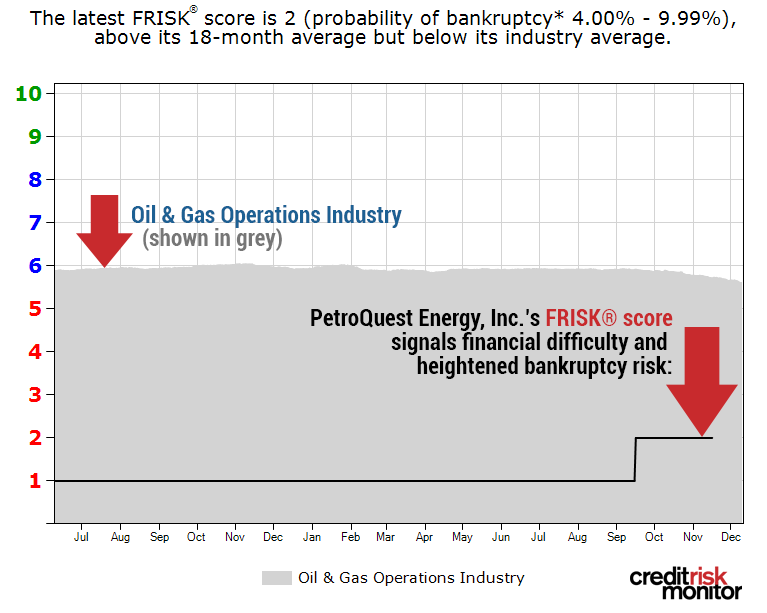 This Bankruptcy Case Study chronicles PetroQuest Energy's path Chapter 11 filing, including a timeline of concerning headlines which come as part of the CreditRiskMonitor service. Every subscriber receives timely news alerts, in addition to a daily FRISK® score, to keep an eye on what's happening with their publicly traded counterparties.
Download the free report to learn more.
About Bankruptcy Case Studies
CreditRiskMonitor® Bankruptcy Case Studies provide post-filing analyses of public company bankruptcies. Our case studies educate subscribers about methods they can apply to assess bankruptcy risk using our proprietary FRISK® score, robust financial database, and timely news alerts.
In nearly every case, a low FRISK® score gave our subscribers early warning of financial distress within a one-year time horizon. Our proprietary FRISK® score predicts bankruptcy risk at public companies with 96% accuracy. The score is formulated by a number of indicators including stock market capitalization and volatility, financial ratios, bond agency ratings from Moody's, Fitch and DBRS, and crowdsourced behavioral data from a subscriber group that includes 35% of the Fortune 1000 and thousands more worldwide.
Whether you are new to credit analysis or have decades of experience under your belt, CreditRiskMonitor® Bankruptcy Case Studies offer unique insights into the business and financial decline that precedes bankruptcy.