Retail leader Fred's, Inc. tried to stave off Chapter 11 with new leadership while hundreds of their drugstores closed for good. A household name in much of the U.S., we look at what led to their rapid decline.
Fred's, Inc. is engaged in the sale of general merchandise through its retail discount stores and full-service pharmacies. The Memphis-based company has approximately 556 retail stores in over 15 states, mainly in the Southeastern U.S. Fred's general merchandise selection includes an array of staple and discretionary products from brand names and its private label, including health, beauty and personal care products, household cleaning supplies, disposable diapers, pet foods, paper products and a variety of general merchandise, food and beverage products.
CreditRiskMonitor, in its ever-present assessing of Fred's, Inc., saw a FRISK® score of "1" several months before the eventual Chapter 11 filing. That "1" indicated a bankruptcy risk potential that was 10-to-50 times greater than the average public company when looking out upon a 12-month horizon:
Image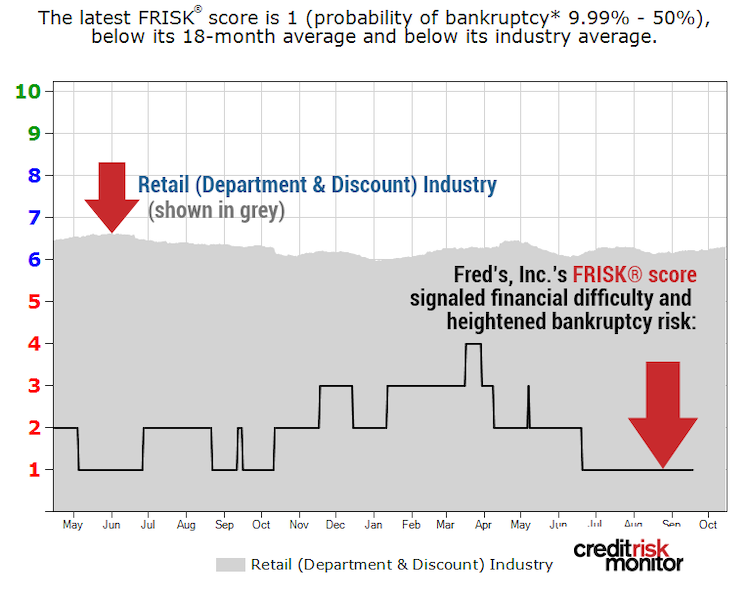 This Bankruptcy Case Study looks into the failings of Fred's, Inc., with a keen focus on the year-plus leading to their tapping out. A persistent negative interest coverage ratio and negative free cash flow were certainly problematic, as was the company's inability to meet short-term liabilities in four of the last five fiscal quarters due to inadequate working capital.
Download the free report to learn more.
About Bankruptcy Case Studies
CreditRiskMonitor® Bankruptcy Case Studies provide post-filing analyses of public company bankruptcies. Our case studies educate subscribers about methods they can apply to assess bankruptcy risk using our proprietary FRISK® score, robust financial database, and timely news alerts.
In nearly every case, a low FRISK® score gave our subscribers early warning of financial distress within a one-year time horizon. Our proprietary FRISK® score predicts bankruptcy risk at public companies with 96% accuracy. The score is formulated by a number of indicators including stock market capitalization and volatility, financial ratios, bond agency ratings from Moody's, Fitch and DBRS, and crowdsourced behavioral data from a subscriber group that includes 35% of the Fortune 1000 and thousands more worldwide.
Whether you are new to credit analysis or have decades of experience under your belt, CreditRiskMonitor® Bankruptcy Case Studies offer unique insights into the business and financial decline that precedes bankruptcy.