Struggling Claire's Stores Inc, a global retailer of fashion jewelry and accessories, recently filed for Chapter 11 bankruptcy. Its FRISK® score remained at the worst level of "1" for a prolonged period, effectively signaling substantial financial distress and elevated bankruptcy risk. This event, unfortunately, underlines the overarching challenges still facing the broader retail industry.
Image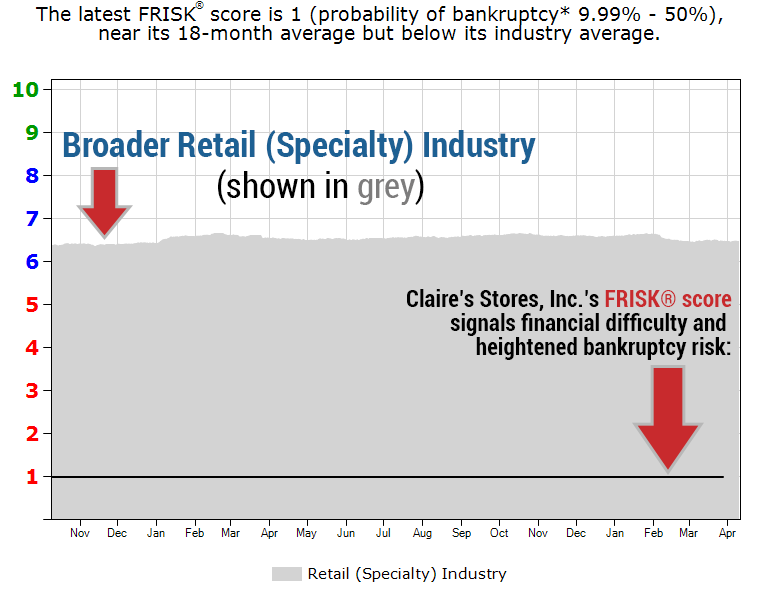 This Bankruptcy Case Study will illustrate acute warning signs that developed approximately one year in advance of the filing date. For instance, the company's tangible net worth was highly concerning, exceeding negative $2 billion for several years. And in the 12 months preceding their bankruptcy filing, Claire's Stores' interest coverage ratio collapsed below a factor of "1."
Download the free report to learn more. If you are interested in protecting your portfolio against risk, we invite you to schedule a personalized demo with us to learn more about our offerings.
About Bankruptcy Case Studies
CreditRiskMonitor® Bankruptcy Case Studies provide post-filing analyses of public company bankruptcies. Our case studies educate subscribers about methods they can apply to assess bankruptcy risk using our proprietary FRISK® score, robust financial database, and timely news alerts.
In nearly every case, a low FRISK® score gave our subscribers early warning of financial distress within a one-year time horizon. Our proprietary FRISK® score predicts bankruptcy risk at public companies with 96% accuracy. The score is formulated by a number of indicators including stock market capitalization and volatility, financial ratios, bond agency ratings from Moody's, Fitch and DBRS, and crowdsourced behavioral data from a subscriber group that includes 35% of the Fortune 1000 and thousands more worldwide.
Whether you are new to credit analysis or have decades of experience under your belt, CreditRiskMonitor® Bankruptcy Case Studies offer unique insights into the business and financial decline that precedes bankruptcy.