Canadian oil & gas titan Bellatrix Exploration Ltd. suffered under the weight of tremendous debt, keeping their FRISK® score pinned down before eventual bankruptcy. CreditRiskMonitor's 96%-accurate FRISK® score is calculated every day to assess bankruptcy risk in public companies and projects the likelihood of bankruptcy looking forward 12-months. High accuracy and timeliness are the two most important features of the FRISK® score that help financial risk evaluators stay ahead of bankruptcy. The FRISK® score uses a "1" (most risky)-to-"10" (least risky) scale to determine just how vulnerable a business is to failure.
Based in Calgary in the Canadian Rockies, Bellatrix sported a FRISK® score of "1" for the majority of 2019, briefly rising to a "2" before filing for Chapter 11 protection:
Image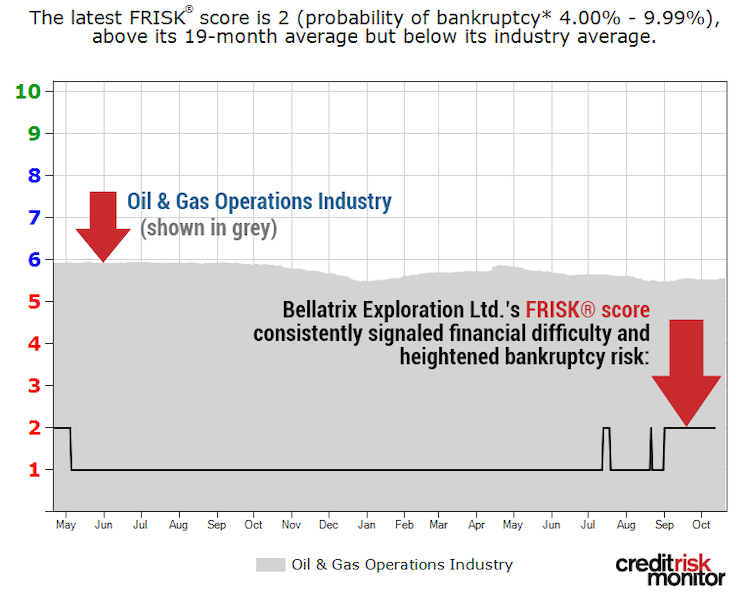 In this Bankruptcy Case Study, we explore why Bellatrix eventually tapped out as huge quarterly net losses piled up and working capital rapidly decreased.
Download the free report to learn more.
About Bankruptcy Case Studies
CreditRiskMonitor® Bankruptcy Case Studies provide post-filing analyses of public company bankruptcies. Our case studies educate subscribers about methods they can apply to assess bankruptcy risk using our proprietary FRISK® score, robust financial database, and timely news alerts.
In nearly every case, a low FRISK® score gave our subscribers early warning of financial distress within a one-year time horizon. Our proprietary FRISK® score predicts bankruptcy risk at public companies with 96% accuracy. The score is formulated by a number of indicators including stock market capitalization and volatility, financial ratios, bond agency ratings from Moody's, Fitch and DBRS, and crowdsourced behavioral data from a subscriber group that includes 35% of the Fortune 1000 and thousands more worldwide.
Whether you are new to credit analysis or have decades of experience under your belt, CreditRiskMonitor® Bankruptcy Case Studies offer unique insights into the business and financial decline that precedes bankruptcy.