Global Debt Problematic: Corporate Defaults Portend Record Financial Losses
05/05/2019
Ready to learn more?
Risk management professionals are focused on the synchronized global economic slowdown
There's ~$9 trillion in outstanding U.S. corporate debt and global debt stands at record levels

One-third of this balance is considered poor quality, including leveraged loans and junk debt

History tells us that this excessive leverage will lead to widespread corporate defaults
Three massive default waves have occurred in the U.S. over the course of the last 30 years

Each wave generated substantial financial losses for bondholders and unsecured trade creditors

These defaults and bankruptcies also caused significant supply chain disruptions
When U.S. Non-Financial Corporate Debt (NFCD)-to-GDP approaches its peak (denoted by the blue line), public companies have difficulty servicing their debt and default rates tend to soar shortly thereafter (denoted by the red line):
Market Signals Predict a Catastrophic Gross Loss of $1.1 Trillion. Do You Know Where Your Risk Lies?
Image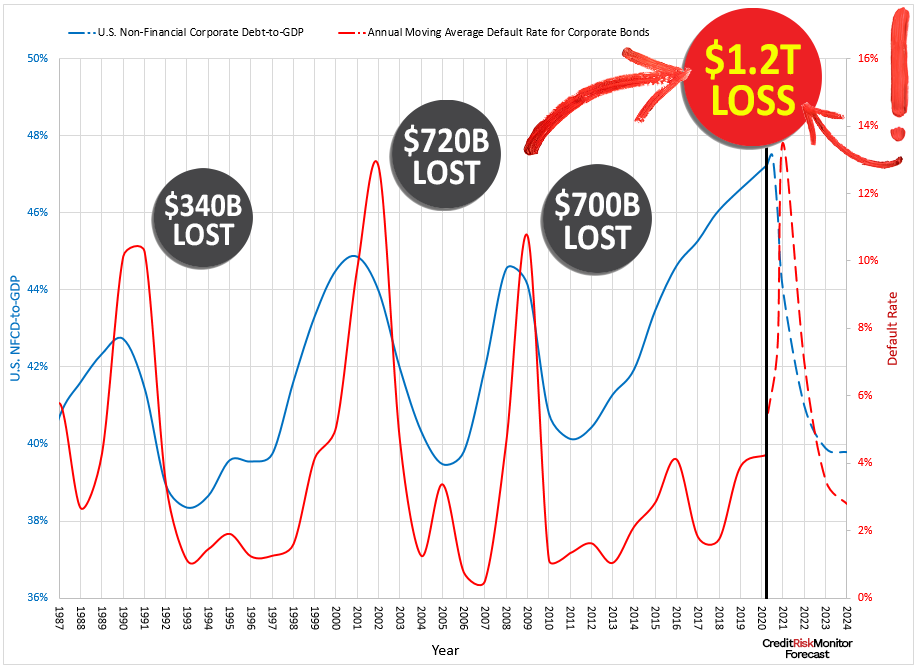 SEC Chairman Jay Clayton stated on Apr. 8, 2019, that he saw market expectations that were "out of step with reality" in the current leverage-loans sector which reflected those in the period before the 2008 financial crisis.  
Fed Chairman Jerome Powell testified to the House Financial Services Committee in late February 2019 that leveraged loans represented a macro risk which could "have an amplification effect in a downturn."
For best practices of risk mitigation, see our recommendations below:
Identify the number of public companies you do business with that have a weak credit profile
Isolate companies with the highest default/bankruptcy risk in the coming 12 months
Compare company financial risk within our credit reports to those of other bureaus
Current subscribers can easily perform each of these steps by using the CreditRiskMonitor service. If you are new to CreditRiskMonitor and our offerings, contact us online or dial us at 845.230.3000 to set up a tailor-made risk assessment of your portfolio, free of charge. 
CreditRiskMonitor is a financial news and analysis service designed to help professionals stay ahead of public company risk quickly, accurately and cost-effectively. More than 35% of the Fortune 1000, plus thousands more worldwide, rely on our commercial credit reporting and predictive risk analytics for assessing the financial stability of more than 56,000 global public companies. At the core of CreditRiskMonitor's service is its 96%-accurate FRISK® score, which is formulated to predict public company bankruptcy risk. 
One of four key components calculated in the FRISK® score is crowdsourced subscriber activity. This unique system tracks subscribers' patterns of research activity, capturing and aggregating the real-time concerns of what are essentially the key gatekeepers of corporate credit. Other features of CreditRiskMonitor's service include timely news alerts, the Altman Z"-Score, agency ratings, financial ratios and trends. CreditRiskMonitor's network of trade contributors provides more than $1.8 trillion in trade data on their counterparties each year, giving them visibility into their biggest dollar risks.