Colorado-based oil and gas giant Ultra Petroleum Corporation's ineffective use of assets to generate earnings is causing our subscribers to feel like their well is going dry.
Net income for Q4 decreased by nearly 60% when looking at YoY financials comparing 2017 to 2018. Coupled with recurring negative free cash flow, it's not hard to see why Ultra Petroleum's FRISK® Score has sunk to a "1:"
Image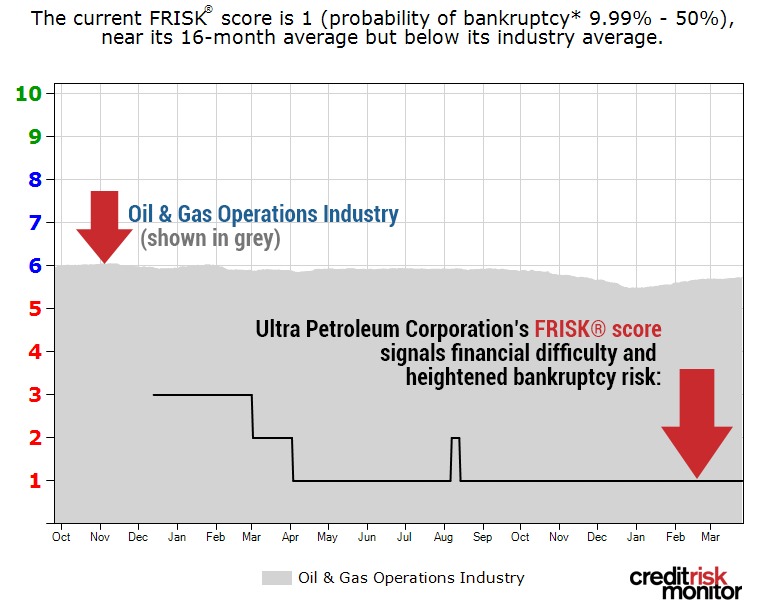 This High Risk Report drills deep into all of the factors troubling Ultra Petroleum Corporation. Moreover, this in-depth coverage is what our subscribers come to find when they opt to purchase CreditRiskMonitor services. Our data-driven mission is to protect our clientele from the dangers of financial risk in public and private companies.
Download the free report to learn more.
About High Risk Reports
Our High Risk Reports feature companies that are exhibiting a significantly high level of financial distress, as indicated by our proprietary FRISK® score.
The reports highlight the factors that have pushed a company's score lower on the "1" (worst) to "10" (best) FRISK® score, which is 96% accurate in predicting bankruptcy over a 12-month period. The High Risk Reports also includes analysis on financial indicators such as the company's DBT index, stock performance, financial ratios and how it is performing relative to its industry peers.
The ultimate goal of the High Risk Report series is two-part: provide an early warning for those doing business with an increasingly distressed company and inform of the many signals that should be examined when assessing financial risks.