We're seeing financial risk increasing within agricultural equipment leader Titan International, Inc. With the FRISK® score in their arsenal, our subscribers are far less likely to be surprised when public company bankruptcies crop up.
Based in Illinois, Titan International is a wheel, tire, and undercarriage industrial manufacturer and supplier. In May 2019, we saw a drop in their FRISK® score from a "3" to a bottom-ranked "1." A score like this indicates that the probability of bankruptcy within the coming 12 months for Titan International is 10-to-50 times higher than the average public company:
Image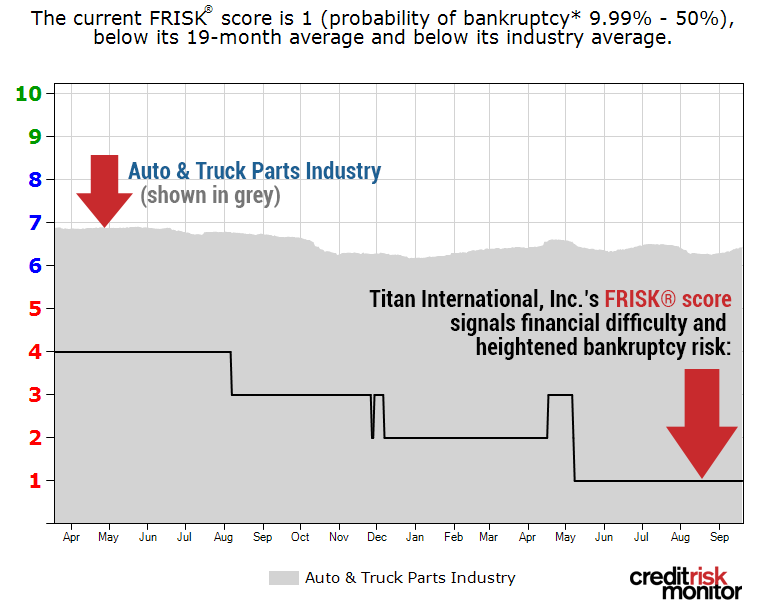 This High Risk Report digs deep into why Titan International appears to be a riskier play than its peers in the Auto & Truck Parts industry. As just one example, looking at recent quarterly liquidity ratios and rates of return, we see that the company's working capital is in consistent decline. Reviewing stock market volatility data, financial ratios, bond agency ratings and our own gathered subscriber crowdsourcing data, we're able to deliver a metric in the FRISK® score that is 96% accurate in identifying U.S. public company bankruptcy.
Download the free report to learn more.
About High Risk Reports
Our High Risk Reports feature companies that are exhibiting a significantly high level of financial distress, as indicated by our proprietary FRISK® score.
The reports highlight the factors that have pushed a company's score lower on the "1" (worst) to "10" (best) FRISK® score, which is 96% accurate in predicting bankruptcy over a 12-month period. The High Risk Reports also includes analysis on financial indicators such as the company's DBT index, stock performance, financial ratios and how it is performing relative to its industry peers.
The ultimate goal of the High Risk Report series is two-part: provide an early warning for those doing business with an increasingly distressed company and inform of the many signals that should be examined when assessing financial risks.