CPI Card Group, Inc. has seen it's FRISK® score flatline for 12 consecutive months as persistent negative net worth suggests loanable collateral has been exhausted.
Based out of Littleton, Colo., CPI is engaged in the design, production, data personalization, packaging and fulfillment of financial payment cards, which it defines as credit cards, debit cards and prepaid debit cards, issued on the networks of the payment card brands in the United States, Europe and Canada.
Image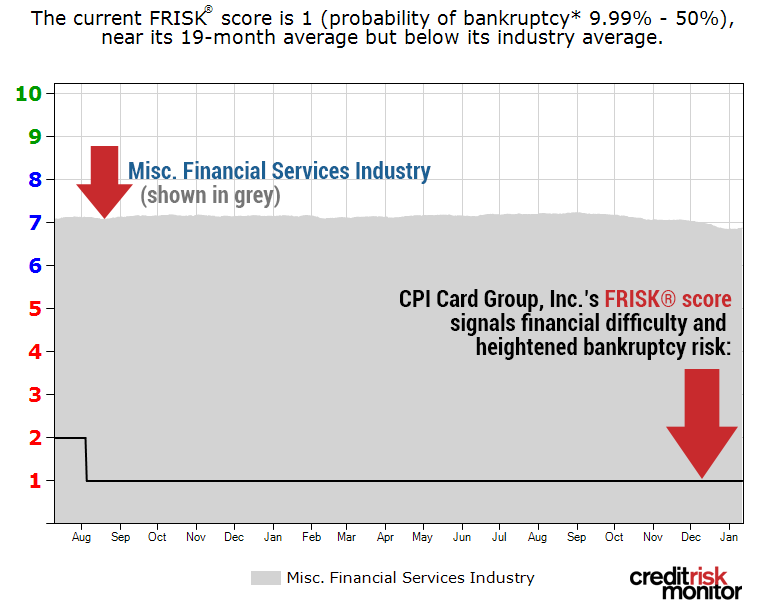 This High Risk Report will detail the decline and risky future of this financial company. CPI's cash ratio is remarkably weak relative to industry peers, and over the course of the last five quarters, and when CreditRiskMonitor subscribers look into CPI's rate of return in sequential quarters, they have not been able to generate any positive returns since before 2017.
Download the free report to learn more.
About High Risk Reports
Our High Risk Reports feature companies that are exhibiting a significantly high level of financial distress, as indicated by our proprietary FRISK® score.
The reports highlight the factors that have pushed a company's score lower on the "1" (worst) to "10" (best) FRISK® score, which is 96% accurate in predicting bankruptcy over a 12-month period. The High Risk Reports also includes analysis on financial indicators such as the company's DBT index, stock performance, financial ratios and how it is performing relative to its industry peers.
The ultimate goal of the High Risk Report series is two-part: provide an early warning for those doing business with an increasingly distressed company and inform of the many signals that should be examined when assessing financial risks.