Pennsylvania based Black Box Corporation (NASDAQ: BBOX), a technology solutions provider, has seen its finances deteriorate over the last few quarters, a fact highlighted by the downward trend in its FRISK® score. It's current FRISK® score of "2" is below the broader communication services FRISK® industry average of "7," signaling more risk on both an absolute and relative basis.
Image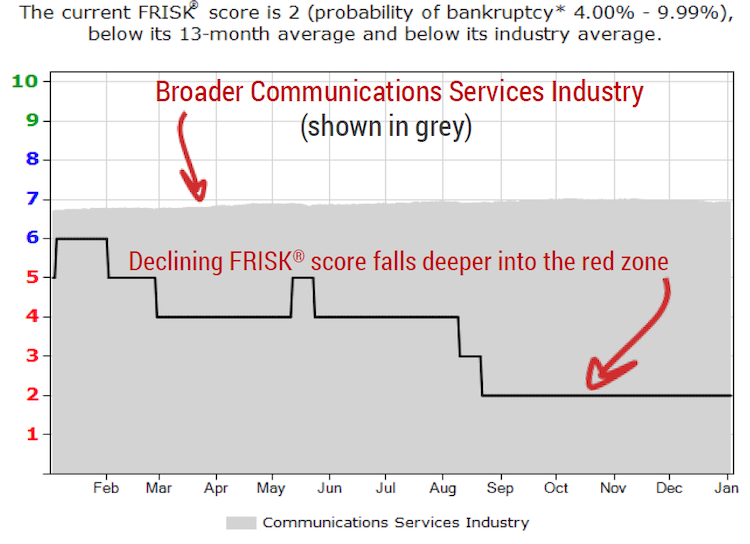 This High Risk Report will demonstrate key factors that are contributing to Black Box Corporation's currently distressed financial state. The tech company's financials compared to its peers are particularly telling. For instance, both inventory turnover and gross margins rank in the bottom quartile, adding trouble to its already weak trend in sales.
About High Risk Reports
Our High Risk Reports feature companies that are exhibiting a significantly high level of financial distress, as indicated by our proprietary FRISK® score.
The reports highlight the factors that have pushed a company's score lower on the "1" (worst) to "10" (best) FRISK® score, which is 96% accurate in predicting bankruptcy over a 12-month period. The High Risk Reports also includes analysis on financial indicators such as the company's DBT index, stock performance, financial ratios and how it is performing relative to its industry peers.
The ultimate goal of the High Risk Report series is two-part: provide an early warning for those doing business with an increasingly distressed company and inform of the many signals that should be examined when assessing financial risks.