Tracking the Impact of Tariffs on Bankruptcy Risk
10/24/2018
The U.S. government has already imposed $250 billion in trade tariffs on Chinese products, representing nearly half of the total import volume from China in 2017. On Jan. 1, 2019, the broad tariff rate will increase from 10% to 25%. China has responded with $60 billion in retaliatory tariffs, but the White House has stated that more tariffs will be instituted if upcoming negotiations transpire poorly. 
A full-blown trade war between China and the United States could impact operators with poor credit quality, which CreditRiskMonitor tracks daily.
CreditRiskMonitor is a leading web-based financial risk analysis and news service designed for credit, supply chain and financial professionals. Subscribers include thousands of risk professionals all over the globe, including employees from more than 35% of the Fortune 1000. A few important features of CreditRiskMonitor's service are:
The FRISK® score, which is 96% accurate* in predicting public company financial stress and bankruptcy risk.
Commercial credit report coverage spanning more than 58,000 global public companies and nearly 80,000 of the largest U.S. private companies.
Proprietary subscriber crowdsourcing, a powerful scoring model that derives research patterns from thousands of financial experts globally.
On The Watch
Supply chains are changing sourcing and managing higher cost inputs because of escalating trade tensions. Some of these costs will continue to be passed onto end markets, yet margins and sales are already being affected. While the broader impact to businesses has been limited so far, the U.S. Chamber of Commerce warned that retaliatory tariffs could require the U.S. government to provide billions in aid to various industries. 
CreditRiskMonitor's fundamental service allows subscribers to monitor one of the most worrying things that could result from tariffs – corporate financial risk. CreditRiskMonitor provides detailed financial analysis, risk modeling and timely news to stay ahead of trouble. With this comprehensive data, subscribers can monitor the health of their financial counterparties daily.
Our proprietary FRISK® score identifies financial stress within public companies with a rate of 96% accuracy* within a 12-month window. Key inputs for the FRISK® score include subscriber crowdsourcing, stock volatility data, financial statement ratios and credit agency ratings. All of these factors feed into the comprehensive FRISK® score, which measures risk quickly and effectively. The model is represented in a "1" (highest risk)-to-"10" (lowest risk) scale:
Image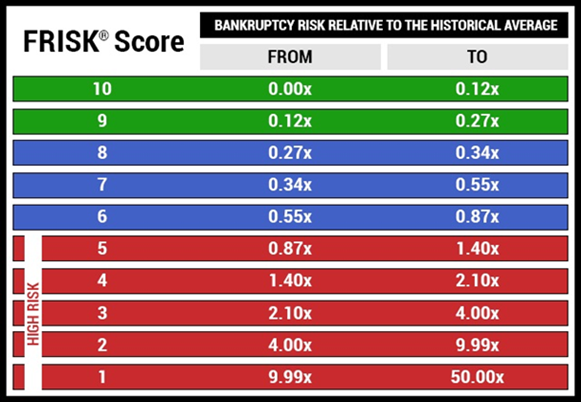 The impact of the tariffs will show up in the FRISK® score over time, as they impact every aspect of the score's inputs. For example, crowdsourcing will pick up when risk professionals are increasingly worried about a company, as will market sentiment. Over the long haul, the impact will flow through a company's financial statements, which will, in turn, impact the financial metrics within the FRISK® score. And credit rating agency changes will get reflected within the score as they occur. 
So what does it all mean? For most companies, subscribers won't need to change what they are doing today. They can simply continue to use the FRISK® score as a first line of defense against risk that arises from tariffs. However, some industries are going to be more impacted than others. In such cases, which notably includes the auto sector, risk professionals should be especially careful with companies that are already financially weak. This is where the broader array of services the CreditRiskMonitor provides takes center stage.
The Auto Industry
As an example of what the future could hold, auto manufacturers and parts suppliers are already seeing an impact from relatively higher steel and aluminum prices across the globe. Additionally, the U.S. and China have instituted 25% and 40% tariffs on auto products, respectively, which have already impacted automotive sales. These situations have decidedly negative implications:
As always, we recommend that companies falling into the high-risk "red zone" be monitored more closely. Tesla and Navistar fall directly into this category. Tesla's credit profile is among the weakest in the auto space, as shown by its FRISK® score of "2."
About CreditRiskMonitor
CreditRiskMonitor is a financial news and analysis service designed to help professionals stay ahead of public company risk quickly, accurately and cost-effectively. More than 35% of the Fortune 1000, plus thousands more worldwide, rely on our commercial credit reporting and predictive risk analytics for assessing the financial stability of more than 57,000 global public companies.
At the core of CreditRiskMonitor's service is its 96%-accurate FRISK® score, which is formulated to predict public company bankruptcy risk. One of four key components calculated in the FRISK® score is crowdsourced subscriber activity. This unique system tracks subscribers' patterns of research activity, capturing and aggregating the real-time concerns of what are essentially the key gatekeepers of corporate credit. Other features of CreditRiskMonitor's service include timely news alerts, the Altman Z"-Score, agency ratings, financial ratios and trends. CreditRiskMonitor's network of trade contributors provides more than $2 trillion on their counterparties every year, giving them visibility into their biggest dollar risks.