Blue Apron Holdings, Inc. is one of the largest of the companies to latch on to the meal kit concept, providing customers with a box containing all the ingredients and instructions for a home cooked meal. Since its IPO in July of 2017 which provided Blue Apron with a much needed cash infusion, the company has yet to achieve breakeven. As meal kits look to find their place in the market, CreditRiskMonitor®'s proprietary FRISK® score is warning that Blue Apron still needs close monitoring.
CreditRiskMonitor® is a leading web-based financial risk analysis and news service designed for credit, supply chain and financial professionals. Subscribers include thousands of risk professionals all over the globe, including employees from more than 35% of the Fortune 1000. A few core features of the CreditRiskMonitor service are:
Commercial credit report coverage spanning more than 58,000 global public companies and more than 80,000 of the largest U.S. private companies.
The FRISK® score, which is 96%-accurate in predicting U.S. public company financial stress and bankruptcy risk. One of four key components calculated in the FRISK® score is crowdsourced subscriber activity. This unique system tracks subscribers' patterns of research activity, capturing and aggregating the real-time concerns of what are essentially the key gatekeepers of corporate credit. 
The FRISK® Stress Index, a free-to-use tool which measures the probability of failure across a group of companies in any industry, country or customized portfolio.
Don't Get Burned
The FRISK® score is a "1" (highest risk) to "10" (lowest risk) scale that highlights financial risk over the coming 12 months. Any score of "5" or below is in the high-risk "red zone," at which point financial counterparties should be paying close attention to a company as it is at elevated risk of financial distress and, potentially, bankruptcy. 
CreditRiskMonitor first warned of the financial risks at Blue Apron in January 2018, shortly after the company went public, given its FRISK® score has been stuck in the "red zone." In the last quarter of 2018, the score has trended in the lower end of the range between "3" and "1." As a company moves lower into the red zone financial risk materially increases, as the table below illustrates.
Image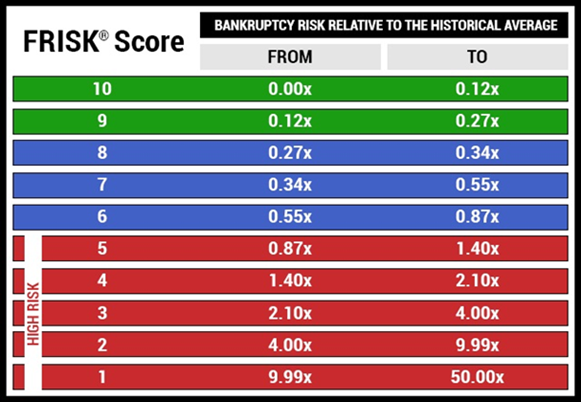 Blue Apron currently sits at a FRISK® score of "2". It's time to review Blue Apron's financial results and corporation actions again as it proceeds through 2019.
Financial Challenges
Blue Apron's revenues fell 24% year over year in 2018, with sequential quarterly declines in each of the last three quarters. Although the company was able to cut operating costs and thus improve margins, it was unable to post positive EBITDA for any quarter within the year.
Negative free cash flow of nearly $92 million in 2018 continued to cut into the cash obtained from its IPO and revolving credit facility. At the end of 2018, the company's cash balance stood at about $96 million. Unless Blue Apron can improve its free cash flow performance or raise more money, it appears that they have only a little more than a year's supply of cash left to fund the business. Note that the December quarter saw negative free cash flow of roughly $25 million.
Although Blue Apron trimmed debt by nearly 24% in 2018, notably impacting its cash balances, its debt level remains slightly elevated. With Blue Apron suffering from top and bottom line weakness, it will also need to manage its balance sheet to ensure it doesn't turn into a more pressing problem.
A Changing Plan
The sales decline is, in fact, a part of the plan. In its early days, Blue Apron worked to gain market share and add new customers. However, not all of its customer base is profitable, so they are now focusing on its biggest spenders. The customer count fell around 14% year over year in 2018, with average revenue per customer up 8%. From a top-down perspective, refocusing around your best customers sounds like a good financial decision – yet many of the notable moves Blue Apron made last year speak to a management team that is still just experimenting in the hope of finding a profitable business model.
The original idea behind meal kits was that consumers would have an ongoing subscription and interact with Blue Apron only online. In 2018, Blue Apron tried many new approaches that essentially ran counter to that premise: it sold kits in discount clubs, at reduced rates, in a test that only lasted a few months. Blue Apron began working with Jet.com offering meals on a one-off basis and putting an online retailer in-between itself and customers. It also partnered with a celebrity to attract interest in its products and struck a deal with WW, formerly known as Weight Watchers. And lastly, the company has started to sell meal kits through an online retailer at lower price points that require customers to provide their own protein.
There's nothing inherently wrong with experimenting, yet Blue Apron's efforts don't appear to be producing the intended results. Return on total assets in 2018 was roughly negative 27%; that was an improvement over 2017 when return on total assets was negative 52%, but it's still a troubling figure. 
Bottom Line
Blue Apron is promising that it will right-size its business and find an approach that will generate positive EBITDA in 2019. The scramble and the results so far don't inspire confidence, and the recurring cash burn suggests that time is limited. Although Blue Apron doesn't appear to be in immediate danger of financial distress, suppliers should remain as vigilant today as they did a year ago. Blue Apron may be able to fix its business model, but the FRISK® score continues to warn that it won't be a smooth ride.