Senior Living Operators Struggling to Survive the COVID-19 Pandemic
01/27/2021
Ready to learn more?
The coronavirus has wreaked havoc upon the senior housing industry in the U.S. Companies that operate senior housing facilities have struggled against historic headwinds, with industry bellwether Brookdale Senior Living, Inc. reporting an 11.2% occupancy decline in 2020. Operators have received rent relief from their landlords, which has helped in some cases but in others, it may be too late as bankruptcy looms. Below are companies that CreditRiskMonitor's FRISK® score, which predicts bankruptcy risk with 96% accuracy, is warning about today.
Stay Ahead of Bankruptcy
CreditRiskMonitor's FRISK® score brings together four unique metrics, including stock market performance, financial statement ratios, bond agency ratings, and the crowdsourced research behavior of CreditRiskMonitor subscribers. The FRISK® score allows for an accurate and timely snapshot of bankruptcy risk over a 12-month timeframe, outperforming payment-based scores, like our Days Beyond Term (DBT) Index. The DBT Index is similar to Dun & Bradstreet's PAYDEX® score, which frequently fails to predict public company bankruptcies. Since public companies have greater access to capital than private companies and often pay on time all the way up to the filing, this dynamic of hidden financial risk is known as the "Cloaking Effect." The FRISK® score "red zone" is the bottom half of the "1" (highest risk)-to-"10" (lowest risk) range.
| | | |
| --- | --- | --- |
| Company | FRISK® score | DBT Index |
| Genesis Healthcare, Inc. | 1 | 8 |
| Capital Senior Living Corporation | 1 | 8 |
| Brookdale Senior Living, Inc. | 3 | 9 |
| Diversicare Healthcare Services, Inc. | 3 | 9 |
| Five Star Senior Living, Inc. | 6 | 10 |
The FRISK® scores above show significantly elevated bankruptcy risk for these firms over the next 12 months in contrast to their DBT Indexes. Beware of the Cloaking Effect.
The FRISK® score bankruptcy probability chart below shows that the first four operators listed above – remember, focus on the red – carry significantly higher risk of bankruptcy over the next 12 months.
Image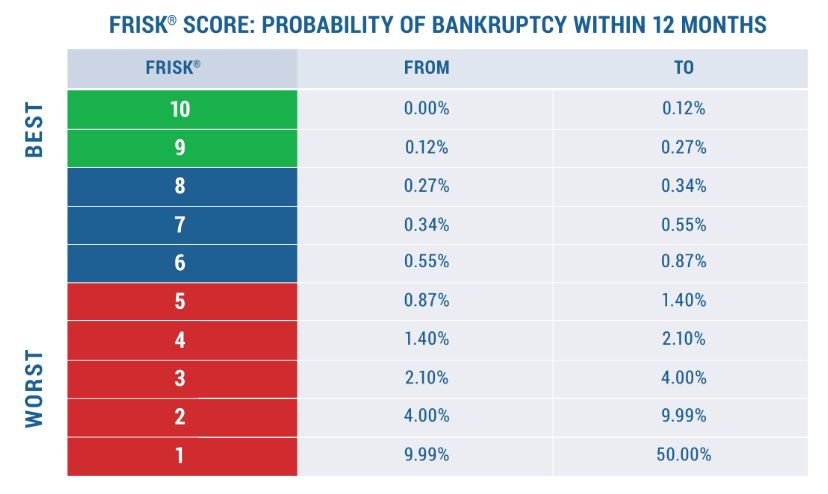 Senior housing operator Genesis Healthcare Inc. remains current on its payments, which provides a positive signal to payment scores. Yet the company receives the worst possible FRISK® score of "1", indicating a 10-to-50% chance of bankruptcy between now and February 2022; close monitoring of this company will be vital. Genesis Healthcare's score fell to a "1" in October 2020.
Other tidbits about the company:
It has lost more than half of its market value in the last 12 months
Its high stock market volatility is associated with a higher level of bankruptcy risk, and
It has experienced a 30% drop in revenue in the last 12 months
Notably, Genesis Healthcare disclosed material doubt about its ability to remain a going concern in the Management, Discussion, Analysis (MD&A) of its second-quarter report:
"Without giving effect to the prospect, timing and adequacy of future governmental funding support and other mitigating plans, many of which are beyond our control, it is unlikely that we will be able to generate sufficient cash flows to meet our required financial obligations, including our rent obligations, our debt service obligations and other obligations due to third parties."
Real estate investment trusts (REITs) with exposure to Genesis have written down the value of rent receivables from the operator. Some are trying to lend a hand by reducing rent obligations, but that may not be enough. If you do business with Genesis Healthcare, you must remain vigilant and think hard about adjusting terms.
By comparison, Five Star Senior Living Inc. is in better shape with a FRISK® score of "6." Like Genesis Healthcare, Five Star Senior Living has been working with its landlords to change agreements. That's including switching from net lease relationships, in which Five Star Senior Living pays rent, to becoming an operator that is paid a fee from the REIT for running a property. After a challenging start to 2020, this arrangement with Five Star Senior Living recently improved its working capital position. 
The difference between Genesis Healthcare and Five Star Senior Living is clear: Five Star Senior Living received financial breathing room that helped it muddle through this difficult period. That's quite an alternative outcome compared to the lifeline being given to Genesis Healthcare, which is managing a weaker financial position. While coronavirus vaccines are being administered nationwide, it will take time before the pandemic materially dissipates. 
Bottom Line
There is eventual hope for American senior housing companies, as COVID-19 will one day relent despite claiming more than 400,000 lives domestically – and counting. It is unclear, however, if all operators will make it to the end of the pandemic without meeting bankruptcy first. Contact CreditRiskMonitor today for a free portfolio risk assessment to see how to provide relief to your key counterparties or better implement risk mitigation.