CreditRiskMonitor®'s proprietary FRISK® score is meant to quickly highlight financial risks within your financial portfolio. Scientific Games Corporation is one company currently being flagged as an elevated risk, despite its positive cash flow. The following analysis illustrates that this gaming company needs to be closely monitored, as evidenced by its low FRISK® score.
CreditRiskMonitor® is a leading web-based financial risk analysis and news service designed for credit, supply chain and financial professionals. Subscribers include thousands of risk professionals all over the globe, including employees from more than 35% of the Fortune 1000. A few core features of the CreditRiskMonitor service are:
Commercial credit report coverage spanning more than 58,000 global public companies and more than 80,000 of the largest U.S. private companies.
The FRISK® score, which is 96%-accurate in predicting U.S. public company financial stress and bankruptcy risk.
The FRISK® Stress Index, a free-to-use tool which measures the probability of failure across a group of companies in any industry, country or customized portfolio.
What's Going On?
Scientific Games provides a host of products and services to the gambling sector, including video game machines, lottery machines and services and, most recently, sports betting technology. The company has largely been cash flow positive for the last several years, yet its annual pre-tax profit has been negative dating back to 2015. Equally troubling, its financial leverage has materially increased leading up to 2019.  
Based on the company's financials, we can see why Scientific Games' FRISK® score entered 2018 in the high-risk FRISK® score "red zone:" the company is sunk within the lower half of the "1" (highest risk) to "10" (lowest risk) scale through which 96% of the public companies that CreditRiskMonitor® covers pass through before they go bankrupt. In particular, Scientific Games' FRISK® score dropped from a "3" to a worst-possible "1" in Q4 2018. 
Which begs the question: why would a cash flow positive company show up as such a high risk?
Image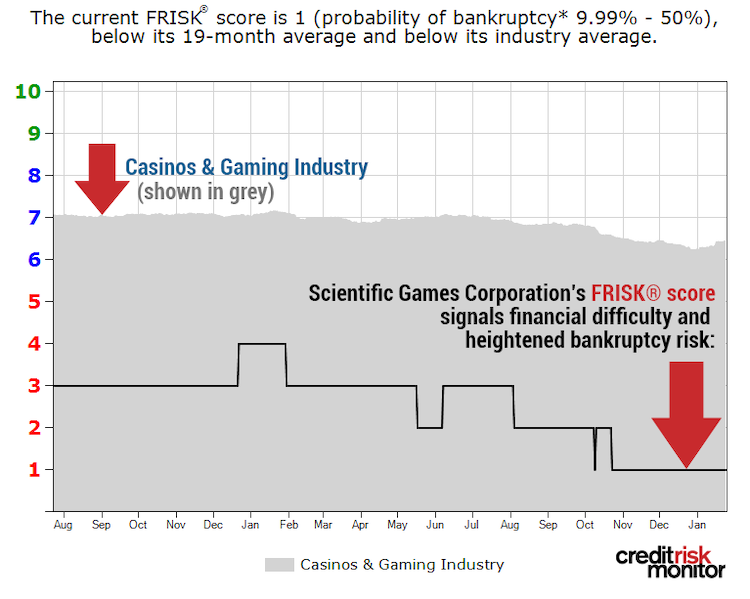 The Market Moves Fast
The FRISK® score uses four data components, including adjusted market data, financial statement ratios, agency credit ratings and proprietary subscriber crowdsourcing. Each are incorporated using non-linear, dynamic weightings. Equally important, the four factors mitigate each other's shortcomings and ultimately provide a more accurate result than any one component alone. 
A key driver for Scientific Games' FRISK® score lately has been adjusted market data, a component that is updated daily and that allows for the wisdom of the market to be included in the score. A big benefit of this component is that markets tend to react more quickly than agency ratings or financial ratios (which are only available quarterly). 
Going Even Deeper
Digging into the CreditRiskMonitor® service helps to show why the market is raising a red flag for Scientific Games' FRISK® score. The "risk factors" section of Scientific Games' 2017 10K illuminates a number of important facts. For example, the gaming industry has cyclical risk given its dependence on consumer discretionary spending. It is therefore recognized that an economic downturn could be particularly painful for Scientific Games. 
Secondly, the company's total debt-to-assets have increased from 60% during the 2009 Great Recession to 114% today: a significant increase. The company is looking to de-leverage, but it must spend heavily to effectively compete in the gaming industry and grow its business in new ways, specifically expanding into sports betting. Sports betting is a new market and the outcome of the investment here is uncertain, though it has clearly led to a larger debt burden. Additionally, its recently acquired businesses may need additional investment before they are consistently contributing to cash flow. As such, the company may not be able to reduce leverage in the near term if it hopes to grow its sports betting division. 
Lastly, Scientific Games discloses that it has been increasingly extending credit to customers. The historically low interest rate environment has made such lending desirable, yet when the next downturn comes, these customers will most certainly encounter issues in making payments. That, in turn, would hit Scientific Games' finances hard. The company may not be able to pull back on such lending either if it wants to compete effectively.
Bottom Line
All in all, Scientific Games' FRISK® is sending a warning signal and maintains the worst-possible score of "1." Scientific Games' high leverage, elevated investment needs, cyclical business risk and recent penchant for extending credit to customers are all issues which necessitate a more sophisticated level of monitoring. While Scientific Games is cash flow positive today, by no means is that carte blanche to ignore risk given what is now known to lurk within their financials. When the next economic downturn comes, you'll certainly be glad that you heeded the warning provided by the FRISK® score and prepared in advance.