The energy sector represented a good portion of all U.S. public company bankruptcies in 2018. Cumbersome debt loads and relatively low commodity prices were the two primary drivers common to all of the companies. Below is a list of the largest corporations that were forced into Chapter 11 in 2018 and some companies that could be at risk of bankruptcy in 2019 for similar reasons. 
CreditRiskMonitor® is a leading web-based financial risk analysis and news service designed for credit, supply chain and financial professionals. Subscribers include thousands of risk professionals all over the globe, including employees from more than 35% of the Fortune 1000. A few core features of the CreditRiskMonitor service are:
Commercial credit report coverage spanning more than 58,000 global public companies and many U.S. private companies.
The FRISK® score, which is 96%-accurate* in predicting public company financial stress and bankruptcy risk.
The FRISK® Stress Index, a free-to-use tool which measures the probability of failure across a group of companies in any industry, country or customized portfolio.
The FRISK® Score's Early Warning
A prominent American coal mining company and seven oil and gas businesses in the public company landscape were placed into Chapter 11 restructuring during 2018. Subscribers who had any of these businesses in their CreditRiskMonitor® portfolio would have received a warning alert triggered by a low FRISK® score well in advance of the bankruptcy. What's more, the FRISK® score is calculated daily to provide the most accurate assessment of an individual public company's bankruptcy risk quotient.
Prior to filing, each energy company's FRISK® score was trending deep in the high-risk "red zone," which is an indication of high financial stress and elevated risk of bankruptcy. The red zone corresponds to the lower half of the "1" (highest risk) to "10" (lowest risk) FRISK® score scale. The chart below provides a more detailed look at the FRISK® score:
Image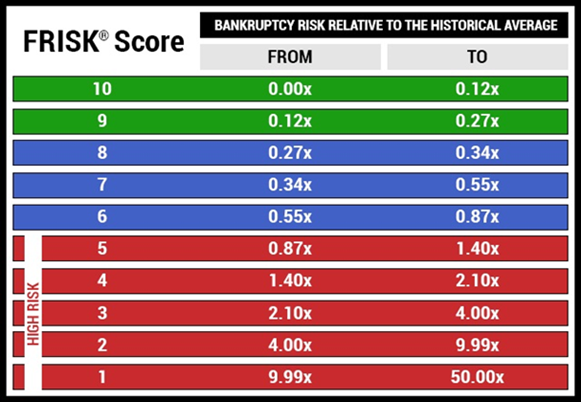 All of the 2018 energy sector bankruptcies stood either at a FRISK® score of "2" or "1" for several months, and occasionally longer than a year, before filing. Thus, CreditRiskMonitor® subscribers had plenty of time to make needed changes to their relationships with each of these companies. In addition to the early warning provided by the FRISK® score, we also covered several of the energy businesses that went bankrupt in our High Risk Reports and Bankruptcy Case Studies.
| | | | | |
| --- | --- | --- | --- | --- |
| Company | Filing Date | Total Liabilities (quarter filing preceding bankruptcy; in thousands) | Industry | Special Reports Issued |
| Westmoreland Coal Company | Oct. 9, 2018 | $2,179,315 | Coal Mining | High Risk Report / Bankruptcy Case Study |
| EXCO Resources, Inc. | Jan. 15, 2018 | $1,590,540 | Oil & Gas |   |
| Rex Energy Corporation | May 18, 2018 | $1,087,724 | Oil & Gas | High Risk Report / Bankruptcy Case Study |
| EV Energy Partners, L.P. | Apr. 2, 2018 | $813,793 | Oil & Gas |   |
| Parker Drilling Company | Dec. 12, 2018 | $699,010 | Oil & Gas | High Risk Report / Bankruptcy Case Study |
| Erin Energy Group | Apr. 25, 2018 | $614,569 | Oil & Gas |   |
| Gastar Exploration, Inc. | Oct. 31, 2018 | $434,486 | Oil & Gas |   |
| PetroQuest Energy, Inc. | Nov. 6, 2018 | $369,099 | Oil & Gas | Bankruptcy Case Study |
More Looming Restructurings? 
Our public company coverage in the energy sector spans thousands of companies worldwide. In 2019, there are several hundred businesses within that global sum trending in the FRISK® score red zone. We screened the list of higher-risk names and handpicked four businesses that we believe are significant credit risks. Three are medium-sized operators in the oil and gas sub-sector, while the smallest name is in the coal mining industry:
| | | | | |
| --- | --- | --- | --- | --- |
| Company | FRISK® score  | Total Liabilities (most recent quarter; in thousands) | Industry | Special Reports Issued |
| Sanchez Energy Corporation | 1 | $3,011,809 | Oil & Gas |   |
| Ultra Petroleum Corporation | 1 | $2,719,939 | Oil & Gas |   |
| Jones Energy, Inc. | 1 | $1,298,655 | Oil & Gas | High Risk Report |
| Cloud Peak Energy, Inc. | 1 | $683,581 | Coal Mining |   |
We provide comprehensive and detailed commercial credit reports on each of these businesses. All the companies are currently dealing with elevated leverage, poor quality cash flows and weak asset market values. We created a High Risk Report for Jones Energy and provided some analytical commentary on challenges specific to Cloud Peak Energy. Collectively, we believe these four operators are increasingly at risk of default or bankruptcy in 2019. 
Bottom Line
Volatile commodity prices and rising interest rates have been a challenge for operators in the energy sector. Those with heavy debt loads were particularly challenged in 2018. Fortunately, CreditRiskMonitor® subscribers were alerted well in advance to every operator that was eventually forced into bankruptcy restructuring. Unfortunately, 2019 could prove to be an equally troubling year. 
The four companies highlighted above share similar traits to those of the 2018 class of energy bankruptcies, particularly the fact that they each are trending in the high-risk FRISK® red zone. CreditRiskMonitor® subscribers, which include risk professionals from more than 35% of the Fortune 1000 and other large corporations worldwide, will be constantly updated to the risks posed by these four companies and more. Most importantly, all of our subscribers will be prepared well in advance of any negative credit outcomes.