There's no end in sight to the carnage COVID-19 is rendering in the retail sector. Public and private company bankruptcies in this industry are piling up as 2020 embarks into Q4. Private discount retailer Century 21 Department Stores LLC is the most recent addition to a seemingly endlessly growing list of 2020 retail bankruptcies. CreditRiskMonitor®'s highly accurate bankruptcy risk scores and worldwide coverage will keep you ahead of such troubles. Below are a few examples of the early warnings that subscribers have been provided so far in 2020.
Public Companies 
J. C. Penney Company, Inc. is one of many iconic retailers that has been in the headlines in 2020 for all the wrong reasons. CreditRiskMonitor®'s FRISK® score pegged the department store chain at a worst-possible "1" well in advance of the company's May bankruptcy. A score that low on the "1" (highest risk)-to-"10" (lowest risk) FRISK® score scale indicates a 10-to-50x higher risk of bankruptcy compared to an average public company. Using the FRISK® score to their advantage, CreditRiskMonitor subscribers knew exactly how precarious J. C. Penney's financial position was for months – several years, really – in advance of its bankruptcy filing. 
However, the department store operator continued to pay its bills on time right up until it filed for bankruptcy. Traditional payment-based risk scores like Dun & Bradstreet's PAYDEX® score, which is similar to our DBT Index (Days Beyond Terms), didn't provide a timely warning of the trouble to come. Public companies often pay in a timely manner so they can maintain high scores and retain access to lines of credit from suppliers, cloaking any potential financial risk. Due to this "Cloaking Effect," traditional payment scores are not useful for monitoring risk in public companies.
Image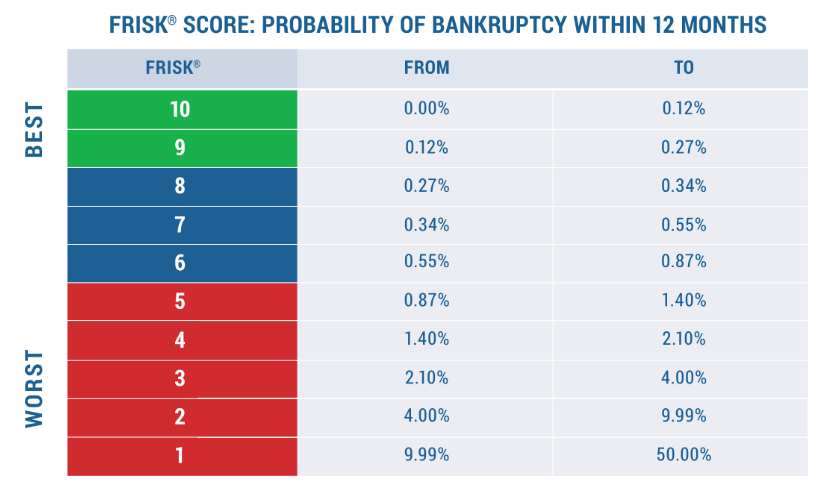 The differentiating factor is that the FRISK® score combines data from four unique, objective, and difficult to manipulate input classes, including bond agency ratings, financial statement ratios, stock market performance, and the crowdsourced research behavior of CreditRiskMonitor subscribers. This combination of independent inputs allows for a more accurate and timely snapshot of the true risks within your portfolio, so your company can stay ahead of counterparty bankruptcies.
Private Companies
It's often difficult to obtain the financial statement data required to create a private company FRISK® score thereby elevating the importance of payment histories and behavior when assessing private counterparty risk. Looking at the traditional payment-based scores like the DBT Index, off-price retailer Century 21 was paying its bills in a timely manner through part of 2020, hiding the increasing risk exposure facing suppliers and other counterparties. In contrast, CreditRiskMonitor®'s PAYCE® score, which uses deep neural network artificial intelligence to assess federal tax lien and payment data and output forward predictions on the probability of bankruptcy within 12 months, fell from a high-risk "3" in August 2019 to the worst possible "1" in April 2020. The DBT index did not decline until April 2020 or indicate significant payment issues until June.
Image

CreditRiskMonitor® subscribers were, once again, ahead of the bankruptcy curve here. However, a PAYCE® score of "3" is already a key warning sign, as it sits deep in the high-risk "red zone." This zone represents the bottom half of the PAYCE® score's "1" (highest risk)-to-"10" (lowest risk) range, whereas traditional payment scores did not identify any risk until April.
Image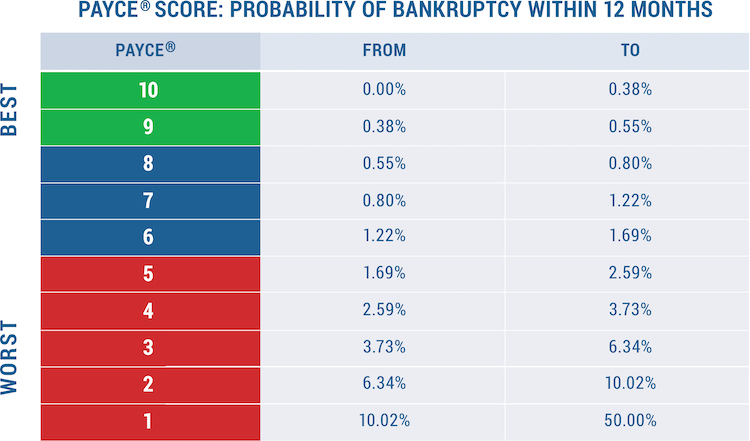 The PAYCE® score boasts an industry-leading 70+% accuracy rate for private company bankruptcy prediction on over 90,000 North American businesses.  The PAYCE® score's deep neural network AI-based model is able to identify high-risk patterns in payment trends that are beyond human recognition resulting in alerting of risk several quarters before severe delinquency becomes detectable under traditional methods of assessment. Like the FRISK® score, this proprietary bankruptcy model provides the lead time needed to modify and avoid financial loss – lead time that's frankly lacking in alternative scoring options like Dunn & Bradstreet PAYDEX® and even the Altman Z"-Score.
Foreign Companies, Too
While the public-versus-private company dichotomy is clearly a very important distinction, the foreign-versus-US contrast is also worth examining.  Foreign retailers like Mexico based Grupo Famsa SAB de CV, Germany's TOM TAILOR Holding SE, Finland's Stockmann Oyj, and the United Kingdom's Debenhams PLC (for a second time in two years) have also ended in corporate failure. CreditRiskMonitor®'s FRISK® score provided ample warning as each of these foreign companies began to encounter severe financial stress. The global pandemic is hitting retailers around the world, making it more important than ever to rely on CreditRiskMonitor®'s worldwide company coverage and highly accurate bankruptcy models, the FRISK® and PAYCE® scores.
Presently, around half of roughly 200 bankruptcies that CreditRiskMonitor® has tracked year-to-date were foreign. Retail financial risk is pervasive worldwide, and particularly within the APAC region:
| | | | |
| --- | --- | --- | --- |
| Country | FRISK® Ranked Companies | % in Red Zone | % of General Merchandise Stores in Red Zone |
| China | 5,000 | 23% | 40% |
| Japan | 3,700 | 22% | 63% |
| India | 3,000 | 34% | 85% |
CreditRiskMonitor®'s FRISK® score also provides the capability of reviewing high-risk businesses by not only industry type and region (as shown above), but also through a subscriber's customized portfolio. This view allows subscribers to analyze their overall portfolio risk trends and to identify which companies are most vulnerable to filing for bankruptcy.
Bottom Line
Century 21 is one of the latest large private retailers that has succumbed to bankruptcy. More public and private retailers are going to go bankrupt around the world before this industry shakeout is complete. It's important to not rely on subpar risk management tools to handle the ongoing crisis within the retail sector. CreditRiskMonitor provides highly accurate public and private bankruptcy scores and a global coverage universe to support your risk mitigation efforts during these trying times. Contact CreditRiskMonitor® today to see how your company can benefit from collaborating with us by calling 845.230.3000.