Global purchasing manager indexes, including manufacturing and services, are steadily deteriorating and could be on pace to fully contract for the first time since 2009. As the risk of a severe economic downturn swells, it is imperative that your own company prepares for such a scenario immediately. 
How could it affect your company? CreditRiskMonitor® has found that public companies average 53% of typical dollar risk exposure worldwide. Due to record low interest rates, corporations across the globe have become excessively indebted. In the U.S., corporate debt reached an all-time high in 2019.
According to CreditRiskMonitor®'s corporate default forecast, financial losses stemming from U.S. non-financial public companies will reach an estimated $1.1 trillion in the next economic downturn:
Image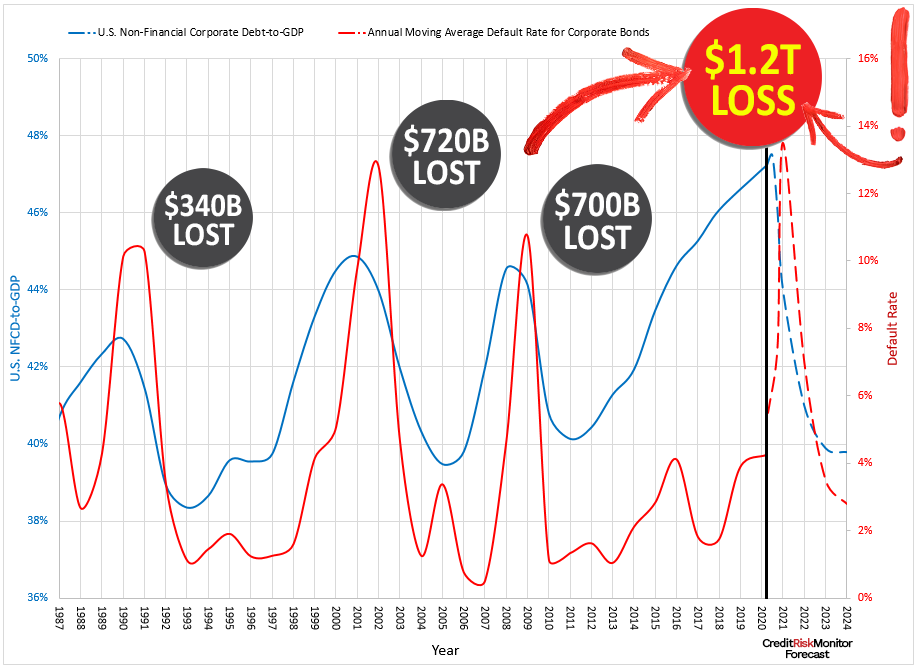 This estimate is based on current non-financial corporate debt-to-GDP of 47% against the average historical peak default rate of 12%. Public companies with the weakest credit quality will generate a majority of these losses. 
As a risk professional – whether in credit, finance or supply chain – you should monitor risk exposure to commercial counterparties that are financially distressed and carry elevated risk of bankruptcy. This is a critically important job function because your company can be severely affected by public company bankruptcy and it should never catch you by surprise.
Stay Ahead of the Curve
CreditRiskMonitor®'s 96%-accurate FRISK® score is calculated every day to assess bankruptcy risk in public companies and projects the likelihood of bankruptcy looking forward 12-months. High accuracy and timeliness are the two most important features of the FRISK® score that help financial risk evaluators stay ahead of bankruptcy. The FRISK® score uses a "1" (most risky)-to-"10" (least risky) scale to determine just how vulnerable a business is to failure:
Image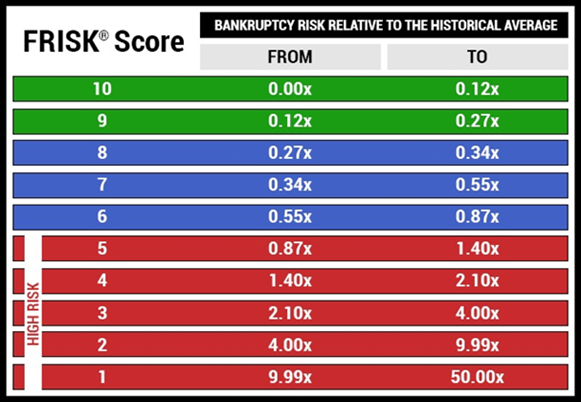 Whenever a company's FRISK® score falls into the "red zone," the bottom half of the scale, CreditRiskMonitor® recommends that subscribers carefully monitor that business. Subscribers will receive alerts as the FRISK® score trends lower into the red zone, which is an important warning signal. For companies in the red zone, CreditRiskMonitor® recommends carrying out the following steps:
Examine the company's financial condition 
Proactively address the situation with your own management team
Discuss your concerns with the counterparty business
Consider taking action to reduce your company's risk exposure
Regardless of the industry in which your company operates, the CreditRiskMonitor® service will allow you to identify public company bankruptcy risk before it develops into a crisis issue.  
Bottom Line
Over the course of the past five years, the most distressed U.S. industries have been retail and energy, which have resulted in widespread public company bankruptcies. As global economic conditions continue to deteriorate, more industries and companies will be exposed to financial distress and bankruptcy. Nearly 30% of publicly traded companies worldwide are already trending in the FRISK® red zone. 
If you would like access to CreditRiskMonitor®'s broad coverage of more than 56,000 public companies, please contact us today.