Purdue Pharma L.P. CEO Craig Landau recently stated that the company could file for bankruptcy given all of its pending litigation. Insys Therapeutics, Inc., meanwhile, is facing similar legal challenges and received a going concern opinion from its auditor. Both U.S.-based companies primarily manufacture medication used to treat severe pain and, unfortunately, each played a part in the country's pervasive opioid crisis. CreditRiskMonitor's bankruptcy models have been warning of financial stress on these companies for more than a year.
CreditRiskMonitor®'s commercial credit report coverage spans more than 56,000 public companies globally and numerous private companies. Thousands of professionals around the world use the service to monitor financial risk, including those employed by more than 35% of the Fortune 1000. CreditRiskMonitor® offers a suite of proprietary financial risk models and other comprehensive information resources to stay ahead of bankruptcy, including: 
The FRISK® score, which monitors financial risk for both public and private companies, is 96% predictive of bankruptcy looking ahead 12 months.
The PAYCE® score is similarly designed to predict financial distress in advance, but specifically only covers private companies in which no financial statement information is available.
Timely news alerts, spread financial statements, credit agency ratings and analysis, the Altman Z''-Score, among many other beneficial features.
Problems with Purdue Pharma
The PAYCE® score leverages deep neural network technology, a type of artificial intelligence, and currently predicts bankruptcy risk with 70% accuracy. The lower half of the PAYCE® score scale, which is based on a "1" (highest risk)-to-"10" (lowest risk) range, is known as the "red zone." As shown below, Purdue Pharma's PAYCE® score has been trending in this elevated risk realm for more than a year:
Image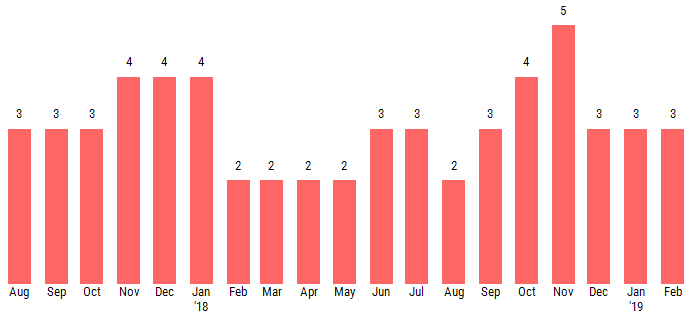 Purdue Pharma's score has predominantly trended between a "2" and a "3" since the summer of 2017, providing CreditRiskMonitor® subscribers with advanced warning of this potential bankruptcy filing. Additionally, our news headline feed has shown some concerning trends, including a number of changes in the executive management team and the hiring of a restructuring advisor late last year. All of this information was available to subscribers prior to the bankruptcy warning from the company, fed to their dashboard and/or e-mail address as part of our daily service. 
From a high level, the company's drug pipeline and portfolio mostly consists of opioids, including OxyContin® and Hysingla® ER, among others. Purdue Pharma was charged with deceptive market practices that appeared to minimize the risks associated with its products. The company ultimately paid out $600 million to various entities, which included fines imposed by the Department of Justice, in May of 2007. Today, Purdue Pharma faces lawsuits from 36 states over its marketing practices, according to Bloomberg. Once again, it appears the company will be on the hook for another large payout.
Issues with Insys
Another pharmaceutical business currently showing signs of financial stress is Insys Therapeutics. CreditRiskMonitor®'s FRISK® score uses a scale that ranges from "1" (highest risk) to "10" (lowest risk). In this case, Insys Therapeutics' FRISK® score has also been trending in the high-risk red zone:
Image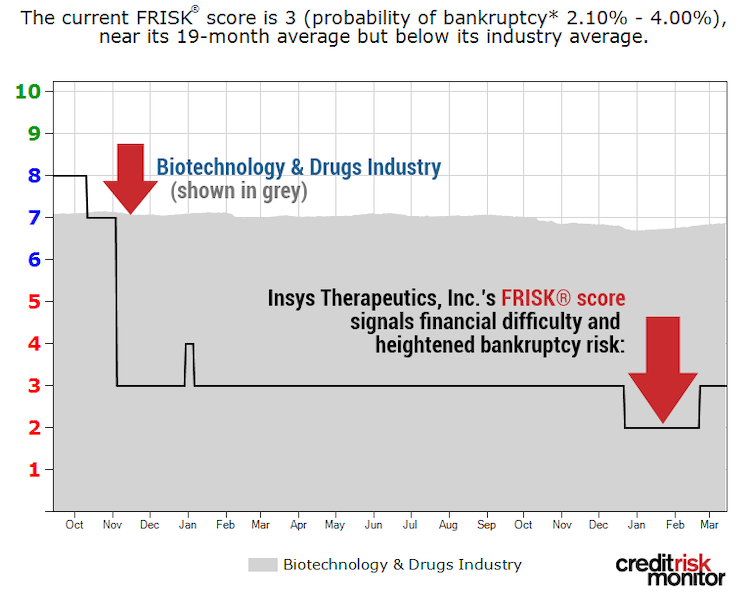 As shown in the graph, the FRISK® score of "3" trends well below the Biotechnology & Drugs Industry average FRISK® score of "7." So what are the concerns for this business? Insys Therapeutics primarily manufactures SUBSYS®, a fentanyl spray, but many industry watchers suggested it was inappropriately pushed into the consumer market. Consequently, the company has been subject to a number of legal proceedings.
Over the past two years, Insys Therapeutics has also shown a substantial deceleration in prescription volumes. More specifically, 2018 net sales are only about one-third of what they were in 2016. Due to cost deleveraging, the business has been running steep operating losses:
Image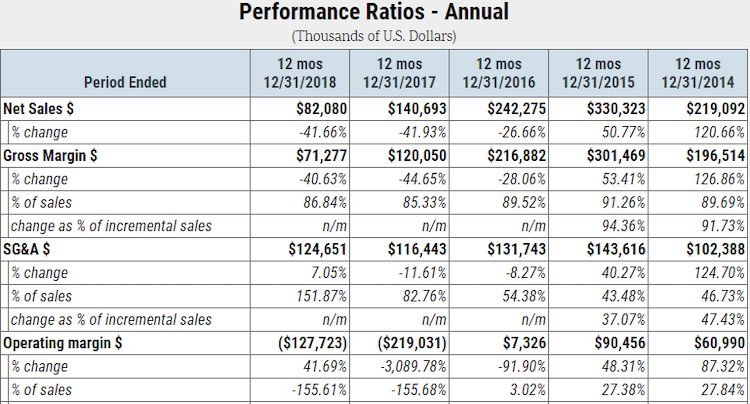 As mentioned in this article's introduction, Insys Therapeutics' auditor issued a going concern opinion in March of 2019, indicating that the business is likely financially insolvent. Insys Therapeutics has a weak balance sheet: as of Dec. 31, 2018, the company's accumulated accounts payable, including legal expenses, and litigation settlements totaled approximately $217 million – more than twice its total cash on hand and short-term investments. Furthermore, its shareholder equity balance fell into negative territory in 2018 and will continue to erode given its ongoing financial losses.
Bottom Line
Opioid overdoses have exceeded 70,000 individuals annually in recent years, according to the CDC. Some pharmaceutical companies have decided to completely curtail the manufacturing and distribution of opioids to help mitigate the problem and ultimately circumvent legal backlash. Yet the implications of being involved in this headline-grabbing issue can't be undone: we're now seeing the severe financial ramifications on pharmaceutical companies intimately tied to the opioid niche, some of which could be forced into bankruptcy.
CreditRiskMonitor® provides commercial credit reports on numerous U.S. companies involved with biomedical research, pharmaceuticals and drug-related fields. If your company is a counterparty to any business in these industries, contact CreditRiskMonitor® to see how we can help you mitigate financial risk.