Dun & Bradstreet (D&B) revealed that their PAYDEX® score disguises public company bankruptcy in its 2012 white paper "Bankruptcy: Why the Surprise?" It was true then and our research shows that it is equally true today.  In fact D&B used NewPage Corporation as an example, explaining it was "a bankruptcy filing we received many inquiries about." NewPage's PAYDEX® score of "72" was and continues to be considered "good" – equating to payments coming within 15 days beyond term. Risk professionals were completely blindsided when the company filed for bankruptcy in September 2011, leaving its suppliers with large bad debts and over 15 months of dead collection time before emerging from Chapter 11 in December 2012. 
D&B's research indicated that the most frequently used inputs in a manual credit review are: internal payment history, payment based scores, payment history from a vertical trade credit group, trade experiences shown in the D&B report, and calls to trade references, all of which are 100% reliant on payment data. In a rare admission of fault, D&B stated, "none of the above payment data sources is either singularly or collectively sufficient to perform the credit analysis needed." In short, relying on payment-based scores like PAYDEX® was and continues to be ineffective in identifying financial risk at public companies where more reliable information like certified financial statements are available. After all, the SEC won't accept payment data since its ability to be manipulated is widely known among CFOs and in the investment community.
It's in these situations that CreditRiskMonitor®'s proprietary FRISK® score shines. The daily FRISK® score is 96% accurate in predicting public company bankruptcy risk for the upcoming 12 months and does not utilize any payment data.
Using our "1" (highest risk)-to-"10" (lowest risk) FRISK® score scale, observe how the PAYDEX® score was good but the FRISK® score signaled a high risk of bankruptcy in the chart below:
NewPage Corporation - Credit Score Comparison
| | | |
| --- | --- | --- |
| Period | PAYDEX® score | FRISK® score |
| Q3 2011 | 72 | 1 |
| Q2 2011 | 71 | 1 |
| Q1 2011 | 71 | 1 |
| Q4 2010 | 71 | 1 |
| Q3 2010 | 70 | 1 |
The FRISK® score warned credit professionals of NewPage's high bankruptcy risk for several quarters in advance of its filing. For context, we inform all CreditRiskMonitor® subscribers to track companies that fall into or are trending in the FRISK® "red zone," as shown below:
Image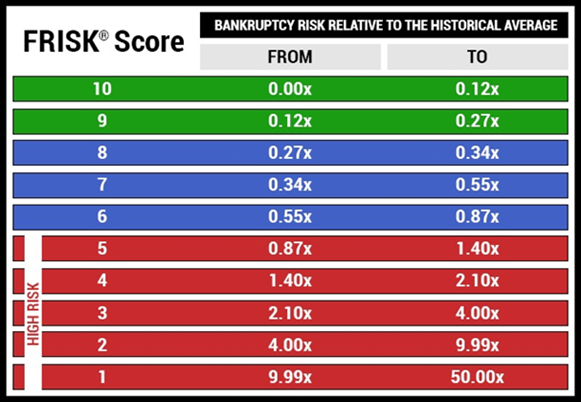 With the timely warning of the FRISK® score, your credit department can proactively mitigate risk exposure and avoid being blindsided by a public company bankruptcy again.
The Aftermath
Following NewPage's bankruptcy restructuring, the company was eventually acquired by Verso Corporation in January 2015. Just like NewPage Corporation, Verso's payment history was excellent despite its own severe financial distress. Verso Corp's FRISK® score flat-lined at a "1" for seven consecutive months before its January 2016 bankruptcy filing.
Following a massive operational and financial restructuring, Verso Corp. emerged from bankruptcy protection in July 2016 and now maintains a FRISK® score which marginally underperforms its paper & paper products peers:
Image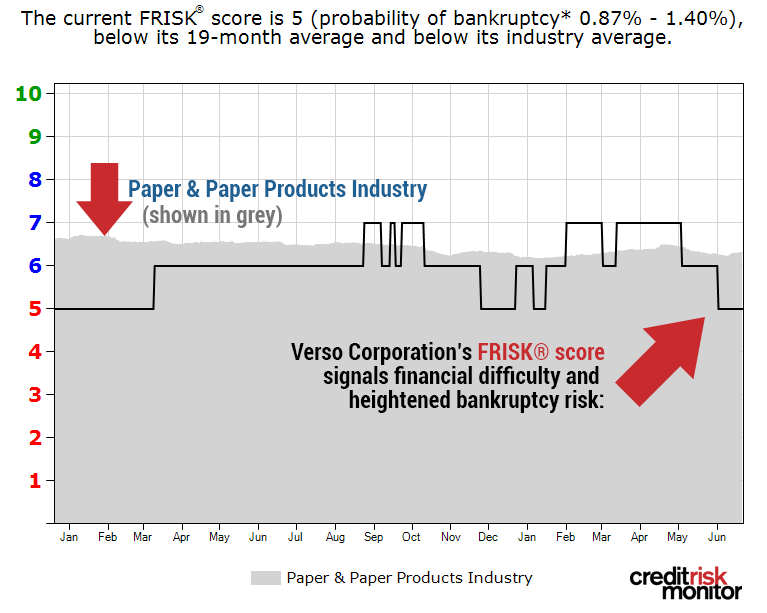 The overall improvement in the company's FRISK® score is underpinned by a variety of factors: 
Stable operating performance with annual sales of $2.682 billion and net profit margins are averaging in the mid to high-single digits, on-par with the industry
Modest financial leverage with nearly $900 million in tangible net worth versus $45 million in debt
The gradual funding of its pension retirement obligation, though still a significant liability at $428 million.
Overall, Verso's liquidity profile remains healthy. Free cash flow has been positive for two consecutive years and total availability on its ABL revolver was $264 million as of March 31, 2019. So while Verso's FRISK® score isn't at the highest level today, the company is much sturdier than it was in 2016. 
Bottom Line
D&B's whitepaper shows that the PAYDEX® score misleads trade creditors on public company bankruptcy risk. Suppliers and third-party vendors incurred massive losses through the bankruptcies of NewPage Corporation and Verso Corporation. However, CreditRiskMonitor® subscribers with these companies in their portfolio easily saw the high risk by using the FRISK® score. Given the market leading accuracy of the FRISK® score, our subscribers proactively identify which public companies are financially distressed and focus their attention on their most significant risks - saving their companies time and money. Come join the smart money today and let the power of the FRISK® score protect your bottom line!