CreditRiskMonitor®'s FRISK® score continues to outperform other risk scores in 2020 by appropriately distinguishing which public companies are low, medium, and high risk. Below we compare the FRISK® score against a standard "financial score" and "payment score", both of which have inappropriately measured risk and unfortunately mislead professionals during this challenging economic period.
Risk Evaluation Must Be Accurate
Inaccurate risk assessments always lead to poor business decisions in different ways. For example, credit managers might unnecessarily adjust terms or outright miss sales opportunities if a company is inappropriately labeled as financially distressed. Alternatively, if supply chains misconstrue a vendor's financial health, it may lead to needless risk management decisions that either cut out the supplier or involve sourcing new ones. Relying upon misleading financial risk assessments will result in wasted time and resources, both of which become increasingly detrimental to all companies during periods of economic crisis. During the coronavirus pandemic, traditional financial and payment scores have:
Completely failed to identify risk
Improperly labeled healthy companies as distressed 
Issued untimely warnings that were either too early or too late
Since standard financial and payment scores lack data input factors, they do not measure up to the performance of the FRISK® score on public companies. Below the FRISK® score model is compared against what is typically financial and payment scores.
Image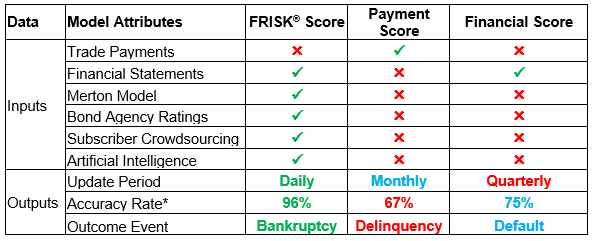 Why the FRISK® score Is Superior:
More Frequent Updating
More Accurate by Wide Margin
Targets bankruptcy instead of delinquency or default (both of which can occur many times over before a public company declares bankruptcy) and therefore protects users from prematurely engaging in risk mitigation strategies which can harm revenue and counterparty relationships
Some Examples to Make the Point:
A company experiences a financial debt default and your firm decided to purchase insurance in advance for the sake of laying off that risk for the next few quarters. In the subsequent weeks, the bank and company reach an agreement to waive the default and continue with business as usual. This outcome may have just cost your company some serious dollars and it turns out that default is not unique either – in fact, default is four times more likely to occur than a bankruptcy filing. 
Pertaining to trade payables, delinquency never consistently shows up over consecutive quarters prior to bankruptcy, so a payment model truly cannot provide an actionable risk signal on public companies. Trade patterns normally appear healthy because billing departments have been trained to consistently pay their invoices on time, which effectively "tricks" most payment models to signal low risk, commonly known as the "Cloaking Effect." This phenomenon occurs in the payment performance DBT Index, which is similar to Dun & Bradstreet's PAYDEX® score.
Three Risk Scoring Models
While financial statement ratios can be adjusted for the sake of stress testing, predictions always have some deviation, and errors can begin to surface. However, the FRISK® score reviews every company independently by providing a timely and unbiased assessment. As corporations were negatively impacted by COVID-19 through reduced revenue, cyclical industries with high operating leverage were significantly affected, particularly airlines and automobile manufacturers as global travel precipitously collapsed. 
In the graphics below, there are three different scores:
The FRISK® score indicates a company's level of financial stress based on the estimated probability of bankruptcy with a forward 12-month timeframe, measured using a "1" (highest risk)-to-"10" (lowest risk) scale with 96% accuracy
A financial score (FIN) that uses an estimated probability of default with a one-year outlook, using the same scale
A payment score (DBT) that provides a measurement of dollar-weighted payment performance timeliness or Days Beyond Term ("DBT") Index, calculated using a "1" (severely delinquent)-to-"10" (prompt) scale
Below we compare how the FRISK® score has provided more accurate assessments against the FIN and DBT within the airline and automobile manufacturing industries.
Airline Risk Comparisons
Within the chart below, the FIN and FRISK® score are compared for 10 different airlines:
Image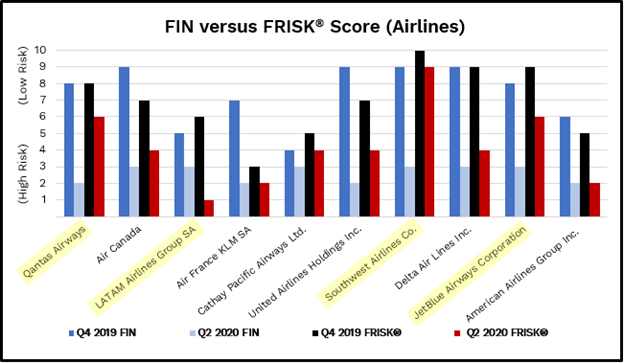 Southwest Airlines Co. and Qantas Airways Limited were subject to unwarranted pessimism. Note that they both carry investment-grade credit ratings of "BBB", which statistically represent an average cumulative default rate of less than 5% over a 10-year time horizon. By contrast, the FIN indicates a mid-single-digit probability of default over the next 12 months. These substantially different time horizons have meaningful implications for user business decisions. 
Below are six other instances indicating that the FRISK® score provides more accurate evaluations compared to the FIN:
| | | | |
| --- | --- | --- | --- |
| Airline | FRISK® score | FIN Score | Notes |
| Qantas Airways | 6 | 2 | FRISK® score of "6" indicates neutral financial health versus the high-risk FIN; Moody's provided a corporate family rating of Baa2 and its bond yields have marginally trended above 3%, indicative of low risk. |
| LATAM Airlines | 1 | 3 | FRISK® score of "1," which indicated up to a 50% probability of bankruptcy over the coming 12 months. LATAM Airlines filed for bankruptcy on May 25, 2020. |
| Southwest Airlines | 9 | 3 | Airlines' FRISK® score of "9" compares exceptionally well versus its high-risk FIN; ironically, the FIN equated well-capitalized Southwest with now-bankrupt LATAM. |
| JetBlue Airways | 6 | 3 | JetBlue's FIN was oddly equated to both healthy Southwest Airlines and bankrupt LATAM Airlines, each of which carried total different FRISK® scores. |
The FIN indicated all 10 airliners were at high-risk, while the FRISK® score only signaled five as high-risk (only LATAM Airlines from the group has declared bankruptcy so far).
The airline payment scores performed much worse than both the FRISK® score and financial score, as they showed very slight to no changes at all before and during COVID.
Image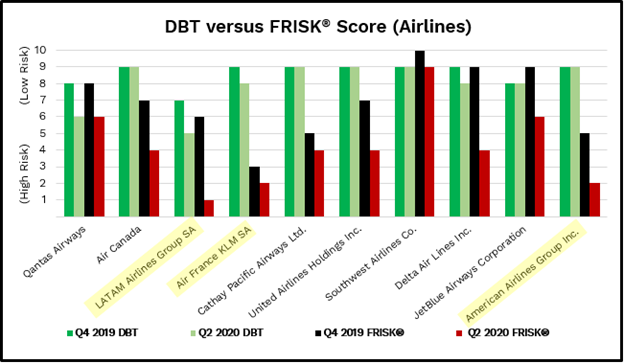 LATAM Airlines payment score only moved slightly lower, despite the fact that the company was highly distressed and eventually filed bankruptcy
Air France's DBT remains healthy, despite carrying a high-risk FRISK® score of "2"
American Airlines' DBT demonstrated no change whatsoever, despite that the FRISK® score was downgraded from a "5" to a "2"
Automobile Risk Comparisons
For the Automobile manufacturer industry, the FIN determinations are significantly more pessimistic compared to the average FRISK® score of "7" for this group, which even trends above the broader auto & truck manufacturers' industry average of "6."
Image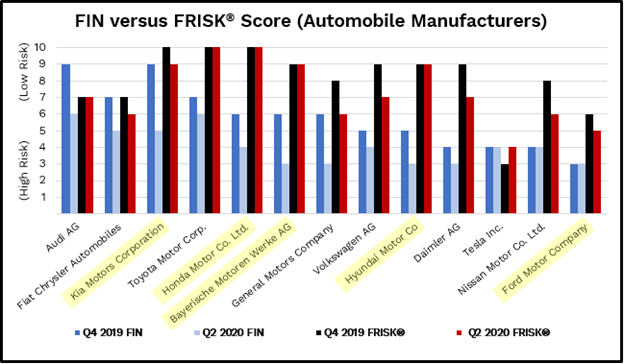 The six occurrences below illustrate how the FRISK® score has provided more reliable financial stress evaluations and remains more optimistic compared to the FIN:
| | | | |
| --- | --- | --- | --- |
| Autos | FRISK® score | FIN score | Notes |
| Kia Motors | 9 | 5 | Medium-risk FIN compares poorly against the FRISK® score of "9"; bond rating agencies also assigned "BBB" investment grade credit ratings. |
| Honda Motors | 10 | 10 | FRISK® score of "10" indicates exceptional financial strength and minimal bankruptcy risk, whereas its FIN falls within the high-risk classification; bond agencies have issued a credit rating of "A," indicating negligible financial stress. |
| BMW | 9 | 3 | FRISK® score of "9" ranks well against its high-risk FIN; bond agencies have also sustained a credit rating of "A." |
| Hyundai Motor | 9 | 3 | Hyundai Motor's high-risk FIN compares inaccurately against its FRISK® score of "9"; bond rating agencies have also given the company "BBB" investment grade credit ratings. |
The automobile manufacturer payment scores performed much worse than both the FRISK® score and FIN, as they demonstrated minimal-to-no change throughout COVID.
Image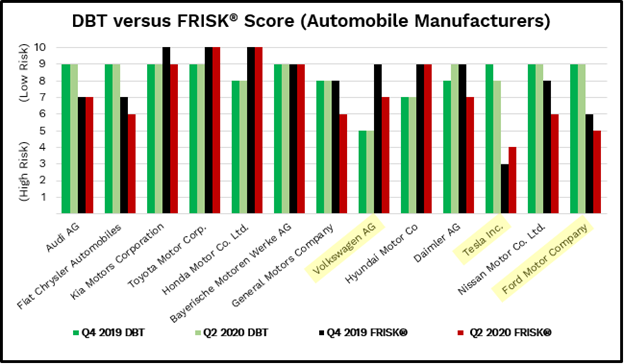 Similar to the FIN assessment, Volkswagen's DBT trends below peers despite that the FRISK® score and bond ratings indicate reasonable financial health
Tesla's DBT reading indicates good payment behavior, despite the fact that FRISK® score and bond ratings indicate financial stress
Ford Motor Company's DBT remained the same, despite its high-risk FRISK® score
Bottom Line
The FRISK® score predicts the probability of bankruptcy, whereas the FIN forecasts default risk, and DBT measures delinquency. Defaults can occur several times and delinquency rarely transpires before a public company bankruptcy filing. The underlying issue for risk professionals then becomes determining which situations are actually worth devoting time and effort to a more thorough analysis.
Bankruptcy restructurings and liquidations are usually going to have a direct impact on your business, whether you're a customer, supplier, partner, or third party. Not only is the predictive target event important for accuracy, but so is the timing of those predictions. The FRISK® score provides professionals updates every single day so they can accurately identify companies in financial stress, develop risk mitigation plans, and properly implement them. Since other scoring models (as illustrated with our financial and payment scores) are updated less frequently, professionals cannot observe risk trends in real-time, and thus, may not have the chance to take action in an opportune fashion. 
Contact CreditRiskMonitor today to learn more about the FRISK® score and how it will help protect your business during the coronavirus pandemic and in the years ahead.