Restaurants are running out of time. Nationwide shutdowns have tested the financial wherewithal of independent operators and restaurant chains alike. CreditRiskMonitor®'s PAYCE® score, which predicts bankruptcy over a subsequent 12-month period, has categorized over 100 privately-held restaurants as distressed. The first half of 2020 has seen an uptick in restaurants filing for bankruptcy protection with most closing a portion of their locations indefinitely. More bankruptcies are on the way.
CreditRiskMonitor® is a leading web-based financial risk analysis and news service designed for credit, supply chain, and other risk professionals. One of the key offerings of the service is the PAYCE® score, which provides a "1" (highest risk)-to-"10" (lowest risk) scale for assessing bankruptcy. With coverage of more than 80,000 private companies across the U.S. and Canada, detailed payment histories, public filings, and timely news alerts, professionals leverage these reports to assess financial risk quickly and effectively.
Bankrupt Restaurants
In the hopes of survival, nearly all restaurants have committed to employee layoffs, made requests for rent concessions, and curtailed advertising spending, plans for new openings, and any other discretionary expenditures. Despite those cost saving efforts, a complete wipeout of customer traffic has made bankruptcy a recurring theme throughout the restaurant space. Between January and June, the PAYCE® score accurately predicted these six bankruptcies:
| | | |
| --- | --- | --- |
| Restaurant Chain | PAYCE® Score | Bankruptcy Date |
| BarFly Ventures, LLC | 2 | 6/3/2020 |
| La Tasca, Inc. | 3 | 5/19/2020 |
| CraftWorks Restaurants & Breweries, Inc. | 3 | 3/3/2020 |
| Logan's Roadhouse, Inc. | 3 | 3/3/2020 |
| BL Restaurant Operations, LLC | 3 | 1/27/2020 |
| Trudy's Texas Star, Inc. | 1 | 1/22/2020 |
The PAYCE® score leverages information such as payment histories and U.S. federal tax liens to maintain a 70+% accuracy rate. However, the PAYCE® score is not a standard linear payment-based credit model. Instead, the model was built upon deep neural networks, a type of artificial intelligence, which has the capacity to identify high-risk patterns in payment trends several quarters before severe delinquency becomes detectable. Risk professionals employed by more than 35% of the Fortune 1000 have the PAYCE® score available for use within their existing workflow processes. The PAYCE® score bankruptcy probability chart is shown below:
Image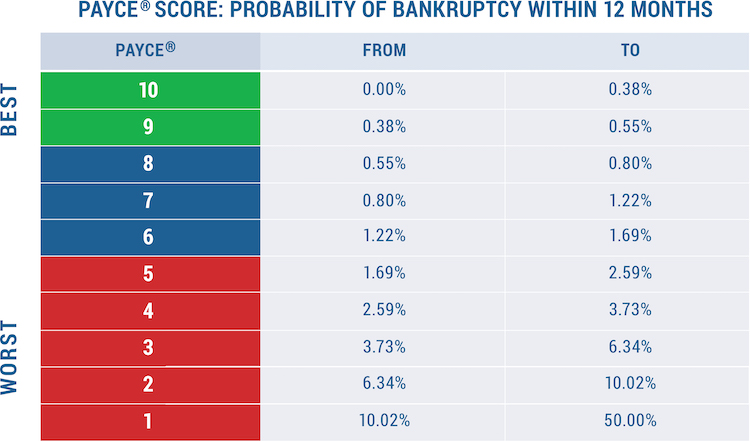 Cut and Dried
CreditRiskMonitor® anticipates more restaurant bankruptcies in the back half of 2020 as customer capacity will be restricted due to social distancing mandates. Heather Haddon of The Wall Street Journal relayed in late May that sales will linger below historical trends even after restaurants reopen: "Restaurants that built their businesses on keeping seats full are trying to figure out how to run at a fraction of that capacity…restaurants say they expect months of sales losses ahead due to capacity constraints imposed to contain the new coronavirus." As operators have reported first quarter earnings, most have swung to an operating loss as off-premise sales haven't been enough to offset fixed expenses.
And certain restaurants are operating on a knife's edge. According to PAYCE® score readings in June, these 10 large chains carried red zone determinations, indicating heightened financial stress:
| | |
| --- | --- |
| Restaurant Chain | PAYCE® score |
| Checkers Drive-In Restaurants, Inc. | 1 |
| Sbarro LLC | 1 |
| Red Lobster Seafood Co. | 3 |
| CKE Restaurants, Inc. | 3 |
| Rainforest Cafe, Inc. | 3 |
| McCormick & Schmick's Seafood Restaurant | 3 |
| TGI Friday's, Inc. | 3 |
| Arby's Restaurant Group, Inc. | 4 |
| P.F. Chang's China Bistro, Inc. | 5 |
| Cooper's Hawk Winery & Restaurants | 5 |
Among the most distressed is Red Lobster Seafood Co., which operates more than 706 locations across the U.S., being one of the largest on this list. Over the past 12 months, its DBT Index has indicated consistently prompt payment trends on a dollar weighted basis. However, the PAYCE® score has shown a gradual descent down from "5" to a current reading of "3," indicating 3x higher risk of bankruptcy compared to the average private company:
Image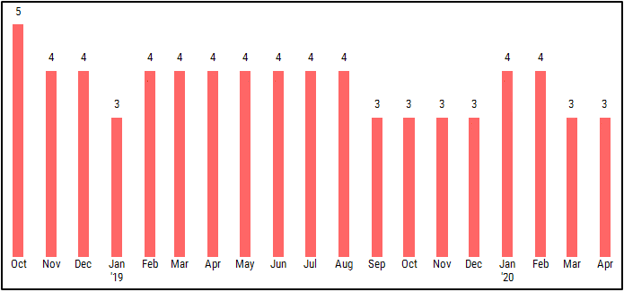 Red Lobster Management LLC is the parent company of Red Lobster Seafood Co. According to recent analysis provided by Moody's Investors Service, the parent company's corporate family rating was downgraded from B3 to Caa1 due to material deterioration in earnings and credit metrics following coronavirus-related location closures. Moody's analysts expounded upon the weak credit profile assessment, explaining the private company is "…constrained by its very high leverage and modest interest coverage, and the near dated debt maturity of its $380 million term loan in July 2021." Management has yet to indicate whether the company intends to raise capital like many other restaurants have. Should net sales not meaningfully recover over the next four quarters, its liquidity could prove insufficient.
Bottom Line
Privately-held restaurant chains have observed more bankruptcies than their public company counterparts, and that trend could remain true going forward. Nonetheless, key suppliers, such as real-estate investment trusts and point-of-sale equipment distributors, must closely monitor both classifications closely even as locations begin to reopen their doors for service. Just one public restaurant bankruptcy, such as CEC Entertainment, could dwarf the damage done by several private failures. Contact us today for a free risk assessment to see how our credit risk solutions can improve upon your process.