Mid-Year Analysis: Global Debt Crisis Spirals to New Highs with Record Setting Negative Yields
07/30/2019
Image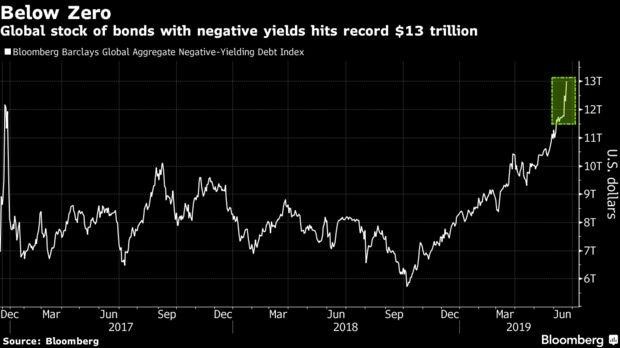 The Fed and ECB have started open discussions with the Bank of Japan to learn about implementing BOJ's unconventional "Yield Curve Control" program.  Under this monetary policy, a central bank attempts to control the entire yield curve by targeting specific long-term interest rates through the purchasing of large volumes of securities at various maturities, thereby artificially lowering yields. 
However, central banks realistically have less control than market forces and one massive unintended consequence of previous asset purchasing activity has been in the high yield credit market. For example, a portion of the European high yield (junk) bond market is now yielding negative interest rates. Not only is this development extremely worrisome given that it signals deterioration in the underlying trend of global economic growth, but downright oxymoronic. During economic downturns, debt servicing becomes severely constrained and corporate bankruptcies surge. So are you prepared for the next tidal wave?
Escalating Financial Stress
CreditRiskMonitor's FRISK® Stress Index measures the "probability of failure" over the coming 12 months across any collection of public companies within any industry, geography or customized portfolio – and it confirms the trend toward peak risk levels. For example, the FRISK® Stress Index below is measuring elevated financial risk across the aggregate of public companies globally:
Image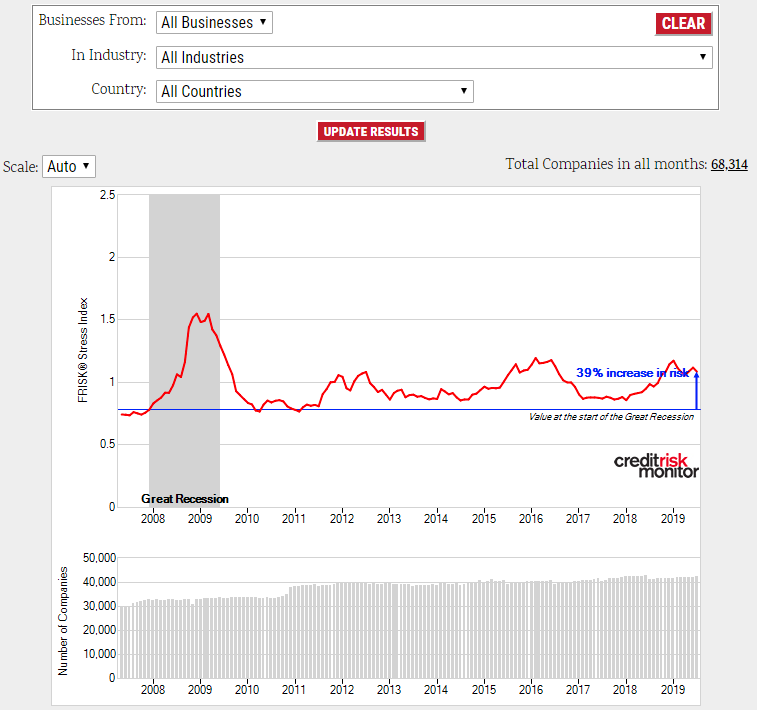 Within this risk index, CreditRiskMonitor has identified three important trends: 
16% of public companies globally have higher than average risk of bankruptcy
Nearly 500 businesses are among the worst risk category of "1" (bankruptcy risk up to 50% in the next 12 months).
Oil & gas is the most distressed, where risk is 2.5 times that of the average industry.
These statistics will only worsen when broader economic conditions deteriorate and companies will have to work through widespread counterparty risk. Therefore, make sure you can identify your company's own risk exposure to mitigate disruption and financial loss.
Bottom Line
The global economy appears to have deteriorated in a significant way during 2019 given the trends in negative yielding debt. Institutional investors significantly expanding their negative yield exposure expresses a view that the global economy is facing deflationary forces and a recession is on the horizon. Our FRISK® Stress Index also signals rising financial distress in public companies. To prepare your company before the next crisis unfolds please contact us for a free risk assessment.
About CreditRiskMonitor
CreditRiskMonitor is a financial news and analysis service designed to help professionals stay ahead of public company risk quickly, accurately and cost-effectively. More than 35% of the Fortune 1000, plus thousands more worldwide, rely on our commercial credit reporting and predictive risk analytics for assessing the financial stability of more than 57,000 global public companies.
At the core of CreditRiskMonitor's service is its 96%-accurate FRISK® score, which is formulated to predict public company bankruptcy risk. One of four key components calculated in the FRISK® score is crowdsourced subscriber activity. This unique system tracks subscribers' patterns of research activity, capturing and aggregating the real-time concerns of what are essentially the key gatekeepers of corporate credit. Other features of CreditRiskMonitor's service include timely news alerts, the Altman Z"-Score, agency ratings, financial ratios and trends. CreditRiskMonitor's network of trade contributors provides more than $2 trillion on their counterparties every year, giving them visibility into their biggest dollar risks.