With the release of fourth quarter GDP figures, Italy has fallen into a recession. This is bad news for the European Union, especially given that more than 40% of its public companies are at an elevated risk of corporate failure, according CreditRiskMonitor®'s FRISK® Stress Index. 
CreditRiskMonitor® is a leading web-based financial risk analysis and news service designed for credit, supply chain, and financial professionals. The comprehensive subscription service is used by thousands of risk professionals from around the world, including employees from more than 35% of the Fortune 1000. Commercial credit report coverage spans more than 58,000 global public companies, and our daily updated FRISK® score predicts public company financial stress and corporate failure risk.
Italy Hits the Skids
Italy's GDP fell 0.2% in the final quarter of 2018; this after a 0.1% drop in the third quarter. Two consecutive negative quarters is the unofficial marker of a recession. A recession is bad news for any economy, but as one of the cornerstones of the EU, Italy's is in a particularly tough financial bind.
The country currently has the largest national debt balance within the EU at $2.3 trillion Euros. The Italian government's debt-to-GDP, moreover, is at a troubling 132%. Domestic demand was a key soft spot in the most recent quarter despite the fact that the country has been running a fiscal deficit in attempt to jumpstart economic growth. 
Deficits are expected to continue in 2019. In fact, Italy and the EU had been at odds over the country's 2019 budget, which had earlier called for a deficit of 2.4%. After negotiations, Italy reduced that figure to 2%. The country, meanwhile, has been fairly vocal about its displeasure with the European Central Bank, which it believes is being unduly punitive with regard to the country's fiscal situation.
Although Italy expects growth to pick up materially this year, economists aren't quite as sanguine. The country is projecting 1% GDP growth with a notable pickup in the second half versus a call from outsiders of growth closer to 0.5%. Either way, Italy's economy is limping along and the decline will adversely affect large Italian public companies.
Astaldi SpA and Bialetti Industrie
This is not a small issue to consider if you are doing business with an Italian company. As noted above, more than 40% of Italian companies are in the high-risk FRISK® score "red zone," or the bottom half of the score's "1" (highest risk)-to-"10" (lowest risk) scale. In comparison, Germany – the largest nation in the EU – has a figure hovering around 30%.
This isn't meant to suggest that Italy is the only trouble spot in the EU. However, as one of the largest nations in the group, it does deserve added attention as it works through an economically difficult and contentious period. Corporate-level actions show exactly why you need to worry.
Take, for example, Astaldi SpA, which is involved in the heavy construction industry in various regions around the world. The company's total debt increased nearly 85% over the past five years, using the most recent quarter March 31, 2018 period end. Astaldi's total debt-to-assets ratio increased from 33% to 52% over the span. Annual free cash flow, meanwhile, has been consistently negative.
Astaldi ended up filing for Creditor Protection with reservation under Italian Insolvency Law in September of 2018. The filing has been attributed to a delay in the sale of the Third Bosporus Bridge in Turkey. This move allows Astaldi SpA to enter into a standstill period with its creditors while it proposes a capital restructuring plan to its creditors and the Court for approval. That said, there are very real impacts for customers – less than a month after seeking creditor protection, the company received a stop work order for a Canadian hydroelectric project because of its "inability to pay its workers" according to customer Nalcor Energy.
Image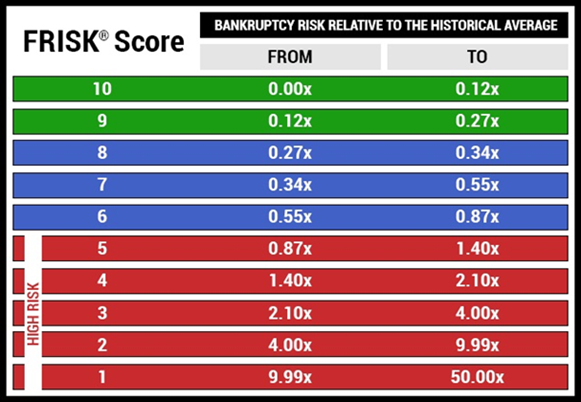 Astaldi was mired at a FRISK® score of "2" for over a year before filing, allowing CreditRiskMonitor® subscribers ample time to further assess the credibility of the company and to avoid potential exposure. While Astaldi is already involved in insolvency proceedings, Bialetti Industrie SpA is another example of an Italian company heading down a troubling financial path that deserves close attention right now.
Bialetti Industrie manufactures cookware and related kitchen tools. Over the past year, its FRISK® score has declined from a "5" to a "2." The company's revenues have declined year over year for three consecutive six-month periods. Net income was negative in four of the last five semi-annual periods, which actually pushed shareholder equity into the red. In the June 2018 semi-annual period, the company had negative EBITDA and didn't cover its interest expenses.
Image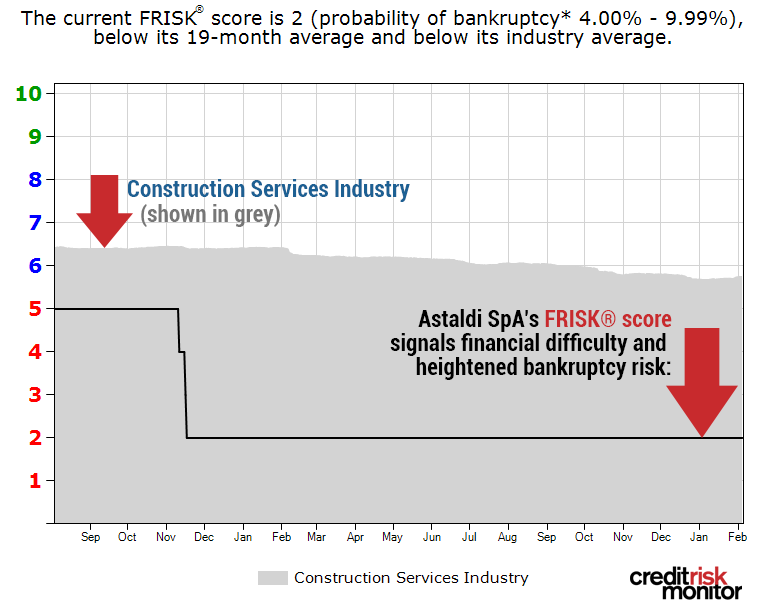 The company has highlighted weak consumer consumption as a notable headwind and has been working with private equity firms to raise additional capital. That said, Bialetti Industrie's total debt-to-assets ratio was roughly 55% at June 2018, a figure that puts it in the bottom quartile of its peer group – and that doesn't include the current private equity bond deal. 
Bottom Line
CreditRiskMonitor®'s global coverage provides subscribers with the valuable resources needed to keep on top of financially troubled companies. Although Italian companies are clearly in need of extra attention today given the country's economic troubles, there are other countries and companies around the world that are just as troubled, if not more so. If you do business with foreign public companies, CreditRiskMonitor® covers more than 58,000 public companies worldwide – and the proprietary FRISK® score can help you stay on top of financial risk and corporate failure.
Image