Corporate supply chains and procurement teams have been working double time in 2019 to deal with the challenges brought on by tariffs, particularly in the U.S. and China. To combat the volatility and restrictions of tariffs, supply chain leaders have been nimble in identifying pitfalls and developing plans around external forces out of their control.
As shrewd as experienced procurement managers can be, supplier financial risk remains all too real even in the most placid and functional supply chains. Companies that have been adversely affected by supplier financial risk are prioritizing it, especially with the looming crisis in global debt. If you are not already monitoring the financial health of your suppliers, we will explain the major reasons why you should be and what you can do today to protect yourself from risk.
CreditRiskMonitor® is a leading web-based financial risk analysis and news service designed for credit, procurement, and financial professionals. Subscribers include thousands of risk professionals all over the globe, including key decision makers from more than 35% of the Fortune 1000. Three features of the CreditRiskMonitor® service include: 
Commercial credit report coverage spanning more than 56,000 global public companies, totaling $63.8 trillion in corporate revenue, as well as numerous private companies.
The FRISK® score, which identifies financial stress and bankruptcy with 96% accuracy.
Peer analysis, which displays options of alternate suppliers with strong financial health.
An Underlying Problem
Supply chain disruption is costly and financially distressed suppliers/vendors can be the cause of it. Companies with exceedingly weak credit profiles simply have less money to invest in operations, including infrastructure, employees and technology. Consequently, there can be weaker product quality, poorer deliverability, slower response times and higher risk of fraud – these issues can quickly balloon costs.
Sometimes, procurement professionals only evaluate a supplier's financial health during the onboarding process or on a per-contract basis. Therefore, a company may go unchecked year after year even though financial distress can develop within the span of just a few quarters. If a company has too much debt or limited liquidity, poor operating performance can quickly lead to a downward spiral. 
Where We Come In
CreditRiskMonitor® provides supply chain and procurement professionals with a company portfolio and customizable reports. Subscribers upload all of the companies that they do business with, which can then be categorized based on risk level. CreditRiskMonitor® will also alert you to important news events and if a company becomes financially distressed. Our one-of-a-kind FRISK® score is updated on a daily basis, looks ahead within a rolling 12 month window and identifies U.S. public company financial stress with 96% accuracy.
The FRISK® score is based on a "1" (highest risk)-to-"10" (lowest risk) scale, with the lower half ("5" or less) known as the FRISK® score "red zone." Take a look at the FRISK® chart below and you'll understand why: companies with a FRISK® score in the red zone are considered to be financially distressed, as implied by the probabilities of bankruptcy. Subscribers are recommended to carefully watch FRISK® scores that trend between the tiers of "1" and "3."
Image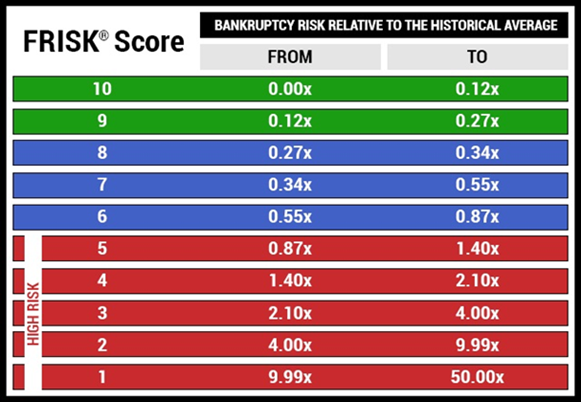 To wit, the FRISK® score can alert your risk management department to danger and help avoid supply chain disruption and other problems. For example, if one of your strategic suppliers holds a FRISK® score of "1," the highest risk of bankruptcy, it's vital to set up a method of monitoring that very day – which many of our subscribers decide to do with the assistance of our staff. In these situations, it can be beneficial to inform your own finance department and speak with the management of that supplier. 
Of course, you can also take action to mitigate risk in various ways, such as:
Buying ahead or stockpiling
Taking the process in-house
Identifying alternative suppliers
Being proactive is only possible if you know which companies are high risk in advance. Some companies have had to buyout a supplier prior to bankruptcy in order to sidestep a severe disruption to their operations. While a buyout may solve the immediate problem, it is definitely the most time-consuming and expensive undertaking compared to the options above. CreditRiskMonitor® not only warns you in advance of increasing risk, but our Peer Analysis tool provides extensive lists of suppliers, which can be broken down by Sector and Industry (SIC and NAICS). Subscribers can then evaluate a multiplicity of prospective suppliers that have strong financial health and potentially better operations. 
Furthermore, if you know all of your suppliers and vendors have good financial health (e.g., FRISK® scores at the higher end of the range), you can have more confidence in your supply chain. They will simply have more financial flexibility to invest in operations, and therefore less problems are likely to occur in the future. CreditRiskMonitor®'s tools can provide the peace of mind that comes with this knowledge.
Bottom Line
Just like tariffs, supplier financial risk has become an important category to monitor by company procurement departments. If this isn't on your radar today, it should be. According to the Federal Reserve Bank of St. Louis, total liabilities of U.S. nonfinancial corporate businesses stands at $20.5 trillion, the highest in recorded history. When the economy eventually falls into a recession, suppliers with poor credit profiles will have trouble maintaining operations, let alone supporting investment needs. Help your company's supply chain today by monitoring the financial health of your suppliers and vendors.