Monitoring your supply chain involves tracking raw materials all the way through to finished products, yet the job does not stop there. When viewing the industry broadly, achieving supply chain excellence also includes knowing the end customer. The bankruptcies of car rental agency Hertz Global Holdings Inc. and smaller private rival Advantage Rent-A-Car show how important it is to step back and review the big picture. It also shows why reviewing your immediate customers simply is not enough. You need to monitor your customer's customers if you want to properly protect your company from bankruptcy risk.
CreditRiskMonitor® is a leading web-based financial risk analysis and news service designed for credit, supply chain, and other risk professionals. The core of the service is the FRISK® score, which is 96% accurate, gets updated daily, and provides an easy to use "1" (highest risk)-to-"10" (lowest risk) scale for assessing bankruptcy risk. With coverage of more than 57,000 public companies around the world, risk professionals from more than 35% of the Fortune 1000 rely on CreditRiskMonitor to help them avoid financial loss every day. 
Interconnected Links
The first step in dealing with financial risk is to monitor your direct suppliers and your direct customers. Imagine yourself as a risk professional in the automotive industry and your company produces car seats, you might keep track of your component suppliers and the automakers to which you sell. However, that is not the full chain in the industry, which involves both your direct and indirect links.
Image

Thus, if your company is waiting for springs from a metal manufacturer, you should be reflexively mindful of the companies that make the steel used to fabricate them. If the manufacturer is working with a troubled steel mill that ends up in bankruptcy court, you might find yourself dealing with subpar springs, delivery delays, or worse, the need to source product a different supplier.
Several steel manufacturers are under stress today. Staying ahead of that kind of trouble can save your company time and money. If any of your first-tier (spring) or second-tier (steel mill) suppliers fall into the bottom half of the FRISK® scale range, which we call the high risk "red zone," you need to use the extensive database and analysis tools available at CreditRiskMonitor to do a deep dive.
Image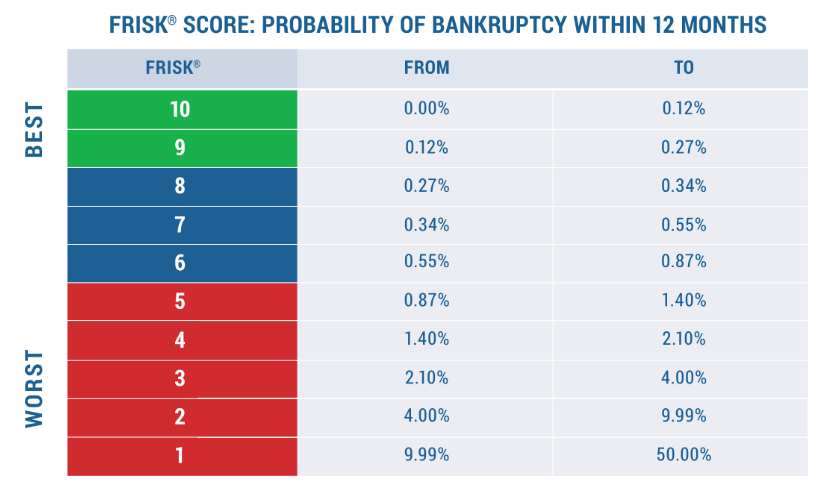 The Hertz Connection 
Fleet sales are critical for automakers. By some estimates, the rental car market accounted for 10% of all auto sales for U.S. car manufacturers in 2019. COVID-19 has upended travel, which has reduced demand for the auto rental space, so those fleet sales are likely to dry up this year. With Hertz, one of the three largest players in the car rental space, in bankruptcy court, some of those car sales won't come back even after travel starts to pick up again. If you sell seats to car makers and they suddenly have fewer orders, your order book will be negatively impacted permanently. It's a domino effect. 
You can prepare for headwinds and identify weak links by adding your customer's customers (and your supplier's suppliers) to your CreditRiskMonitor® watch list. If a company's FRISK® score falls into the red zone (a score of "5" or lower), notifications will be sent to show that it is time to pay more attention. As the FRISK® score sinks lower within the red zone, you will want to consider taking preemptive actions to protect your company.
Hertz in Your Portfolio
In the case of Hertz, as our postmortem Bankruptcy Case Study shows, CreditRiskMonitor® subscribers would have had the rental car company on their radar for more than a year before its eventual bankruptcy. It had been trending between a "4" and a "6" since early 2019. However, when the score sank to a "3," representing 2-to-4x the risk of bankruptcy relative to the average company, Hertz was facing significant challenges.
Looking a little deeper, the company's leverage had been troublingly high for more than a year, with debt-to-EBITDA peaking at 9x at the end of the first quarter of 2020. Tangible net worth was deeply in negative territory. Return on assets vacillated between worryingly low and negative over the last five quarters, showing that the business was struggling. Its credit ratings were also labeled far within junk debt territory, signaling severe financial stress and risk of insolvency.
The FRISK® score captured all of this and more. It is how the score helps subscribers determine whether businesses in their supply chain are experiencing risk changes before they are blindsided by a bankruptcy. For example, see the portfolio risk trends for the 10 companies listed below, which is sorted by risk level to prioritize workflow:
Image

Risk managers would have seen these developments in real time. Therefore, as a car seat manufacturer, you would have been able to have more transparent conversations with your counterparties about your customers and suppliers. For example, Hertz's bankruptcy filing would have been identified well in advance. Additionally, the decision could also be made to ask your spring supplier to consider steel manufacturing alternatives (for example, from Cleveland-Cliffs, with a weak FRISK® score of "3," to Nucor and its healthy FRISK® score of "9"), in order to address solvency risk and mitigate potential disruption. 
Thinking Bigger
Even if you were not impacted by Hertz, the lesson here is noticeably clear: always maintain a broad perspective towards risk monitoring by including your customer's customers and your supplier's suppliers. To do so, the best solution is to use a tool, like the FRISK® score, that is accurate and timely. Call today at 845.230.3000 or Contact Us online and we can show you how you can easily integrate the CreditRiskMonitor® service into your current risk monitoring approach. We will help you see further into your supply chain and provide risk insights before bankruptcy transpires.