Manufacturing dislocations in semiconductors, plastics, paper and allied products made headlines in 2021. CreditRiskMonitor is observing pockets of industry growth, yet also prevailing trends of severe financial stress. Following record bank loan and bond borrowings to stave off a working capital crisis, global nonfinancial corporate credit trended *above* GDP for the first time in history. With this debt overhang, financial risk professionals have an even greater need for managing supplier risk.
By integrating supplier financial risk into onboarding and review processes, supply chains make more informed business decisions. Going beyond reviews of direct suppliers and including indirect suppliers, supplier customers, as well as indirect customers in the process provides earlier warning signals and better outcomes. Procurement professionals worldwide leverage our daily-updated bankruptcy prediction models, including the FRISK® and PAYCE® scores, as part of their everyday workflows to stratify risk at their public and private company vendors. If you aren't one of them, then you should be.
Financial Stress Segmentation
Industries are managing a range of inventory shortages all the way to unrelenting overcapacity. Categories like textiles and apparel, printing & publishing, petroleum refining, primary metals, and transportation equipment continue to exhibit elevated FRISK® score "red zone" cohorts. The FRISK® score red zone encompasses the bottom half of the FRISK® scale, including anything equal to "5" or less, i.e. financially distressed companies. As most industries struggle from high financial leverage, distressed manufacturers in more troubled industries are most likely to cause supplier disruption.
Image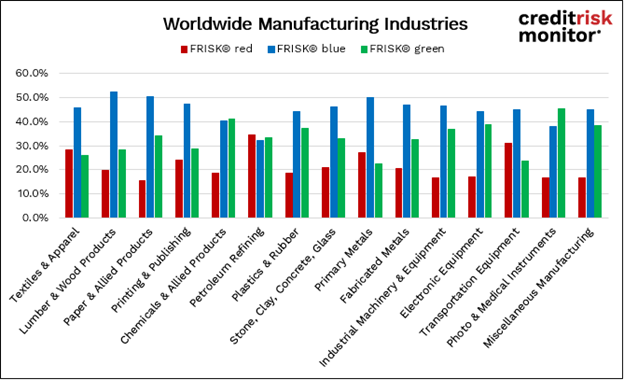 Even if your direct industry has been relatively unaffected, ripple effects from other distressed industries will almost certainly impact vendors in your supply chain. Professionals address this concern by reviewing their portfolios for high-risk counterparties, both direct and indirect, and monitor for any significant risk changes. 
Our research has also found that FRISK® score red zone manufacturers often under service their fixed assets relative to more financially stable companies, i.e. within the blue and green zone. After reviewing more than 13,000 manufacturers globally, 60% of FRISK® score red zone manufacturers recently restricted capital expenditure allocations for plant and equipment, which often leads to supply chain fragility.
Image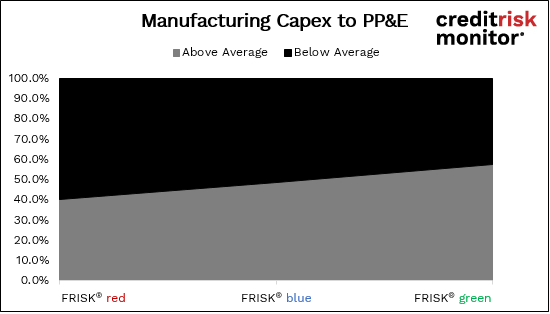 Supply chain professionals action steps will depend on the circumstances, but a variety of options should be considered for such high-risk counterparties, including:
Distressed Supplier Action Steps
1. Conduct further research and analysis
2. Open discussions for a more detailed risk evaluation
3. Raise safety stocks to ensure production runway
4. Establish other arrangements, e.g. purchase orders or financing
5. Consider the purchase of disruption insurance
6. Accelerate plans for onboarding alternative vendors
7. Develop in-house manufacturing processes
After all options for maintaining the supplier relationship have been exhausted, alternative vendors may be considered for review. Once established that the new vendor(s) can meet volume, quality standards, and pricing, overall financial reliability must be equally considered to determine a sustainable runway. Otherwise, a vendor might overpromise and under-deliver, falling behind on other necessary requirements resulting in business interruptions, slowdowns, and/or outright failures. 
Bottom Line
A supplier network fraying at the edges can eventually break down into a full-blown disruptive crisis. The intelligence of our daily bankruptcy prediction models, risk alerts, and other service offerings allow professionals to make better, more proactive decisions – contingency planning, elimination of disruptive threats, and maximization of profitable growth. To learn more about our integrated workflow solutions, contact us and we will walk you through the service to enhance your company's processes.