Chinese property developers are having difficulty selling units and industry bankruptcies have been on the rise. For example, China Evergrande Group, the third-largest Chinese property developer, indicated in August that its H1 2019 net profit would decline by roughly 50% year-over-year. This decline was attributed to less units sold and operating cost deleveraging. 
In 2019, nearly half of the 230 publicly traded Chinese construction companies we cover are financially distressed. If you have exposure to China's real estate market, we urge you to monitor closely the financial risk potential of your commercial counterparties. At present, CreditRiskMonitor® offers in-depth evaluations on more than 5,000 China-based public companies, each one powered by our proprietary FRISK® score.
FRISK®y Business
CreditRiskMonitor®'s FRISK® score provides a "1" (highest risk)-to-"10" (lowest risk) scale, and any company with a "red zone" FRISK® score has an elevated probability of bankruptcy within a 12-month window:
Image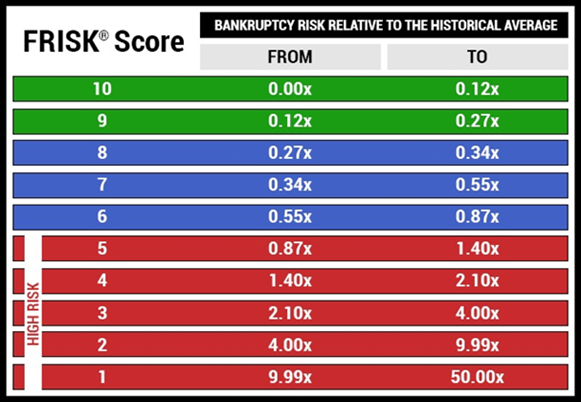 CreditRiskMonitor®'s FRISK® Stress Index on China-based construction and operative builders has increased from less than 1x in previous years to nearly 1.5x, representing a striking increase in aggregate financial risk. For context, the FRISK® Stress Index is distinct from the FRISK® score. The FRISK® Stress Index represents the probability of failure across a group of companies (such as an industry, a country or portfolio) from 2007 to present:
Image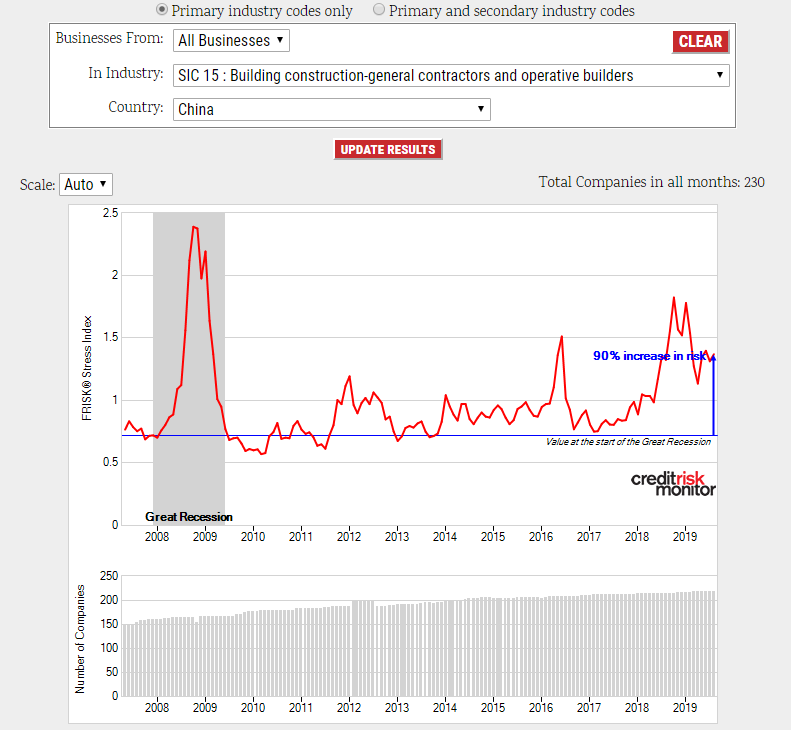 Chinese authorities have mandated that banks support property developers, and the largest players have been favored the most; at the same time, Chinese regulators have also tightened lending standards. Since late July, builder bankruptcies rose to 274 according to the South China Morning Post, many of which have been smaller, private operators. Many of these failures were likely attributed to situations that involved covenant defaults and/or limited access to debt financing.
A Pair of Distressed Developers
Sunshine 100 China Holdings Limited is among the riskiest within CreditRiskMonitor®'s coverage of the Chinese construction building industry. In early January, Sunshine's FRISK® score trended down from a "2" to "1," and only a few weeks thereafter management announced that they had drawn down on a credit facility at an expensive rate of 9%. This debt financing likely qualified as emergency funding to bridge its trade receivable shortfall, as a receivable impairment charge of ¥958 million was later reported for the second half of fiscal 2018. CreditRiskMonitor®'s peer analysis page also reveals that Sunshine ranks in the bottom quartile versus industry peers in leverage and liquidity metrics. Management will have difficulty refinancing its upcoming debt agreements unless its banks provide support.
Image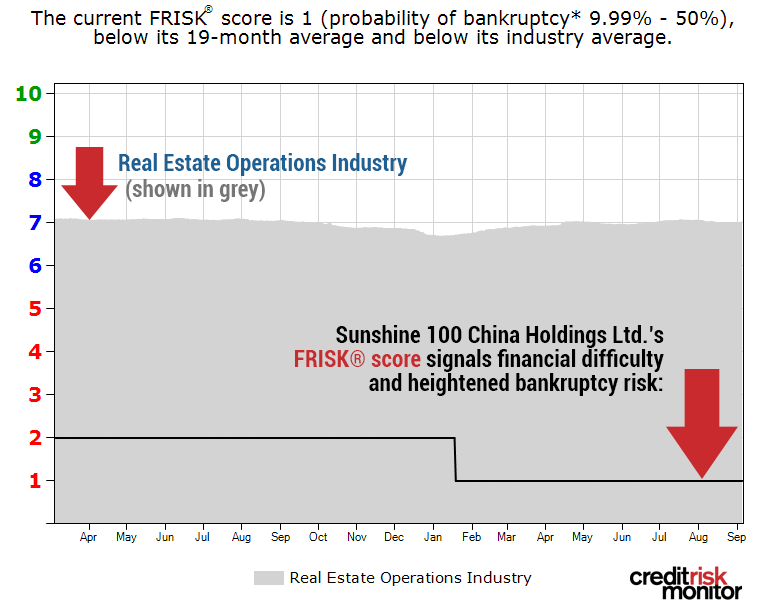 China Evergrande Group isn't as financially distressed as Sunshine yet its bloated inventories are cause for serious concern. This large-scale property developer generated ¥466 billion in net sales as of the fiscal period ending on Dec. 31, 2018, making it the third-largest property developer in China. However, the company's FRISK® score was downgraded back to its low watermark of "2" in August 2019. Part of the reduction in the FRISK® score was related to negative market sentiment, as total liabilities exceeded market capitalization by 7x. 
Management stated in early August that moving less units would have its income after tax cut in half from ¥53 billion last year to ¥27 billion this year. For the fiscal period ending on Dec. 31, 2018, gross debt-to-EBIT was approximately 5x. Using preliminary earnings numbers for the fiscal period ended June 2019, gross debt-to-TTM EBIT has stretched out to approximately 8x. If deliveries do not pick up in the second half of 2019, the company will experience material cash flow pressures.
Image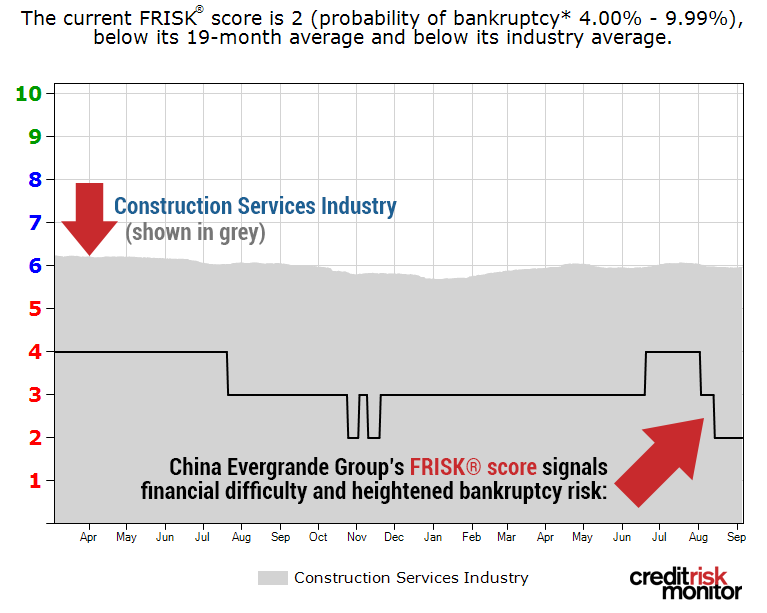 Bottom Line
China's real estate market has been under mounting pressure in 2019. Many of the larger property developers are experiencing difficulties in moving inventory, a list that includes – but is not limited to – Sunshine 100 China Holdings Limited and China Evergrande Group. Once more: if you have exposure to China's real estate market, be like more the 35% of the Fortune 1000 who subscribe to our services and utilize our 96%-accurate FRISK® score to monitor the financial risk of commercial counterparties. These subscribers, who take advantage of our coverage of tens of thousands of public companies all over the world, include professionals in credit, finance, treasury and procurement.