As the COVID-19 pandemic extends into 2021, risk professionals must come to the realization that not all counterparty risk is alike. Your largest and most important counterparties – on a dollar basis – are most likely public companies or subsidiaries of public companies. CreditRiskMonitor®'s FRISK® score was designed to identify the public companies at the highest risk of bankruptcy before they can impact your portfolio.
The Top 10 Companies
The COVID-19 pandemic has been a massive headwind for public companies. CreditRiskMonitor® has observed more than 120 public company bankruptcies having happened since March when the coronavirus began spreading across the world. Ten of the largest, well-known public companies ordered by total liabilities are listed below:
CreditRiskMonitor®'s 96%-accurate FRISK® score warned of each of these bankruptcies well before they filed. This forewarning gave subscribers with the time needed to reduce their risk exposure to a highly troubled customer or supplier. These days, obtaining an early warning on bankruptcy risk will give you: 
A significant edge over your competitors 
Save your company valuable time
Protect you from unnecessary losses of revenue and profit
The strength of the FRISK® score is that it is a composite of four unique metrics, including bond agency ratings, financial statement ratios, stock market performance, and the crowdsourced research behavior of CreditRiskMonitor subscribers. This combination allows for a more accurate and timely snapshot of the true risks within your portfolio. The FRISK® score outperforms payment-based scores, like Dun & Bradstreet's PAYDEX® score that frequently misses public company bankruptcies. Public companies, with greater access to capital than private companies, tend to pay on time all the way up to their bankruptcy filings so counterparties don't see the increasing financial risks - this is known as the "Cloaking Effect." 
The FRISK® score works on a "1" (highest risk)-to-"10" (lowest risk) scale, with anything in the bottom half of the range falling into the high-risk "red zone." Companies deep in the red zone have substantially higher risk of bankruptcy, as the table below demonstrates. CreditRiskMonitor® notifies subscribers as a company's FRISK® score descends into this high-risk area of the scale so you know what business relationships need your immediate attention.
Image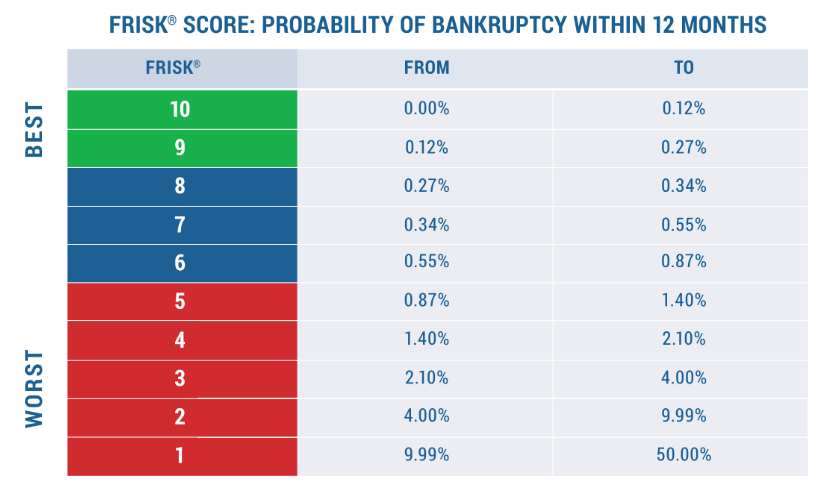 Three Recent Examples
To see how powerful the FRISK® score can be, let's review three recent public bankruptcies: Mallinckrodt plc, Tailored Brands, Inc., and Briggs & Stratton Corporation.
Mallinckrodt plc is a notable drug manufacturer. Some of its most visible products in recent years fell into the opioid category; not surprisingly, Mallinckrodt was right in the thick of some awful headlines – and legal issues – related to another worldwide crisis in opioid dependency and abuse. The company has bounced between a FRISK® score of "1" and "2" for more than a year, so CreditRiskMonitor® subscribers were aware of the financial risk here before the company's October bankruptcy. The company's total debt-to-equity ratio skyrocketed over the last 12 months, as ongoing operating losses reduced shareholder equity while debt levels remained elevated. Falling into the bottom quarter of its peers in regard to key leverage and liquidity metrics, Mallinckrodt was struggling to handle the headwinds it faced. As the company's legal issues surrounding drug pricing and involvement in opioids mounted, it chose to seek out court protections. Once again, our subscribers were made aware well in advance of the financial risk here and the legal headwinds, which were outlined in the company's management, discussion, and analysis (MD&A) updates - readily accessible in the CreditRiskMonitor® service. Like so many public companies, Mallinckrodt continued to pay its bills on time even as its financial condition was deteriorating. While CreditRiskMonitor® subscribers knew that caution was in order and that close monitoring was needed, those relying on payment-based scores for the company would have been blindsided.
Image

Tailored Brands, Inc. was caught up in the global pandemic but its financial problems started well before 2020. The company, which filed bankruptcy in early August, sells men's formal wear and office attire. A common-sense explanation for their failure has been that business employees being forced to work from home had caused sales to dry up overnight. While true, the retailer's FRISK® was already deep within the red zone when the year began, indicating a volatile company before COVID-19. And while it fell to a worst-possible "1" in May, CreditRiskMonitor® subscribers already had the name on their watch lists before the pandemic hit. Notably, Tailored Brands was still paying in a timely fashion up until it filed for bankruptcy, despite elevated leverage and operating performance that placed it in the bottom quartile of its peer group. COVID-19 may have been the straw that broke the camel's back, but the FRISK® score's early warning of rising financial risk provided ample time to prepare.
Image

Engine maker Briggs & Stratton Corporation filed for bankruptcy in late July, and like Tailored Brands and Mallinckrodt, its financial troubles pre-dated the COVID-19 pandemic. In 2019, the company's FRISK® score fell from a healthy "7" to a worrying "2." It later dropped to a "1" in March 2020 as economies worldwide effectively shut down to slow the spread of the coronavirus. The falling FRISK® score highlighted the fact that Briggs & Stratton held a heavy debt load, large near-term debt maturities, and weak interest coverage ratios. Email news alerts, meanwhile, kept subscribers informed of the increasing troubles, tracking the FRISK® score's decline, falling credit ratings, debt covenant issues, and other ongoing business issues. Traditional payment scores and the Altman Z''-Score failed to warn, however, because Briggs & Stratton managed to keep its payment performance and financials with a reasonably acceptable appearance:
Image

Bottom Line
Not all companies are facing the same level of financial risk and the 96%-accurate FRISK® score will immediately distill that information for you. Because it is updated every single day, the FRISK® score highlights the most critical public company risks in your portfolio as soon as possible so you can spend time on the relationships that need the most attention. If you aren't using this powerful tool, you could end up blindsided or be wasting time reviewing companies that are doing just fine and spending too little on the ones that actually require the effort. Contact CreditRiskMonitor today to see how your company can benefit from collaborating with us.