China's non-financial corporate debt as a percentage of GDP has pushed to 160%, well above any other advanced or emerging market economy. Excessive corporate debt can lead to default, and in certain cases, even corporate failure. China's GDP growth has also fallen to its slowest pace in nearly 30 years. Given this economic weakness, professionals in credit, procurement and finance should proactively monitor counterparty risk to businesses in the region.
The most effective of CreditRiskMonitor®'s solutions in assessing financial risk is our FRISK® score, which measures corporate financial risk with 96%* accuracy looking forward 12 months. Coverage spans in excess of 7,000 public companies across China, Hong Kong, and Taiwan, as well as thousands of additional corporations across the rest of the Asia-Pacific. Risk professionals currently employed at more than 35% of the Fortune 1000 worldwide and many others use our service to stay ahead of risky companies in their home countries and internationally.
Mounting Financial Risk
Many Hong Kong-listed firms operate in China, and the FRISK® Stress Index has shown a substantial increase in risk leading into 2019. The FRISK® Stress Index shows the collective probability of failure in a group of companies (such as an industry, country or portfolio) over the course of the coming 12 months:
Image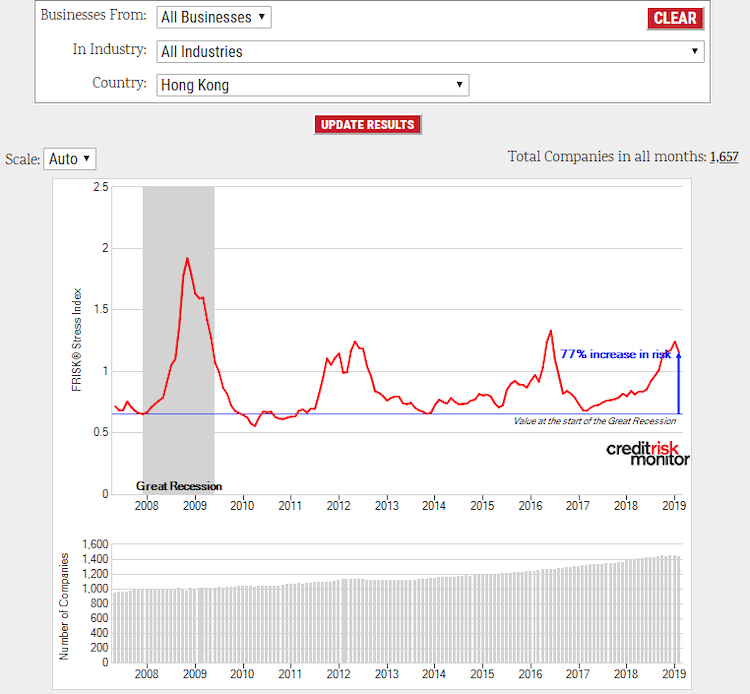 Our FRISK® Stress Index solution today shows that the aggregate level of financial risk for Hong Kong has increased by more than 70% since the beginning of the Great Recession. There's reason to take notice when the FRISK® Stress Index pushes above a factor of one.
In fact, Chinese corporations are currently defaulting at a record pace. Some businesses are facing recurring cash flow deficits and the slowing economy is making matters worse. Furthermore, the government has been less willing to arrange support for poor credit quality businesses. Therefore, it's very possible that the frequency of corporate defaults will accelerate throughout 2019 and beyond. 
Promptly Identifying Danger
Over the years, the FRISK® score has identified numerous Chinese corporations that have defaulted on payments, whether they are to banks, bondholders or suppliers. In illustrating how The FRISK® score works, it utilizes a scale that ranges from "1" (worst) to "10" (best), where a score of "5" or less is classified within the high-risk "red zone." We recommend that subscribers should be extra careful with businesses that trend in this category.
Image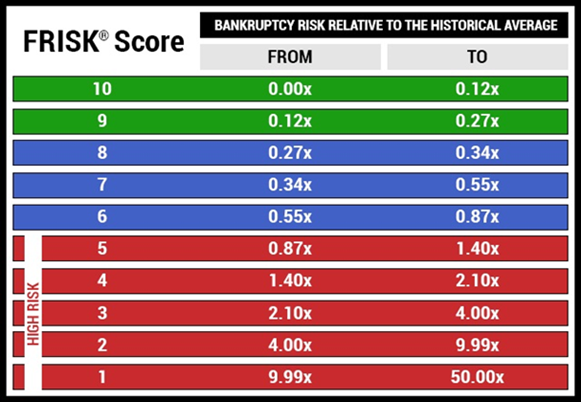 In April 2018 – Yingli Green Energy Co. Ltd., one of China's larger solar manufacturers, received notice from one of its polysilicon suppliers. The vendor filed a request for arbitration with the hopes of receiving payment given Yingli effectively defaulted. Around the same time, Yingli had difficulty making payment on its outstanding medium term notes, and that issue was eventually escalated to the Chinese courts. Leading up to these incidences, Yingli's FRISK® score stood in the red zone for a prolonged period. In fact, its FRISK® score has averaged the worst-possible score of "1" over the course of the last two years, as shown below:
Image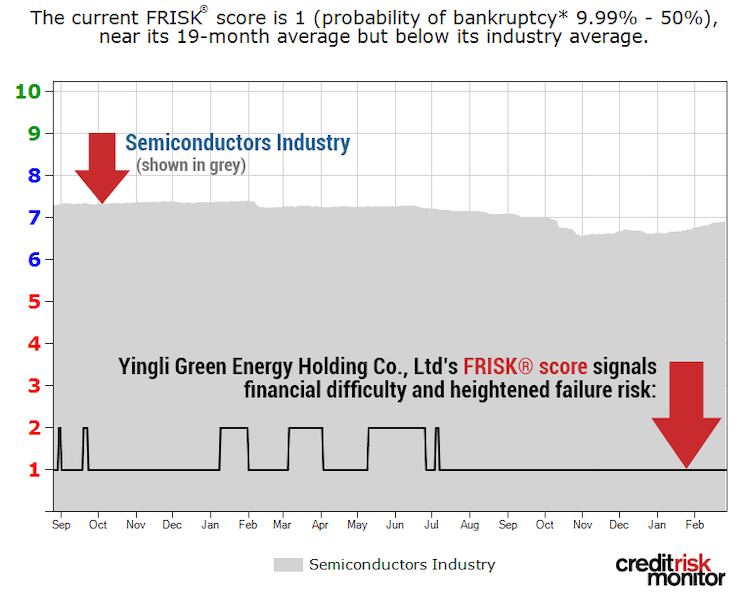 In May 2018 – Coal, wind and hydro power generator Kaidi Ecological and Environmental Tech Co. Ltd. updated the public about its poor information disclosures and shortly thereafter revealed that it had insufficient liquidity. The company's FRISK® score had already been in the red zone and remained there for more than a year. The score dropped to the weakest score of "1" in November of 2018, and then management formally acknowledged that it would be unable to repay its debt obligations.
Image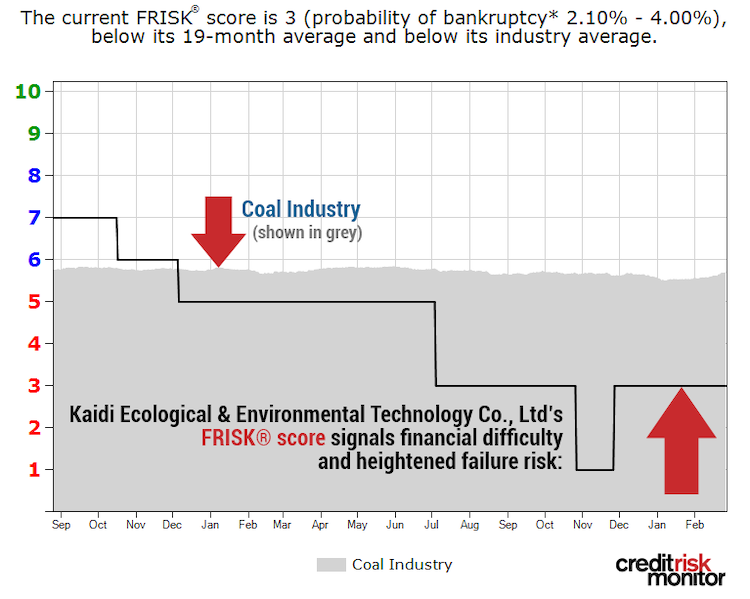 In July 2018 – Multi-billion dollar coal operator Wintime Energy Co. Ltd., had trading on its stock and bonds halted after failing to pay interest due on its commercial paper. Only shortly thereafter was a cross-default triggered on the company's medium terms notes. The company's FRISK® score stood firmly in the red zone for nearly two years, which gave advanced warning of such defaults:
Image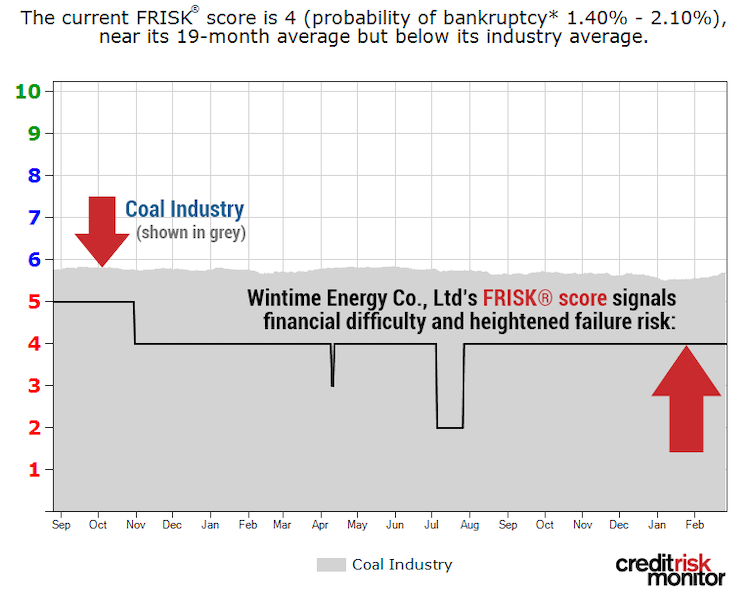 Bottom Line
Hong Kong's FRISK® Stress Index has risen significantly in the past year, which is underscored by a record number of Chinese corporate defaults. Even if such corporations don't fail in totality, financial default can result in a number of complications for business stakeholders. Not only do debtholders take a haircut, but vendors may also not receive payment and supply chains can experience turbulence. Instances like these should not go unchecked as they can ultimately result in financial loss and problems for your company. 
If you have international exposure to public companies, please contact CreditRiskMonitor online or call 845.230.3000 – we can help you properly assess and avoid financial risk.
*As backtested on U.S. public companies; results may vary by country.