Two high-profile regional grocery chains filed for Chapter 11 bankruptcy restructuring in early 2018. The operators were Tops Holding II Corp (commonly known as Tops Friendly Markets) and Southeastern Grocers LLC (owner of Winn-Dixie). These bankruptcies are a reminder that company financial risk should be routinely evaluated within all industries – because although the grocery industry is performing adequately as a whole, underlying risks exist. These particular bankruptcies show that risk professionals need to carefully monitor marginal grocery operators.
We previously highlighted public company Tops Holdings in September 2017 as one of the riskiest operators in the grocery space based on its FRISK® score of "1," the lowest possible score on this "1" to "10" scale. The FRISK® score uniquely predicts U.S. public company financial distress up to and including bankruptcy with 96% accuracy. This proprietary solution achieves its high accuracy rating by using multiple sources of quality financial data.
To begin, we will evaluate Tops Holdings' failure, the FRISK® score and ongoing industry developments.
Fall from the Tops
Improving customer traffic and balancing product pricing are important factors in driving grocery store sales. However, food price inflation has been tame and competition among chains has been aggressive. Scale is, of course, a fundamental advantage for grocery chains, as larger operators can more easily invest into operations. However, today's battle for market share stands as an overarching challenge for all operators.
Grocery chains with leveraged capital structures face a dual problem; all at once, they have to balance industry headwinds while also servicing their cumbersome debt loads. Tops Holdings, Southeastern Grocers, and Fairway Markets have all resided in this category for some time and have been among the weakest names in the industry.
For Tops Holdings, there were multiple warning signs that preceded its bankruptcy filing. As depicted below, Tops Holdings' FRISK® score declined to the worst possible level of "1," representing a 10-to-50% probability of bankruptcy in the coming 12-month period:
Image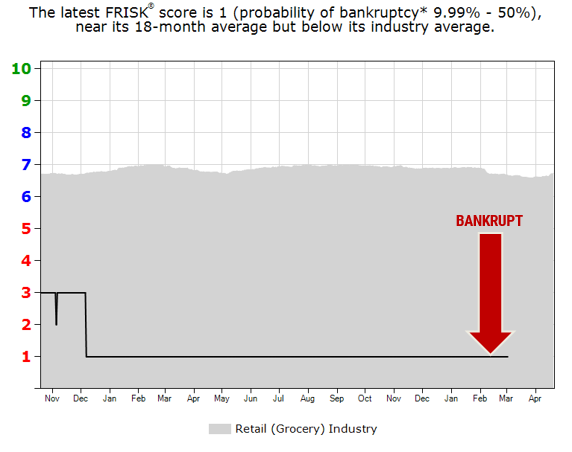 CreditRiskMonitor® subscribers would have been alerted to this severe risk well in advance upon adding Tops Holdings to their portfolios. An important element here is the timing of the warning. The grocer's FRISK® score deteriorated to the worst level in December of 2016 and remained there for approximately 14 months prior to its filing for Chapter 11 bankruptcy protection.
Leading up to the bankruptcy, Tops Holdings' management pursued many reasonable strategies, including accelerating advertising, expanding its private brand portfolio, and selling more organic products. Unfortunately, Tops Holdings' net sales plateaued at roughly $2.5 billion annually over the last four years. This is quite a large number, but four consecutive years of same-store sales declines left its operating margin dollars capped. What's more, the company reported a net loss during fiscal 2014, its strongest recent sales year. Tops Holdings was able to service its debt load for years but thin margins and high borrowing costs were an increasingly troublesome combination. Its cost of debt actually reached a near double-digit rate just prior to bankruptcy. 
Industry Watch
The aforementioned battle for market share is a key issue to watch in the grocery space. Recently, we have seen major retailers including Amazon (owner of Whole Foods Market), Walmart and Target all make large investments into their grocery segments. These pushes are supporting product assortment, as well as expanding the channels through which the retailers sell, notably expanding their online ordering and delivery services. These competitors are broadly impacting the grocery industry and are an especially difficult problem for marginal operators that lack the financial flexibility to counter these deep-pocketed industry participants. 
A sign of this phenomenon can be seen in the strategic changes developing at Supervalu Inc. During the last few years, its retail division has reported persistent traffic weakness and operating losses. While its wholesale segment benefits from providing distribution to its retail locations, management believes that eliminating its retail segment would be a strategic benefit over the long-term. It appears that management's expertise largely resides on the wholesale side of the business, and by streamlining the model, they expect to improve performance over time. In late 2017, Supervalu acquired Associated Grocers of Florida, effectively doubling down on wholesale with the goal of expanding scope and achieving cost synergies. To sum, Supervalu's management finds that the profit opportunity exists in wholesale, not in retail. 
Due to the evolving risks in this space, risk professionals utilize the CreditRiskMonitor® service to evaluate business financial risk on a consistent basis. For example, a nationwide product supplier might exhibit the following type of grocery store portfolio:
Image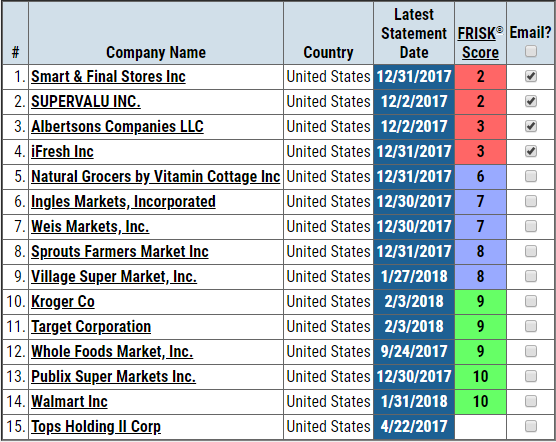 When viewing the portfolio assembled, it allows for a credit professional to conveniently monitor risk among several commercial customers at the same time. Companies that fall into the FRISK® "red zone" category, labeled as scores ranging from "1" to "5," should be monitored closely. Subscribers can then dig deeper into each operator, evaluating financial performance on its own and relative to industry peers.
By default, CreditRiskMonitor® subscribers receive e-mailed news alerts on the riskiest businesses in their portfolio. These valuable alerts cover important company events including earnings reports, management changes, financing transactions, mergers, acquisitions, divestments, rating changes, and bankruptcies, among many others.
Bottom Line
Bankruptcies can unfortunately catch risk professionals by surprise. Financial management from around the world, including more than 35% of the Fortune 1000, use the CreditRiskMonitor® service to stay ahead of public and private company financial risk. For grocery stores, suppliers and lenders have the most risk exposure. Tops Holdings and Southeastern Grocers filed for Chapter 11 bankruptcy restructuring, largely as a result of their heavy debt burdens. At the same time, competition continues to evolve in this space and we believe that counterparties should be on the lookout for additional failures in the coming years.