CreditRiskMonitor® published a High Risk Report on National CineMedia, Inc. ("National CineMedia") on Oct. 19, 2022. The company provides cinematic pre-roll advertising in theater houses across North America. The recent bankruptcy of Cineworld Group plc ("Cineworld Group") is problematic for National CineMedia not even considering the financial distress of other major movie theater chains. This report will provide five quick and vital facts about National CineMedia and ongoing risks facing other struggling companies in this part of the services sector.
CreditRiskMonitor is a B2B financial risk analysis platform designed for credit, supply chain, and other risk managers. Our service empowers clients with industry-leading, proprietary bankruptcy models including our 96%-accurate FRISK® score for public companies and 80+%-accurate PAYCE® score for private companies, and the underlying data required for efficient, effective financial risk decision-making. Thousands of corporations worldwide – including nearly 40% of the Fortune 1000 – rely on our expertise to help them stay ahead of financial risk quickly, accurately, and cost-effectively.
Back to top
1. FRISK® Score Descending as On-Time Payments Roll In
National CineMedia's FRISK® score has fallen from a "4" to a "1" over the past year. Although both are in the high-risk "red zone" of the "1" (highest risk)-to-"10" (lowest risk) scale, the company's risk of bankruptcy dramatically increased. In fact, the probability of bankruptcy of a FRISK® score "1" is 10-50% over the subsequent 12 months. Subscribers following the company were warned about its deteriorating financial conditions with consistent updates as the situation worsened.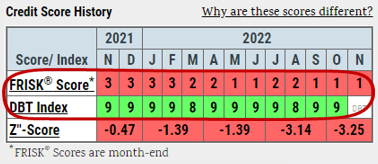 What's notable, however, is that National CineMedia continuously pays its bills in a timely fashion, as shown by the Days Beyond Terms (DBT) Index in the above graphic. This metric is similar to Dun & Bradstreet's PAYDEX® score and this pattern is common among publicly traded companies that eventually go bankrupt: timely payments allow them to retain access to low-cost trade credit. However, such payment behavior to maintain that access – and to maintain healthy optics to the public – will often obscure the actual risks that financial counterparties are facing. 
The FRISK® score cuts through this "cloaking effect" because it doesn't use payment data, instead blending high-quality data inputs including financial statements, credit agency ratings, stock performance, and the aggregate crowdsourced research behavior of CreditRiskMonitor's subscribers. This powerful combination allows the FRISK® score to predict 96% of companies that go bankrupt with at least three months of advanced notice, giving subscribers time to adjust their risk exposure. In the case of National CineMedia, you can see above that we've been alerting to decline for more than one full calendar year at this point, with no immediate signs that the company is set to pull itself up and out of trouble.
Back to top
2. Feverishly Pulling the Leverage Lever
National CineMedia's leverage was already heavy at the end of 2019, but it moved even higher when the company went through the pandemic. Its annual debt-to-assets ratio rose from 0.82 in 2019 to 1.19 in 2020 and 1.34 in 2021. The figure stood at 1.45 times in Q3 2022. Gross debt increased from $926.6 million at the end of 2019 to $1.12 billion in Q3 2022. 
The company's cash flow was weak in 2020 and sharply negative in 2021, so the debt financing helped it cover its bills. Access to debt, even if at an expensive rate, is better than no access – and yet such debt is costly and eventually comes due. Muddling through a difficult period was clearly the goal, but the hard times aren't close to over yet.
Back to top
3. Poor Performance, Even by Post-COVID Standards
In 2019, National CineMedia generated positive net income and free cash flow. In 2020, the company managed to generate positive net income, but free cash flow turned negative; both turned negative in 2021 and remain so, on a cumulative basis, thus far in 2022. 
The profit troubles are hardly surprising, given the initial effect of COVID on the movie theater business. Movie theater attendance, though, continues to be sluggish in both domestic and international markets and performance continues to be weak. Cineworld Group is a prime example.
Cineworld Group, which owns the Regal and United Artists nameplates in the U.S., managed a tenfold increase in revenues year-over-year in the second half of 2021 but still did not turn a profit, ultimately resulting in its recent bankruptcy. National CineMedia needs a healthy movie theater recovery if it's going to turn its own business around. However, with the increasing use of streaming media services among consumers, the future of the industry remains uncertain in more ways than one.
Back to top
4. Short-Term Debt Soars Higher
One of the most notable balance sheet developments in 2022 at National CineMedia has been a swift increase in short-term debt. Short-term debt as a percentage of total debt increased from almost nothing in Q1 2022 to nearly 20% through Q3 2022. Short-term debt comes due within 12 months and must either be paid off or rolled over.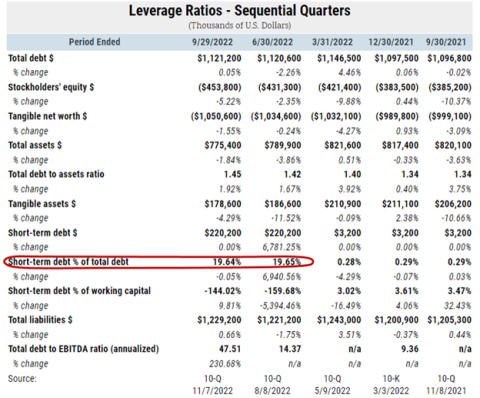 Given the company's weak performance, it is unlikely that debt can be reduced organically. With interest rates also rising sharply this year, rolling over maturing debt will become more expensive. Such higher costs while its movie theater affiliates continue to struggle is a bleak picture.
Back to top
5. Coming Soon to a Theater Near You: Bankruptcy?
National CineMedia's management is working hard to deal with this adversity. For example, the company has been in discussions with lenders on amendments that have provided financial leeway to maneuver. However, the company's Q2 2022 MD&A disclosed "substantial doubt about the Company's ability to continue as a going concern." That warning carried over into the third quarter MD&A, since there's no easy or quick fix to what ails National CineMedia. This statement basically acknowledges the possibility of bankruptcy, a fact the FRISK® score has been highlighting for more than a year.
Back to top
Bottom Line
COVID had a detrimental, substantial, and lingering impact on the movie theater business. The now-bankrupt Cineworld Group was a clear casualty, but the damage may not be over yet as evidenced by National CineMedia's ongoing struggles. These two examples are only the tip of the iceberg when it comes to bankruptcy risk among public companies, especially as more heavily-indebted companies are forced to roll over debt at higher and higher rates.
Contact CreditRiskMonitor today to see how we can help you ferret out portfolio risks before they become a cascading mess.
Back to top