CreditRiskMonitor® recently published a High Risk Report on troubled China-based property developer Fantasia Group Holdings Co., Limited. This detailed report will provide five quick and important facts that you need to know about Fantasia Group Holdings.
1. Not a FRISK®-y Friendly Outfit
Fantasia Group Holdings' FRISK® score is "2," which indicates bankruptcy risk is up to 10x greater than that of the average public company for the coming 12 months. The score is among the weakest on the "1" (highest risk)-to-"10" (lowest risk) bankruptcy scale. A mark of "5" or lower falls into the FRISK® score "red zone," indicating that financial counterparties should be paying close attention. The company's score has been stuck in this dangerous territory for more than a year, having fallen from a "4" at the start of 2021.
Image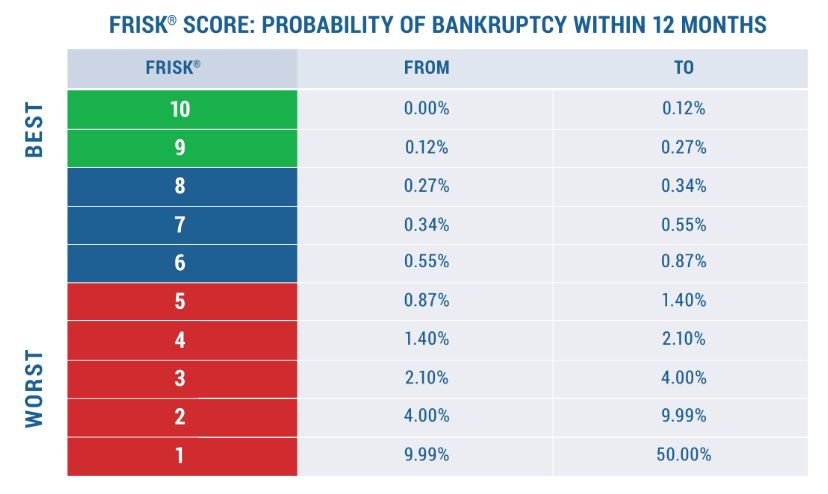 The FRISK® score, which incorporates financial statement ratios, stock market performance, bond agency ratings from Moody's, Fitch, and DBRS Morningstar, and captures 96% of all publicly traded companies that eventually file bankruptcy. By combining these four factors, the FRISK® score provides the most accurate bankruptcy risk evaluation in the marketplace, one that is consistently superior to any model basing its predictions on any singular data category, such as financial statements or trade payments.
2. The Z''-Score, Conversely, says "Nothing to See Here"
The superior risk signaling capability of the composite FRISK® score is on clear display with Fantasia Group Holdings. One of the most reliable data sources for a public company is its financial statements and the Altman Z''-Score is an example of a risk model that exclusively uses this data for bankruptcy risk assessment. However, there are problems with only using financials for bankruptcy risk assessment including the ability of companies to manipulate their financials to make them appear stronger than they are and the inherent delay in the reporting cycle. Indeed, Fantasia Group Holdings' Z''-Score suggests low bankruptcy risk, but the other components of the FRISK® score clearly indicate that the financials alone are not providing an accurate assessment of the risk level.
Image

3. Troubled Credit Rating Agency Moves
One of the factors that the Z''-Score misses but is incorporated into the FRISK® score is the increasing concern among bond rating agencies. Over the past year, Fitch and Moody's traveled roughly the same path. They both shifted to a negative outlook, then cut their ratings on Fantasia Group Holdings, and subsequently withdrew their ratings completely. This progression is clearly *not* the track that a financial counterparty wants to see. 
In Moody's final note, they describe their reasoning for the rating's withdrawal: "insufficient or otherwise inadequate information to support the maintenance of the ratings." 
Fitch's final note also gave informative reasoning on their final decision: "Fantasia failed to repay its USD206 million senior notes due 4 October 2021. There is no grace period for the bond repayment." The credit agency also cited "commercial reasons" for its decision to withdraw Fantasia Group Holdings' rating, and Fitch's broader comments speak volumes about the risk here.
4. Creditors Requesting Payment
Further complicating Fantasia Group Holdings' story is the fact that creditors have filed a wind-up petition against one of its subsidiaries that could force the construction company to sell assets to repay a $149 million loan. This is normally a last-ditch effort to force a company to repay its debts. An interesting and complicating factor is that this wind-up petition has been filed against the Chinese developer's offshore debt. Although such a move could force Fantasia Group Holdings into insolvency, it's not exactly clear how China's legal system will proceed with a petition that comes from foreign creditors. Regardless, being taken to court over non-payment is never a sign of lower bankruptcy risk.
5. A Failing Company in a Troubled Industry
Fantasia Group Holdings is struggling, as noted by its red zone FRISK® score, but it is not alone in its financial distress. China's broader Building Construction - General Contractors And Operative Builders (SIC 15) industry is chock full of distressed operators as highlighted by the FRISK® Stress Index, which aggregates FRISK® scores across a sector, country, portfolio, or combination therein to provide a macro view of the risks. In this case, risk has spiked to levels that are worse than those observed during the depths of the 2007 to 2009 Global Financial Crisis:
Image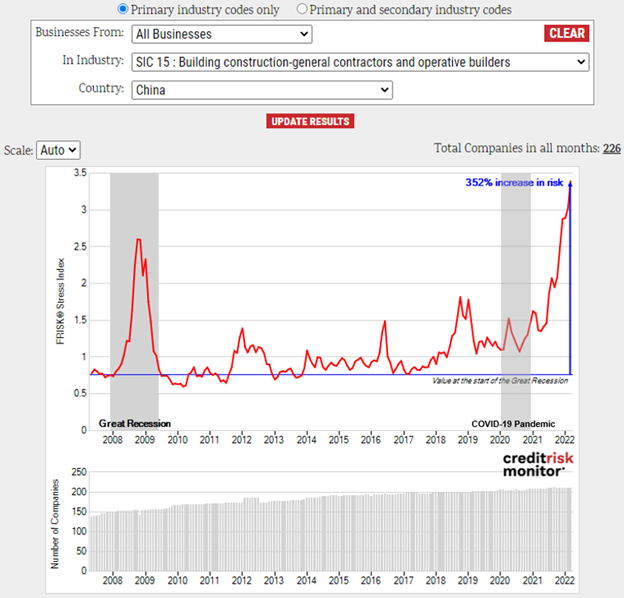 Such industry-wide issues can deepen the distress for the riskiest companies in the group as counterparties start to pull back or seek redress across the board to protect themselves from a systematic decline. With this backdrop, Fantasia Group Holdings' efforts to stave off bankruptcy will likely face even more headwinds.
Bottom Line
Fantasia Group Holdings, like many of its peers, has started to crumble. The financials alone aren't showing the real risks that counterparties face today and the credit rating agencies are no longer provided rating updates either. Given the broad weakness in the China construction space and the effort by creditors to push for repayment, the timely warning provided by the FRISK® score must be heeded. Contact us now and we'll provide you with a free demonstration of the CreditRiskMonitor service and how our bankruptcy models and the other tools can help you monitor and avoid major portfolio risks.