Most countries have flattened the curve, or decreased the number of new coronavirus cases through the spring of 2020. However, the U.S., Mexico, Brazil, South Africa, and India are among a group of nations that have failed to do so (in relative terms), which prolongs economic damage and staves off the prospects of a recovery. According to the International Monetary Fund's latest world economic outlook update, these five countries are projected to post annualized GDP losses ranging between 4.5% and 10.5% for 2020. 
CreditRiskMonitor® is a leading web-based financial risk analysis and news service designed for credit, supply chain, and other risk professionals. The core of the service is the 96% accurate FRISK® score, which predicts public company bankruptcy over a subsequent 12-month period. With coverage of more than 57,000 public companies globally, CreditRiskMonitor also provides: 
Bond agency ratings and research from Moody's, Fitch, and DBRS Morningstar,
In-depth financial ratio and trend analysis,
Timely news releases and regulatory filings, among other resources
The FRISK® Stress Index
CreditRiskMonitor®'s FRISK® Stress Index, which measures the collective financial risk level in a group of companies, shows that the five aforementioned countries have much higher risk compared to the worldwide aggregation. The worldwide FRISK® Stress Index currently trends around 1.2, or a 50+% increase in financial risk since 2007. However, public company risk in the regions shown below have deteriorated at an even greater pace, particularly following the coronavirus headwinds:
Image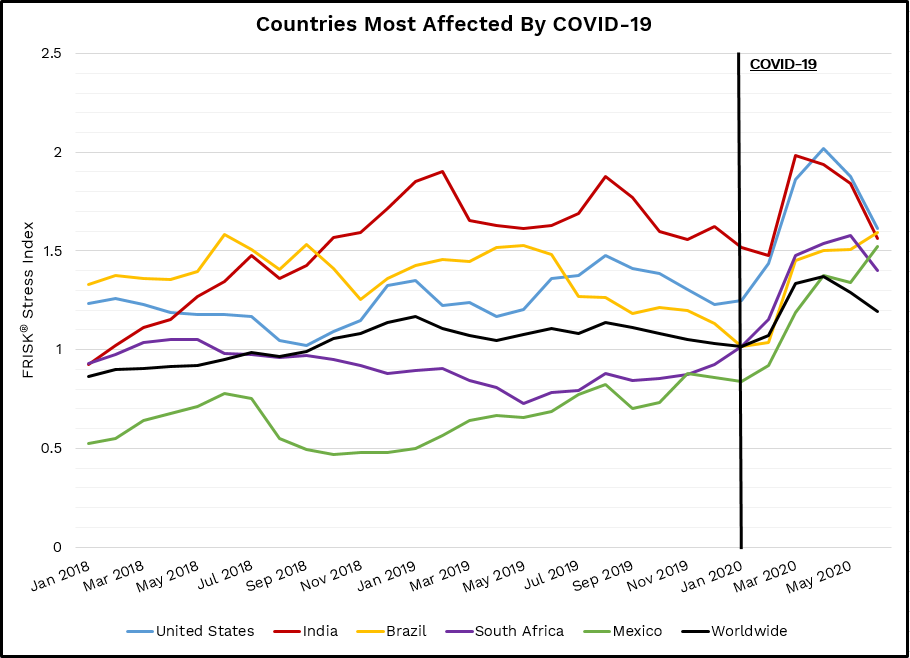 Since January 2018, the FRISK® Stress Index for each country has increased by the following amount:
Mexico's risk increased 191%
India's risk increased 69%
South Africa's risk increased 51%
U.S. risk increased 31%
Brazil's risk increased 20%
Developing Economies Falter
The U.S. sovereign credit rating remains in the top tier of investment-grade and has been largely unaffected by the coronavirus pandemic. Developing economies, on the other hand, have been disproportionately impacted and their governments have less capacity to provide fiscal stimulus. Bond rating agencies have taken action with sovereign downgrades and outlook adjustments in response to declining GDP, steepening fiscal deficits, rising debt burdens, and sluggish recovery prospects. In particular, Moody's Investors Service and Fitch Ratings have recently updated their credit evaluations for India, Mexico, South Africa, and Brazil. The rating agencies have directly cut ratings to the bottom of the investment-grade category or further into junk territory, all of which have contributed to downward pressure on each country's respective currency:
| | | | |
| --- | --- | --- | --- |
| Country | Old Credit Rating | New Credit Rating | Currency Decline |
| India | BBB | BBB- | 8% |
| Mexico | BBB | BBB- | 15% |
| South Africa | BB+ | BB | 17% |
| Brazil | BB- | BB- | 26% |
On June 1, Moody's Investors Service downgraded India's credit rating from "Baa2" to "Baa3" and maintained a negative outlook. Noted as a part of the analyst team's rating rationale, further debt expansion and tepid economic growth were two of many reasons for the downgrade: "India faces a prolonged period of slower growth relative to the country's potential, rising debt, further weakening of debt affordability and persistent stress in parts of the financial system, all of which the country's policymaking institutions will be challenged to mitigate and contain." CreditRiskMonitor's total coverage of public companies in India includes more than 3,000 operators. One of India's largest industries, textile mill products (SIC 22), has become broadly distressed with 55% of the companies now classified as high risk by the FRISK® score.
According to Fitch Ratings latest Sovereigns research note on Mexico, their team provided the following rationale on the move to downgrade: "We expect a recession and higher fiscal deficits and debt across the sovereign portfolio… The coronavirus shock magnifies our existing concerns about growth and public finances." Regarding public companies, Mexico generally carried a modest risk composition prior to the pandemic. However, the FRISK® score risk classifications show that total low risk companies have declined by 35% since January with those companies shifting into the medium and high risk categories. 
Moody's downgraded South Africa's rating to "Ba1", while maintaining a negative outlook. Its research note outlined several issues for the country, including: "deteriorating fiscal strength and structurally very weak growth." And added that "heightened uncertainty about the economic impact of the coronavirus pandemic and to the possibility that negative economic sentiment becomes further entrenched as policymakers and stakeholders continue to struggle to reach consensus on the structural reforms that would sustainably stimulate growth and employment."  Based on FRISK® score risk classifications, about 44% of all South Africa's public companies are financially stressed today, compared to only 29% in January.  
On June 9, Fitch Ratings held their rating on Brazil at "BB-" while switching their outlook from stable to negative. Their analyst team outlined that: "the Outlook revision reflected the deterioration of Brazil's economic and fiscal outlooks and downside risks to both, given renewed political uncertainty, including tensions between the executive and congress, and uncertainty over the duration and intensity of the coronavirus pandemic." Fitch further explained that a downgrade to "B" would depend on deterioration of the country's public debt burden, borrowing conditions, reserve buffer and external balance sheet. One core point of concern is that the average general government deficit-to-GDP among "B" rated peers is 6%, whereas Brazil posts nearly double that figure at 11%. And similar to the trend experienced by Mexico, Brazil also showed a proportional 35% decline in low-risk public companies since the pandemic has unfolded. 
Behemoths Breaking Down
In contrast to sovereign ratings, where the U.S. remains insulated, all five countries are dealing with more corporate credit quality challenges. CreditRiskMonitor® compiled a list of 10 of the largest, most distressed public companies based on total assets and the FRISK® score. Among the most noteworthy are The We Company (WeWork), Steinhoff International Holdings NV (Steinhoff), and Tata Motors Limited (Tata Motors) with their high-risk FRISK® scores of "1," "2," and "3," respectively.
| | | | |
| --- | --- | --- | --- |
| Country | Company | FRISK® score | Total Assets (in Billions USD) |
| USA | The We Company | 1 | $27.05 |
| USA | Coty Inc. | 1 | $18.31 |
| Brazil | Azul SA | 1 | $3.76 |
| Brazil | Gol Linhas Aereas Inteligentes SA | 1 | $3.12 |
| India | Jain Irrigation Systems Limited | 1 | $1.79 |
| South Africa | Steinhoff International Holdings NV | 2 | $17.06 |
| South Africa | ArcelorMittal South Africa Limited | 2 | $25.39 |
| Mexico | Controladora Vuela Co Avcn SA CV | 2 | $3.05 |
| India | Tata Motors Limited | 3 | $41.88 |
| Mexico | Altos Hornos de Mexico SAB de CV | 3 | $2.54 |
WeWork's current FRISK® score is a "1," indicating a 10-to-50x greater risk of bankruptcy compared to the average public company. After successfully filing a registration withdrawal request, WeWork has not provided any financial disclosures for 2020. However, the company laid off thousands of workers and the coronavirus reduced demand for its office leases. Softbank, its primary financial backer, recorded a $6.6 billion write-down related to WeWork. Softbank also stalled its $3 billion tender offer for WeWork shareholders, a clear warning that the leaser's valuation is collapsing.
Steinhoff's current FRISK® score of "2" reflects a 4-to-10x higher risk of bankruptcy compared to the typical public company. After pervasive accounting fraud was disclosed in late 2019, company CEO Louis du Preez stated that wide sweeping asset sales and radical transformation would be necessary as the company's "only way to survive." Over the last 12 months, Steinhoff's net losses topped €1.2 billion and management gave an update that operating performance was further impacted by the coronavirus. The company is now actively seeking additional debt financing in an attempt to shore up liquidity.
Tata Motors' FRISK® score of "3" indicates a 2-to-4x higher risk of bankruptcy compared to the average company. India's automotive market sales have collapsed during the coronavirus pandemic. The company's net sales declined by 27.7% versus the prior year's comparable period, while also reporting its largest ever operating loss. As credit quality has collapsed, Tata Motors fired employees, hired a new CFO, and has been in active discussions with the British government, potentially for a new line of debt financing. Depending on the length of the coronavirus and unit sale shortfalls, the FRISK® score could decline further. 
Bottom Line
Coronavirus cases are surging in several countries, which has negatively impacted both sovereign and public company credit risk. In the wake of COVID-19, more than 35% of the Fortune 1000 use CreditRiskMonitor®'s FRISK® scores and bond agency ratings to stay ahead of these developing risks. If your company isn't already using these unique information sources, contact us now to receive a free risk assessment.