The Wall Street Journal recently reported that Amazon's official entrance into online prescription delivery cannot be ignored by traditional pharmacies. Such retailers who must have their radar up include household names like CVS Health Corporation, Walgreens Boots Alliance Inc., and Rite Aid Corporation. We explain why CVS remains relatively insulated, Walgreens will be challenged, and Rite Aid carries elevated bankruptcy risk as Amazon looks to upend yet another industry.
Pharmacy Financial Comparisons
Amazon has been financing acquisitions with cash and equity given its incredibly low cost of capital. When Amazon spent $750 million to acquire the online pharmacy PillPack in 2018, it was clear the tech giant had interest in the prescription drug market. Last month, the retail giant announced free two-day delivery of prescriptions with up to 80% savings when paying without insurance. 
Prescription delivery is nothing new, and CVS has led the charge here with about 40% of its retail sales derived from mail orders. Walgreens and Rite Aid, however, have not provided any disclosures in their filings of the pharmacy mix between in-store and online, suggesting their efforts here may not have progressed quite as far. Amazon's PillPack will place substantial pressure on these two lagging peers, similar to other retail categories that have been disrupted by the tech and retail giant.
CVS, in contrast to peers, remains insulated given its vertically integrated structure, possessing significant market share in healthcare insurance, pharmacy benefit management, and extensive logistical systems. The company also boasts the largest physical retail footprint, along with its Minute Clinics (similar to urgent care units). Moreover, Amazon and CVS have strong FRISK® scores and healthy debt coverage metrics, as shown below:
| | | | |
| --- | --- | --- | --- |
| Pharmacy | FRISK® score | Net Debt-to-EBITDA | Net Debt-to-FCF |
| Amazon (Pillpack) | 10 | 0.5 | 0.9 |
| CVS | 9 | 4.2 | 6.4 |
| Walgreens | 8 | 7.3 | 10.1 |
| Rite Aid | 1 | 9.6 | 30.4 |
The FRISK® score scale indicates the probability of a given company filing for bankruptcy at each given tier, with anything equal to "5" or less landing in the high-risk "red zone":
Image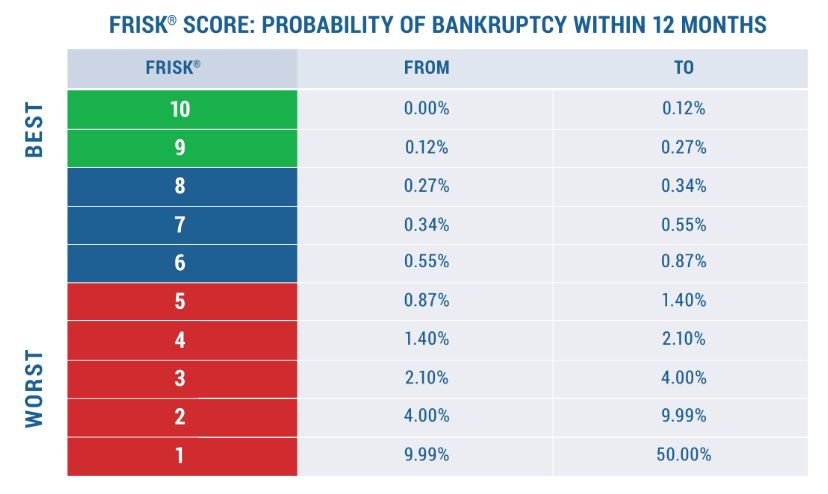 Walgreens and Rite Aid have fallen into the neutral and high-risk categories of the FRISK® score, respectively. Walgreens' operating margins have collapsed from 5.3% in 2018 to just 2.7% in 2020, or a decline of about 50% due to retail gross profit deleveraging. In the last five quarters, three periods have delivered negative comparable store sales, indicating a loss of share versus peers. In October, Fitch Ratings revised its credit rating outlook from BBB- stable to negative due to EBITDA performance weakness. The agency's analyst team indicated that Walgreens' EBITDA was adversely affected by COVID-19: 
"Approximately $1.2 billion of the EBITDA decline over fiscal 2018 to fiscal 2020, or nearly half of the total, is due to the coronavirus pandemic, which has impacted WBA in several ways." 
Rite Aid's FRISK® score of "1" signals a 10-to-50x higher risk of bankruptcy compared to the average public company, which is maintained by the following factors:
Negative market sentiment: high volatility and 10x liabilities to market capitalization
Weak financials: bottom quartile EBIT/total assets, liabilities to equity, and an accumulated deficit
Junk bond agency ratings: Moody's Investors Service maintains Caa1 and SGL-3
Pessimistic subscriber crowdsourcing: research patterns indicate concerned behavior
Rite Aid's EBIT-to-net interest expense remains weak at 1.4x, leaving minimal room for error. Additionally, annualized accounts payable turnover has also increased to 13x, about a 30% jump versus the 10x reported in fiscal 2019, which corresponds with early signs of a working capital squeeze by merchandise vendors. Cash and equivalents also declined to a fresh low of $92.7 million. 
Bottom Line
Amazon's push into the prescription delivery market along with COVID-19 have had varying impacts on retail pharmacies. With the industry rapidly shifting towards the relatively disruptive online delivery model, Amazon's Pillpack and CVS's vertically integrated business model should stand to benefit the most in terms of market share. Based on the FRISK® score and operating performance trends, Walgreens could fall into junk debt territory during 2021 should its EBITDA erode further and Rite Aid may eventually end in bankruptcy. For merchandise vendors selling to Rite Aid, now is the time to evaluate risk exposure. 
Contact CreditRiskMonitor today to learn more about the FRISK® score and how it will help protect your business during the coronavirus pandemic and the industry disruptions left in its wake.