The number of global bankruptcies is rising, and in no place is this more dangerous than within public companies. With economies around the world on the brink of recession, or already in one, any professional monitoring financial risk needs to establish proper oversight now before commercial bankruptcies wreak greater havoc upon their portfolio. CreditRiskMonitor®'s 96%-accurate FRISK® score can help you protect yourself from the already increasing incidences of bankruptcy in 2020, providing months of advance warning so you have time to mitigate your risk exposure.
CreditRiskMonitor® is a leading web-based financial risk analysis and news service designed for credit, supply chain, and other risk professionals. The core of the service is the FRISK® score, which accurately predicts public company bankruptcy. With coverage of more than 56,000 public companies globally and in-depth financial ratio and trend analysis, as well as access to vital news and regulatory filings, CreditRiskMonitor® helps risk professionals navigate through even the most turbulent times.
Bankruptcies on the Rise
Through the first four months of 2020, 59 public companies that CreditRiskMonitor® tracks with its FRISK® score declared bankruptcy. That was up from 47 in the same period of 2019, a 25% increase year-over-year. Most interesting was the 69% increase in bankruptcies in April 2020. Up until that point, the number of global bankruptcies was similar year-over-year, with 37 in the first quarter of 2020 versus 34 in 2019.
| | | | |
| --- | --- | --- | --- |
|   | First Quarter | April | January-April |
| 2019 | 34 | 13 | 47 |
| 2020 | 37 | 22 | 59 |
| Change | +9% | +69% | +26% |
The global spread of COVID-19 in 2020 has resulted in massive economic upheavals. Countries across the globe have enforced social distancing mandates and closed non-essential businesses as the first quarter was closing. The economic hit from those decisions started to be felt fully by companies in April, as demand for virtually everything not related to the fight against the coronavirus plummeted. With the historic increase in corporate debt taken on in recent years, CreditRiskMonitor® believes this is only start of the default and bankruptcy trends. Based on previous recessions, we expect $1.2+ trillion in losses to be experienced in the U.S. market alone before this correction is complete.
Forewarned Is Forearmed 
In this environment, credit professionals should be using accurate and predictive tools to help them prepare for and avoid such losses. In difficult times like these, the FRISK® score is the tool of choice for more than 35% of the Fortune 1000 and thousands of additional clients around the world. The FRISK® score uses a "1" (highest risk)-to-"10" (lowest risk) scale, with any company at "5" or lower falling into the high-risk "red zone." When declaring bankruptcy, a remarkable 96% percent of companies that end up failing have landed in the aforementioned red zone within three months of filing. If you are doing business with a company with a FRISK® score of "5" or less, you need to know and start taking action today to mitigate your financial risks. It is your warning signal: a bankruptcy filing could be just around the corner.
Big and Small, Domestic and Foreign
The financial dangers faced by businesses today are widespread because the risks are now squarely centered on a company's balance sheet strength. Heavily leveraged companies lack financial flexibility in difficult times and companies of all sizes have used the low-interest rate environment over the past decade to load up on debt. Those days are over and the pain is not exclusive to any one country. If you do business with public companies of any size in any country, you need to protect yourself now.
An example: COVID-19 has materially reduced demand for oil. Oil prices have plummeted and pushed energy companies of all kinds to the brink, with Whiting Petroleum and Diamond Offshore Drilling being two of many public energy companies that have filed for bankruptcy since April 1. Both of these energy players had been carrying heavy debt loads while also persistently burning cash, an unsustainable combination when operating environments become unfavorable to this degree. The FRISK® score provided ample warning of the risks in both companies before their stories reached Chapter 11. Based on the aggregate industry risk as identified on our COVID-19 Credit Crisis page, more energy company bankruptcies are on the way.
Image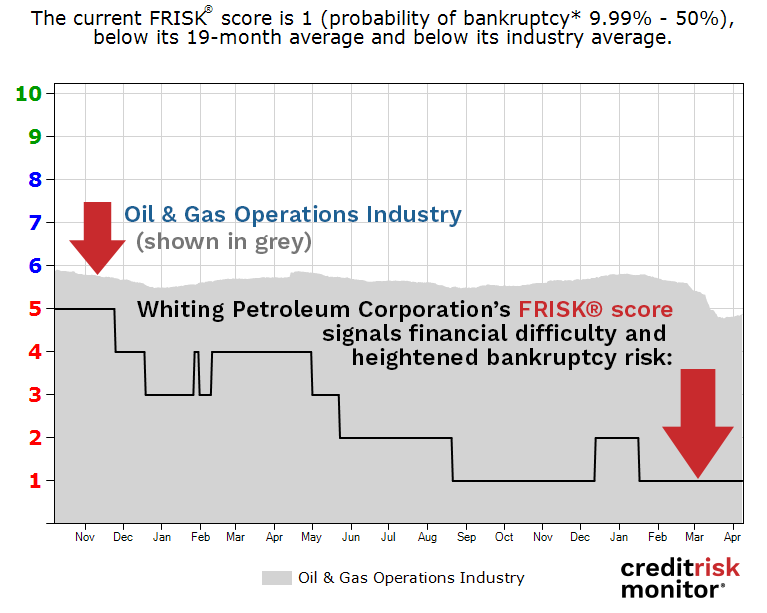 Stepping over to the retail sector, British department store chain Debenhams plc first found itself in administration, a reorganization proceeding similar to Chapter 11, in April 2019. Roughly one year into its turnaround effort, as the fallout from COVID-19 non-essential business shutdowns took effect, Debenhams was again placed into administration following the end of the first quarter of 2020. It's not the only retailer that's struggling to deal with the closure of its physical locations and it won't be the last, with J.Crew Group, Inc. filing in early May. That said, even retailers that are currently working through the bankruptcy process, like Pier 1 Imports, Inc., are likely to need to adjust their turnaround game plans, complicating the situation for suppliers -- closeout sales can't happen if stores aren't allowed to open. Now is the time to stay ahead of risk in the retail sector, noting that Debenhams, J.Crew, and Pier 1 were all flagged by the FRISK® score as high-risk well in advance of their bankruptcy filings.
Image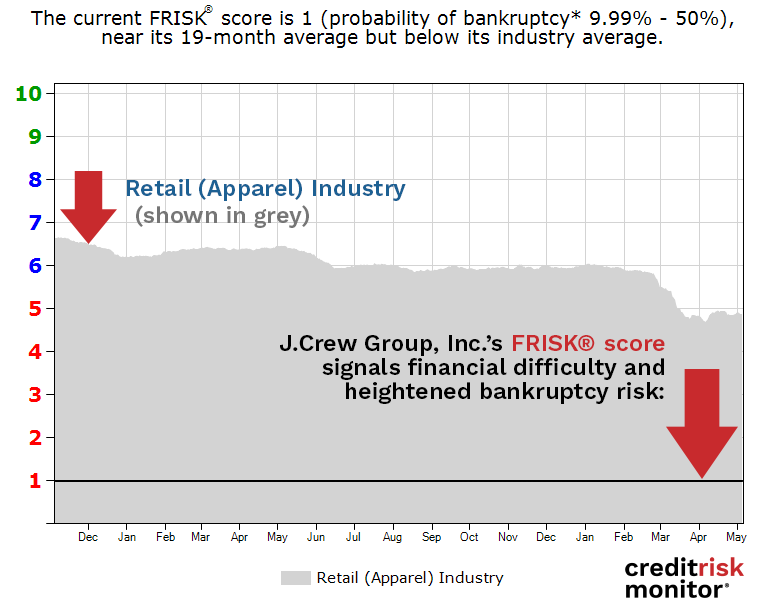 Then there is Virgin Australia Holdings Ltd, which ended up in administration in late April. That is a notable name in the air travel space, which the FRISK® score identified well in advance, but there are plenty of others that are on the brink of bankruptcy. COVID-19 has curtailed travel to an unprecedented degree and it could be years before the industry recovers. More financially leveraged names are likely to tumble into bankruptcy before the coming global recession runs its course and the FRISK® score can help you identify them before that happens.
Frontier Communications, a telecom operator, also filed in April as its over-reliance on debt financing finally caught up. The FRISK® score also identified this bankruptcy well in advance of the Chapter 11 filing. Notably, the insights provided by subscriber crowdsourcing seven months in advance of the bankruptcy were a key factor highlighting the risk here. Credit professionals, like the ones that use our service, have access to non-public information and are not subject to Fair Disclosure regulation. As a company appears increasingly risky, this group will research and examine the entity more thoroughly. This sort of crowdsourcing determines if, in aggregate, such research is normal behavior or indicative of concern. Sentiment data has improved the timeliness and accuracy of the FRISK® score prediction since its inclusion in 2015.
Image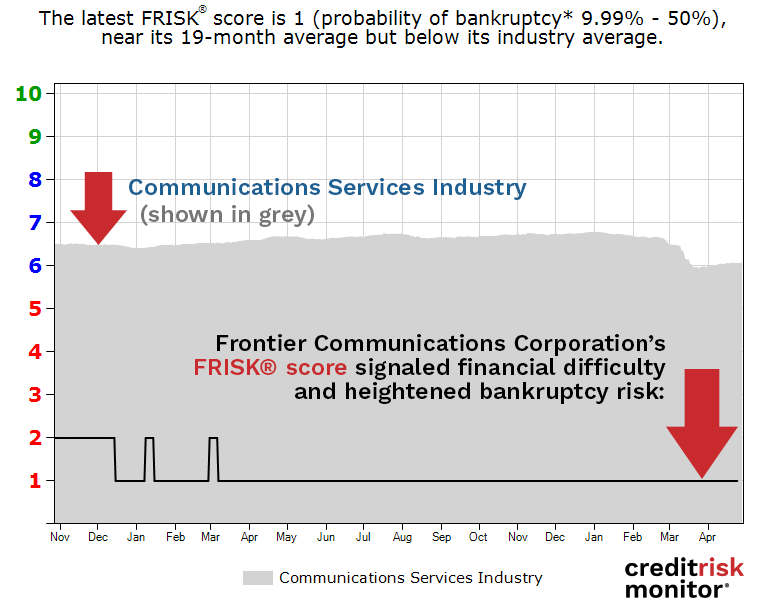 While the fallout from COVID-19 may be hitting expected industries (energy, retail, and air transportation), it is hardly limited to those industries. Check out our COVID-19 Credit Crisis page for additional insights from the FRISK® score!
Bottom Line
As you look at your portfolio of counterparties, try to figure out how COVID-19 and the coming recession will impact your business. Make sure you are using the best tools available that monitor bankruptcy risk and update on a daily basis. CreditRiskMonitor®'s FRISK® score is highly reliable and will keep you informed amid the growing wave of 2020 bankruptcy filings. Call us today at 845.230.3000 for a demonstration and we'll provide you with a comprehensive risk assessment.