Propane distributor Ferrellgas Partners, L.P. declared bankruptcy on Jan. 11, 2021. CreditRiskMonitor® subscribers, with access to a database of tens of thousands of international public companies, were tracking its distressed state well before that. In this write-up, we will outline the telltale warning signs that a subscriber would discover by using the CreditRiskMonitor® service, and how that subscriber would very quickly assess that Ferrellgas Partners was a major risk to their portfolio.
The First Warning Signal
Ferrellgas Partners continued to pay its bills on time until it declared bankruptcy. Public companies, with access to capital markets, often cloak increasing financial risk with prompt payment patterns. CFOs know that their vendors pay attention to payment patterns and therefore work to ensure prompt payment signals as reported by credit rating bureaus. And so, we come to the biggest value provided by CreditRiskMonitor®: our proprietary FRISK® score cuts through that "Cloaking Effect" (a term coined by one of our chief competitors, Dun & Bradstreet, as a mea culpa for their inability to accurately predict failure) by not factoring trade data and instead combining stock market volatility data, bond agency ratings from Moody's, Fitch, and Morningstar DBRS, financial statement ratios like those found in the Altman Z"-Score, and the crowdsourced research behavior of CreditRiskMonitor subscribers.
Image

When the FRISK® score scale, measured from "1" (highest risk)-to-"10" (lowest risk), falls anywhere below a "5," or the "red zone," the company must start being monitored immediately and be considered a risk. Ferrellgas Partners' FRISK® score sat at a "1," for more than a year's time. This indicated to our clients that day in and day out, Ferrellgas Partners was 10-to-50x more likely than the average public company to go bankrupt. It was a gigantic flare signal to our subscribers with Ferrellgas Partners in their portfolio that time was in short supply to reassess this relationship. 
Then Comes Financials, the MD&A, and News
Two major issues leading to bankruptcy, often in combination, are excessive financial leverage and poor operating performance. On a macro level, propane distributors have been struggling for years because of demand reductions related to unusually warm weather and the broader shift towards cheaper alternatives, including natural gas. 
Ferrellgas Partners was not immune to the industry headwinds, as annual revenue declined, net losses piled up, and free cash flow was poor over the last three periods. See below:
Image

Notably, the annual performance data also highlights that Ferrellgas Partners was having trouble covering its interest expenses, which addresses debt servicing. The partnership's total debt-to-assets ratio had long been elevated; in 2019, short-term debt increased from an extremely low mark to 34% of total debt. That was a key warning sign for our subscribers looking over the company's leverage ratios, suggesting that Ferrellgas Partners had a devil of a time accessing capital.
Image

The partnership also hired financial consultants to help it work through refinancing transactions. Then, in early January of 2020, it voluntarily delisted its shares from the New York Stock Exchange. While Ferrellgas Partners was able to raise additional debt in April, the 10% interest rate was extremely high. In June, not long after the debt raise, Ferrellgas Partners started working with lenders on debt relief. Then in November, the partnership's CFO stepped down, which is a common precursor to bankruptcy filings. All these events revealed a downward spiral and were sent directly to CreditRiskMonitor® subscribers in their daily news feeds.
Image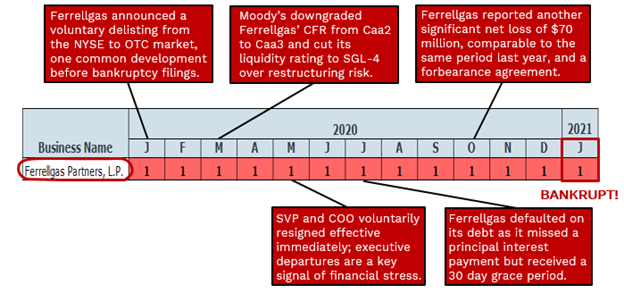 Bottom Line
By the time that Ferrellgas Partners filed for bankruptcy, CreditRiskMonitor subscribers were well aware of the partnership's highly distressed financial condition. The first warning sign, as is the norm, was a "red zone" FRISK® score and in the coinciding months before the bankruptcy, other benefits of the CreditRiskMonitor® service were also flashing warning signs. Ferrellgas Partners is but one example of the similar paths hundreds of high-profile public companies take as they spiral into bankruptcy court, which allows subscribers to mitigate counterparty risk before they're impacted. Contact CreditRiskMonitor today to see how the service can be used proactively to manage risk and eliminate financial losses.