It's rare to see a consumer staple food processing company falling into financial distress, but CreditRiskMonitor®'s FRISK® score on the Dean Foods Company has been signaling elevated risk for more than a year. While management has been working hard to improve the business and is actively reviewing strategic alternatives, counterparties of Dean Foods should be monitoring this situation closely.
CreditRiskMonitor® is a leading web-based financial risk analysis and news service designed for credit, procurement, and financial professionals. Subscribers include thousands of risk professionals all over the globe, including key decision makers from more than 35% of the Fortune 1000. Three features of the CreditRiskMonitor® service include: 
Commercial credit report coverage spanning more than 56,000 global public companies, totaling approximately $63.8 trillion in corporate revenue
The FRISK® score, which predicts public company bankruptcy with 96% accuracy
Proprietary subscriber crowdsourcing, which uses aggregated research of risk professionals 
FRISK® Score Review
Risk professionals today may not always be inclined to worry about financial risk in the food processing space, given that the industry is largely stable. Thus, when a particular public company in the industry is at heightened risk, the FRISK® score will promptly identify and warn our growing subscriber base that there's trouble, indiscriminate of stability in the industry as a whole. 
The FRISK® score uses a "1" (highest risk)-to-"10" (lowest) scale, and anything that trends into the FRISK® score "red zone," which is comprised of all scores between "1" and "5," is considered to be high risk:
Image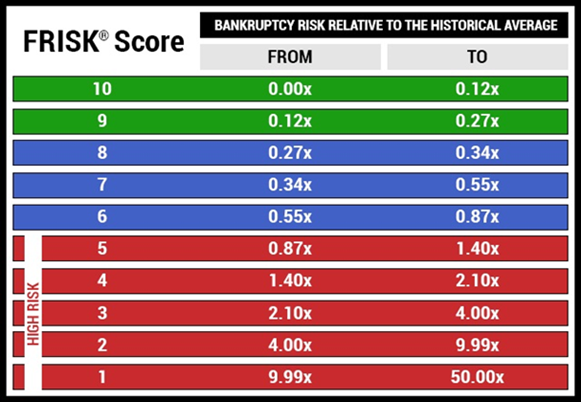 Dean Foods, owner of many milk brands including DairyPure® and TruMoo®, has had a FRISK® score mired in the lower end of the red zone for some time now. As shown in the chart below, Dean Foods currently holds a FRISK® score of "1," which compares poorly to the food processing industry average ranging between "6" and "7."
Image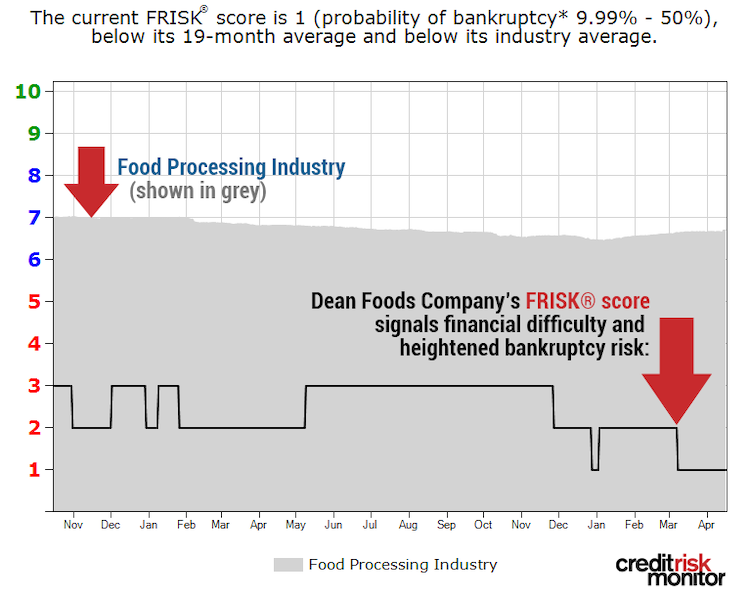 Among the data components that make up the FRISK® score, subscriber crowdsourcing is the most distinct. CreditRiskMonitor®'s collective subscriber base primarily includes credit professionals and supply chain managers from large corporations around the world and their decisions affect billions of dollars of purchase and sales transactions every month. While all users and activity are kept anonymous, certain click patterns in aggregate can have an impact on the FRISK® score. For Dean Foods, research activities in the last few months have influenced the FRISK® score. That being said, let's review a few overarching trends at the business.
Time to Transition
Dean Foods' management has characterized the industry as mature due to declining demand for fluid milk, as plant-based alternatives like almond and soy milk gain share. Compounding that issue, Walmart Inc., the company's largest customer, has been buying less product after opening a milk processing plant in Indiana last year. Simultaneously, Dean Foods has lost margin due to rising cost inflation in key categories, including logistics, fuel and resins. In the fiscal period ended December 2018, Dean Foods reported a low EBITDA margin of just 1.4%, after excluding restructuring costs and impairment charges.   
Due to poor operating performance, management is carrying out a large-scale cost savings plan, in part by closing some of its plants. For context, the company currently runs 58 manufacturing facilities across the U.S. and owns most of them. Management has argued that accelerating the closing of certain plants should benefit margins over the long-term, despite the one-time costs impacting current results.   
While management is working aggressively to improve operating performance, strategic alternatives have been put on the table as well. Within the Form 10-K filing, management updated its disclosures revealing a range of options, including: "…continuing to execute on our business plan, the disposition of certain assets, the formation of a joint venture, a strategic business combination, a transaction that results in private ownership or a sale of the Company, or some combination of these." 
FoodDive recently reported that Saputo may be interested in acquiring Dean Foods based on industry rumors. Although that's entirely speculative, Saputo could certainly make an offer given its excellent financial condition. Saputo has consistently maintained a FRISK® score of "10," the best possible score. The business has reported double-digit EBITDA margins, and if Dean Foods were acquired, some cost synergies would likely be brought to the supply chain infrastructure. In the last conference call, Saputo's CEO referenced its previous acquisition of Dairyland in 2001, highlighting that the business was successfully turned around: "…we brought some discipline to the market and the profitability in fluid went from miniscule profitability to more respectable numbers." 
Of course, it's possible a transaction like this doesn't play out. That could be an issue for Dean Foods since its balance sheet doesn't appear to be all that healthy. In the fourth quarter, the company recorded impairment charges of approximately $202 million on its long-lived assets, which was mostly comprised of trademarks, and all goodwill was written-off. On a year-over-year basis, tangible net worth has declined by about 50% and leverage ratios have escalated accordingly.
Image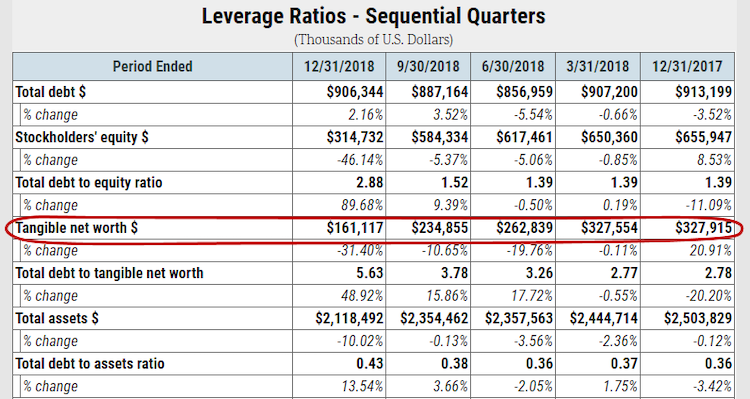 Management also confirmed that a new revolving credit facility required the company to pledge substantially all of its assets as collateral. Although necessary, this significantly reduces balance sheet flexibility. 
Bottom Line
Dean Foods is the largest dairy company in the U.S., with a significant number of manufacturing and distribution centers. Despite being in the typically stable food processing industry, the company has become financially distressed as evidenced by its FRISK® score of "1." With ongoing plant closures and the consideration of strategic alternatives, it would be in the best interest of all relevant counterparties to remain attentive to its business transactions. This is particularly true given the underlying activity reflected by subscriber crowdsourcing.