The broader auto & truck parts industry's FRISK® score has recovered and signaled increased stability. However, many operators within the category continue to struggle from supply chain constraints and breakdowns brought on by the COVID-19 pandemic, adversely impacting profitability. Integrated with the 96%-accurate FRISK® score is subscriber crowdsourcing, which tracks the aggregated research behavior of senior risk professionals. When such patterns indicate concern, this risk signal will impact the FRISK® score. In the first half of 2021, several high-risk auto-part manufacturers have been subject to these behavior patterns.
Crowdsourcing Provides Real-Time Insight
The FRISK® score, utilizing a "1"(highest risk)-to-"10" (lowest risk) scale, will inform subscribers of a company's overall financial standing, with anything equal to "5" or less falling into the high-risk "red zone." Unique Fabricating Inc., Westport Fuel Systems Inc., and Sypris Solutions, Inc. are all in this worrying area.
In this bizarre economic environment, supply chain disruptions of raw materials, components, and transportation costs continue to adversely impact many manufacturers and their profitability. Passing costs onto customers can be difficult to implement with the competition. Crowdsourcing sentiment captures the expert opinion of risk professions, all of whom are directly tuned into these costs, price, and volume transactions. Importantly, the FRISK® score leverages the Wisdom of the Risk Professional Crowd, which has boosted the performance in the overall predictive accuracy and the precision of risk bucket classification in the red zone.
Image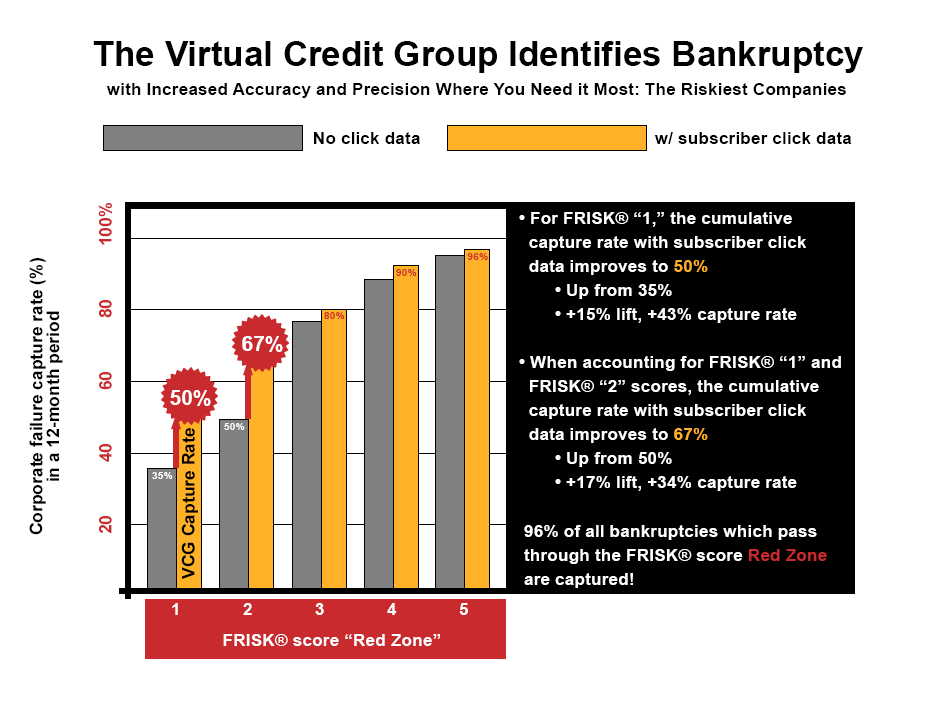 In 2021, the aforementioned companies each saw their FRISK® scores negatively affected by subscriber crowdsourcing behavior patterns. The company examples below demonstrate how crowdsourcing behavior enhanced their FRISK® score risk classifications, whereas the "general score" did not. 
Westport Fuel Systems Inc.'s FRISK® score fluctuated between "4" and "5" in early 2021 before decreasing to "3" in recent weeks, a move directly attributable to subscriber crowdsourcing. After issuing Q1 2021 earnings results, the company marked its fifth EBITDA loss out of the last six reporting quarters. Of note, the company declared that the "sales of the Company's heavy-duty business were adversely affected in 2021 by the impact of the global shortage of semiconductors… [and] could become material if the supply chain disruption is prolonged or end customer demand declines." Net working capital and overall liquidity remain sufficient, yet its financial leverage deteriorated with debt-to-assets rising year-over-year. The filing also disclosed that their amended credit facility prohibited any additional funds from being drawn after Feb. 16, 2021, effectively serving as a debt ceiling.
Image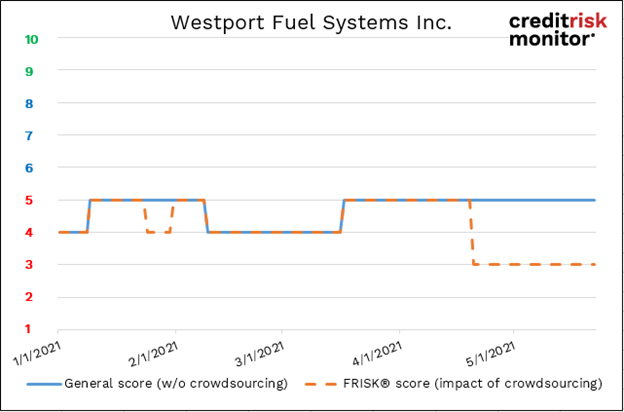 Sypris Solutions reported operating and net losses in four of the last five sequential quarters. The company has historically disclosed that rising raw steel and related fabricated part prices can negatively impact its overall profitability. Since March, crowdsourcing behavior patterns have signaled heightened risk, which matches surging steel prices on the back of iron ore feedstock prices rising above 10-year highs. 
It can be difficult for companies to raise prices on commodity-like products, and rising steel costs increase production expenses, working capital demands, and inventory financing costs. This is likely a key reason why risk professionals are carefully monitoring this situation. With weak operating results already an issue, Sypris Solutions is certainly on the ropes and those in the know are keenly aware.
Image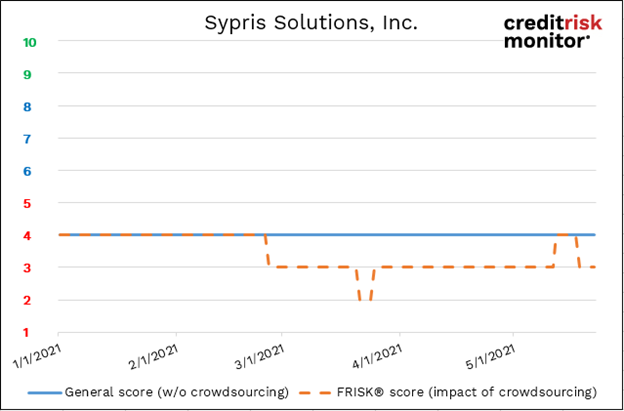 Unique Fabricating Inc.'s FRISK® score averaged between "5" and "6" in the early part of 2021, and dropped to a "3" in the interim. Risk professional concerns are accounted for in subscriber crowdsourcing signals. In Q4 2020, Unique Fabricating reported gross margin compression of 7.62% from supplier cost pressures, enough to swing to an operating loss, while cash and quick ratios shrank to 0.01 and 0.38, respectively. There were even contract requests to waive defaults on its amended and restated credit facility; the FRISK® score has accordingly been shifting between "3" and "4."
Image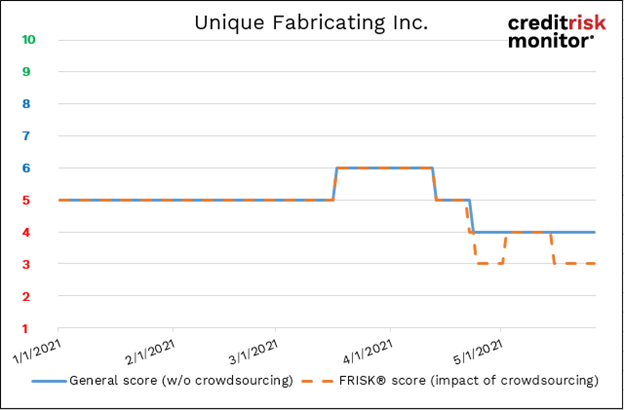 Bottom Line
Industry recoveries rarely trickle down to every operator. The FRISK® score, enhanced with subscriber crowdsourcing, identifies underperforming companies relative to the broader industry and highlights those with heightened bankruptcy risk. Notably, the crowdsourcing component provides real-time insight to professionals that other tools and the other three components of the FRISK® score cannot capture, providing unique and consequential lift in the model's ability to accurately identify financial distress and bankruptcy risk. Contact us to learn more about the benefits of subscriber crowdsourcing and how this data unearths risk across all industries and distressed companies.