Coronavirus Plagues China Production Facilities, Disrupting Global Supply Chains
02/28/2020
China's manufacturing sector observed the greatest slowdown from the coronavirus (COVID-19) outbreak. The coronavirus was concentrated in the Hubei province of China and quickly spread throughout the country, resulting in broad citizen travel restrictions and production facility shutdowns. Numerous companies worldwide have been monitoring the situation and should address the following:
What is your company's total exposure to China?
Are you proactively checking your direct and indirect suppliers?
Do you have a benchmark scoring system?
Have contingency plans been developed with vendors from other geographies?
Recent Fallout
The coronavirus has impacted companies within the automotive, technology, healthcare, chemicals, and many other industries. To manage unpredictable events like this, companies need to have a well-diversified logistics network and leverage the best risk monitoring tools. CreditRiskMonitor's public company coverage encompasses more than 6,500 companies in China and Taiwan. The impact of the coronavirus has been swift: about 900 Chinese public companies showed elevated signs of financial stress in December 2019, but that total surged 22% following the outbreak to more than 1,100 by March 2020.
Some companies haven't quantified the impact of the coronavirus yet, but they have addressed their vulnerabilities:
| | |
| --- | --- |
| Company | Coronavirus Commentary |
| Johnson Controls Inc. | "We continue to experience macro related headwinds in some of our key markets in Asia, including the ongoing trade dispute and now the coronavirus which overhangs in China as well as the ongoing unrest in Hong Kong." |
| PolyOne Corporation | "We do have eight facilities in China. So we're located there. We have nearly 1,000 of our own employees there. So we do have a significant presence in China." |
| J.C. Bamford Excavators Ltd. | "The inbound supply of certain components from Chinese partners will be disrupted in the coming weeks as they seek to replenish their stocks." |
| Apple Inc. | "Worldwide iPhone supply will be temporarily constrained." |
Management teams acknowledge that COVID-19 has unearthed significant supply chain pitfalls that need to be addressed immediately and over the long term.
Comprehensive Review
The disruption from COVID-19 has led professionals from companies around the world to perform a comprehensive review of their entire supply chain by examining the geographical location and financial risk. 
It is common practice to have a Plan B for suppliers and CreditRiskMonitor's unique industry peer analysis platform allows you to quickly source the best alternatives. For example, an automobile manufacturer can identify tier 1 suppliers (auto & truck parts and tires) and tier 2 suppliers (chemicals – plastics & rubber and iron & steel), as shown below:
Image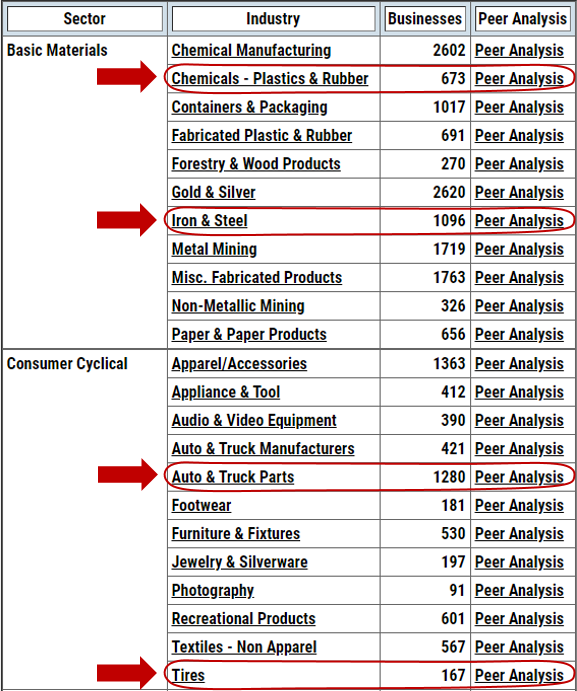 Within the selected industry, all companies can then be sorted by country, size, and FRISK® score. Dual sourcing from vendors that don't have facilities in the most affected Chinese provinces of Guangdong, Zhejiang, Shandong, Hubei, and Hebei, or merely outside of China altogether, would reduce disruption. But you can't stop there.
CreditRiskMonitor's FRISK® score is 96% accurate at predicting bankruptcy risk, allowing subscribers to quickly gauge if a vendor is financially distressed. Why does this matter? A supplier's financial condition has direct implications for product quality, availability, and overall reliability. Distressed suppliers will have more difficulty working through the coronavirus shutdowns than one in good financial stead.  
In the auto and truck parts industry, a sample of companies with healthy FRISK® scores are listed below:
Image

CreditRiskMonitor covers 1,000+ auto and truck part suppliers that are located outside of China. 
This configuration will allow you to find the right vendors to improve your supply chain's financial health and geographic diversification. Companies can be further evaluated by SIC and NAICS classifications to meet specific needs. For example, Astra Otoparts Tbk PT is based out of Indonesia, carries the best possible FRISK® score of "10", and provides steering and suspension components, transmission and powertrain parts, and brake systems. This could be a valuable substitution for a similar Chinese component supplier.
Bottom Line
All supply chains are vulnerable to external shocks involving disease, natural disaster, or geopolitical issues, especially if heavily dependent on one region. Coronavirus has caused prolonged disruption around the world, but this headwind offers the opportunity to create a stronger network. CreditRiskMonitor's analytics and visualizations allow subscribers to perform proactive monitoring, pivot their vendor base, and reduce financial risk. Contact us today to see how we can add value to your current process and seamlessly strengthen your supply chain.
About CreditRiskMonitor
CreditRiskMonitor is a financial news and analysis service designed to help professionals stay ahead of public company risk quickly, accurately and cost-effectively. More than 35% of the Fortune 1000, plus thousands more worldwide, rely on our commercial credit reporting and predictive risk analytics for assessing the financial stability of more than 57,000 global public companies.
At the core of CreditRiskMonitor's service is its 96%-accurate FRISK® score, which is formulated to predict public company bankruptcy risk. One of four key components calculated in the FRISK® score is crowdsourced subscriber activity. This unique system tracks subscribers' patterns of research activity, capturing and aggregating the real-time concerns of what are essentially the key gatekeepers of corporate credit. Other features of CreditRiskMonitor's service include timely news alerts, the Altman Z"-Score, agency ratings, financial ratios and trends. CreditRiskMonitor's network of trade contributors provides more than $2 trillion on their counterparties every year, giving them visibility into their biggest dollar risks.