Heavily indebted public companies are reeling as countries around the world shut their economies to slow the progress of COVID-19. Service sector names have been particularly hard hit, with movie theater owners having to temporarily close locations until the pandemic subsides. Below are four high-profile theater chains with elevated bankruptcy risk that you should be watching today.
CreditRiskMonitor® is a leading web-based financial risk analysis and news service designed for credit, supply chain, and other risk professionals. The core of the service is the FRISK® score, which is 96%-accurate in predicting public company bankruptcy. With public company coverage of more than 56,000 across the globe and in-depth financial ratio and trend analysis, as well as access to vital news and regulatory filings, CreditRiskMonitor helps risk professionals navigate through the most turbulent times.
A Terrible Scene
Companies around the world that provide services have had their businesses essentially shut down by the government. Without customers to serve, most companies cannot hope to survive for the long term. Although governments are providing financial assistance, there may be little that can be done to stave off bankruptcy for highly leveraged companies. Worse still, when economies are allowed to open up again performance is unlikely to return to pre-COVID-19 conditions. Frightened consumers will almost assuredly prefer to avoid large public gatherings for some time after stay-at-home mandates are officially lifted, in a staggered manner, by local and state governments. Companies that manage to stay afloat might not have the financial strength to survive a protracted reopening process.
It's been particularly painful for movie theaters, which are coping as best they can. That's included laying off staff, reduced compensation for other employees, eliminating discretionary capital expenditures, and in certain cases, not paying rent. However, movie theaters characteristically have high operating leverage, which are driving cash burns. The pullback is already having an impact on the industry, with VIP Cinema Holdings, Inc. filing for bankruptcy on Feb. 18, 2020 because movie chains canceled orders for its high-end reclining movie seats. This is only one instance of the extreme pain being felt in the theater space -- more will come. 
Some of the largest movie theater chains in the world are in a precarious financial situation and bankruptcy rumors are spreading fast. For example, AMC Entertainment Inc., a subsidiary of Dalian Wanda Group Co., Ltd, has already:
hired restructuring advisors, 
issued $500 million in new debt, and 
had its credit quality downgraded even deeper into junk status (Caa2)
Although the company says it can survive, industry watchers are not so sure. In all, here are the four companies CreditRiskMonitor® suggests watching closely this spring and summer:
| | | | |
| --- | --- | --- | --- |
| Company | Location | April 2020 FRISK® Score | April 2019 FRISK® Score |
| AMC Entertainment Holdings Inc. | U.S.A. | 1 | 3 |
| Cineplex Inc. | Canada | 2 | 6 |
| Cineworld Group plc | U.K. | 2 | 6 |
| CJ CGV Co., Ltd | South Korea | 2 | 3 |
CreditRiskMonitor®'s FRISK® score is a sophisticated bankruptcy risk model that integrates a variety of data components, including financial statements ratios, stock market metrics, bond agency ratings, and CreditRiskMonitor®'s own proprietary subscriber crowdsourcing. Crowdsourcing is based on the anonymous click pattern data from CreditRiskMonitor® subscribers, representing key credit decision makers from more than 35% of Fortune 1000 companies. Historically, 96% of public companies that go bankrupt find themselves in the "red zone" of the "1" (highest risk)-to-"10" (lowest risk) FRISK® score at least a quarter before they file. Companies in the red zone have above average risk of bankruptcy and deserve immediate attention.
Image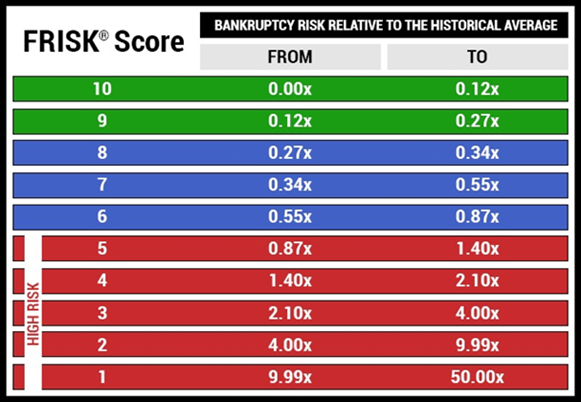 Frame By Frame
Over the past year, Canadian-based Cineplex's FRISK® score has fallen from a "6" to a "2." Its market capitalization has declined nearly 40% over the span, with total liabilities now exceeding its market cap by roughly three times. Leverage has been inching higher over the last year while working capital has been falling deeper into the red. With its business effectively shut down because of COVID-19, the next few months are going to put incredible financial strains on a company that was already struggling. Adding to the complexity here is the fact that Cineplex is in the process of being acquired by Cineworld. The two companies continue to work on the deal, but Cineplex warned that it may not be able to meet certain deal requirements (notably having no more than $725 million debt outstanding under its credit agreement) because of the impact of COVID-19. 
Cineworld is trying to expand its theater portfolio into Canada via the acquisition of Cineplex. However, the U.K. based company has also seen its FRISK® score fall from "6" to "2" over the past year. A FRISK® score of "2" indicates bankruptcy risk that is as much as 10 times higher than the average company. Cineworld's bonds are junk rated, its market cap has fallen over 80% over the past year, and, at this point, its total liabilities are a hefty nine times larger than its market capitalization. Leverage has increased materially over the past two years and its working capital deficit has doubled over the past 12 months. This acquisition would require additional debt financing on top of of a previous acquisition that had already pushed leverage sharply higher. The company's lenders are vocally against the transaction, unsuprising considering revenues are effectively non-existent under international mandated closures and tremendous uncertainty on reopening processes. Cineworld is facing material headwinds no matter what happens with its plan to buy Cineplex.
The FRISK® score for CJ CGV Co., Ltd, based in South Korea, has shifted between "2" and "3" over the past year. That is well below the Motion Pictures Industry average of "5" and "6" over that span. The company's market cap has fallen 43% over the past 12 months and the company's total liabilities are now seven times larger than its market capitalization. CJ CGV's net income was in the red in three of the past four quarters and working capital has been negative for five consecutive quarters. Although economies in Asia are starting to open up again, the longer it takes to return to normal, the harder it will be for heavily leveraged CJ CGV to survive. 
Bottom Line
Few could have predicted the massive impact COVID-19 is having on the world and, specifically, the operation of movie theaters. However, falling FRISK® scores indicated that building financial risks at AMC Entertainment Holdings Inc. Cineplex Inc., Cineworld Group plc, and CJ CGV Co. Ltd were apparent before the coronavirus started to spread across the globe. CreditRiskMonitor® subscribers are watching these companies closely and may consider reducing exposure in the near-term. Now is the time to assess financial risks in your portfolio and reexamine your processes to make sure you are prepared before your counterparties file for bankruptcy. Call CreditRiskMonitor® at 845.230.3000 to see how we can help you navigate these uncertain times.